Hip-pocket: You're a pro at selling homes and closing deals, but there's this one lingering thing each year you feel a little uneasy about--choosing a health plan. Your firm helps with many things, but not this. You look to into getting onto your spouses plan but it's too expensive. Your corporate friends complain about health insurance, but they don't really know what it's like to be totally on their own.
The reality is shopping on the individual market can be overwhelming:
Am I getting the coverage my family needs? Will my doctor I've seen for 20 years take my new insurance? What about my prescriptions? Am I getting sold something I don't really need or am I missing something I desperately do?
At Take Command Health, our job is to empower you to make smart health insurance decisions and make your busy life a little easier. A smart decision not only gives you peace of mind, it'll also save you money. Research shows more than 85% of people shopping on their own choose the wrong health plan each year, costing more than $500 in unnecessary health expenses.
Let's do it. Let's find an awesome plan this Open Enrollment with no head-aches that has exactly what you need. We created this guide and 7 simple health insurance shopping rules to arm you with the inside information you need to make a smart decision for you and your family.
If you want to skip the reading, you can just click this "Let's Go" button and trust our step-by-step guide to walk you through the process. If you're the analytical type, scroll down and keep reading how we use data science to help people improve plan choice:[/vc_column_text][us_single_image image="819" size="full" align="center" link="url:https%3A%2F%2Fwww.takecommandhealth.com%2F|||" animate="aft" animate_delay=""][vc_video link="https://vimeo.com/185268213" video_title="1"][/vc_column][/vc_row][vc_row][vc_column][vc_column_text]
7 Health Insurance shopping rules for an awesome outcome
[/vc_column_text][vc_column_text]
Always Shop Every Year
It's tempting to want to stick with one plan out of convenience, and the thought of trying something new can be intimidating. This isn't something that can be on auto-pilot. Plans, doctor networks, prescription coverage and your family's health needs are changing every year. Not to mention, the market is changing significantly due to several emerging trends (click here to learn more.) What was great one year may be terrible the next, and insurance companies are frequently shifting things around to maximize their earnings—not necessarily your health.
Here are a few things to keep in mind:
NEVER let yourself get auto-renewed in a plan: 80% of plans will have a significant change each year that you may not be aware of.
If you're leaving a company and COBRA is an option, 99% of the time, COBRA is a bad deal. Don't just accept it because it's easy. Here's why.
Plan on taking 20 minutes to review and re-shop your plan each year during Open Enrollment. At worst, you'll have peace of mind knowing your current plan still works. At best, you'll find something better and save yourself a lot of money and headaches.
Really know the lingo

The language of health insurance is familiar and confusing at the same time. Words like deductible, premium, copay, etc. get thrown around in conversations with colleagues and by really sophisticated marketers that the insurance companies hire. We recommend our Insurance 101 Guide to help explain all the basics. However, we want you to feel like an expert and that means understanding how these terms really impact plan choice.
Here are a few of the most common pitfalls we see each year:
"I need a plan with a low deductible"
We're programmed to think that we don't get anything before the deductible (in all fairness, it was this way for many years). However, with individual plans, all of your preventive care is covered before the deductible. That means all of your annual physicals, screenings, immunizations, flu shots, etc. cost $0. You could see the doctor multiple times a year, get monthly prescriptions, and never touch your deductible because you don't need to. Plans with low deductibles are very expensive and rarely best. Instead, focus on more important numbers like estimating your cost of care (see below) and the max-out-of-pocket limit.
"I need a low copay"
Insurance companies have done lots of research and know that individuals pay the most attention to a plan's deductible and primary care visit copay when choosing a health plan—and they will use fancy marketing to trick you. Aetna had a series of plans recently with names like the "Aetna $15 copay Bronze Plan." Here's what happens. The $15 covers the cost of the doctor visit only. Literally, just the 20 minutes the doctor spends talking to you. Recall from above, if you're seeing the doctor for a screening or annual physical, this is $0. If you're sick or injured, you'll almost certainly need a strep test, bandages, lab work, etc. that is not subject to the $15 copay. We see clients get frustrated by $200 bills that they thought were going to be $15.
In addition, copays do not count towards your deductible. That's a huge surprise to most folks, but we promise it's true. If you have a plan with a $1000 deductible and a $500 ER copay and have to go to the ER for something minor, you'll pay $500 no matter what (even if it wouldn't have been that much if you just paid cash) and will have paid $0 towards your deductible.
"I need a plan that covers my prescription"
Here's a good rule of thumb: if you take a name-brand medication, then, yes, you do need to make sure it's covered by your plan. However, most maintenance drugs are available in generics. Many people think they take a name brand when they've actually been taking the generic for years. Most generics have a very affordable cash price. We had one client—a very nice lady—who insisted she needed an expensive Silver plan that was going to cost her $250 more a month because it had a $15 copay for her drug. Well, we found her drug cost $8 cash at her local pharmacy. Make sure to check the cash price of your prescriptions! You can find more tips on saving on your medications here.
"I need a PPO"
Maybe you do, but you may also be way over-paying. Please see rule #5 below.
"My doctor won't take any 'exchange' (Healthcare.gov) plans"
We hear this a lot, often from front-office staff or doctors who may be great physicians but don't understand their insurance contracts. The reality is that doctors (or their hospital systems in some cases) negotiate with insurance companies, not with plans that are on or off-exchange. If your doctor has negotiated with an insurance company to accept one of their networks, it doesn't matter if you buy your plan on the exchange (Healthcare.gov) or on a private exchange.
Consider ALL of your health insurance options
There are several ways to purchase health insurance. When you shop at Healthcare.gov, you're only seeing "on-exchange" plans. However, insurance companies only make a fraction of their plans available "on exchange." If you go directly to an insurance company's website, you'll see their "off-exchange" plans. There are also private exchanges, co-ops, and even faith-based "medical sharing" plans that function similar to insurance. At Take Command Health, we can help you quickly see ALL of your options.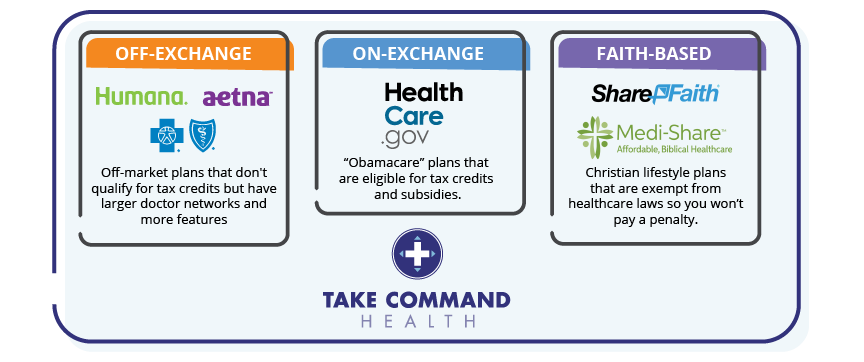 Special Note: You may get approached by aggressive brokers that want to sell you short-term medical insurance or "indemnity" plans. They will sound too good to be true, and they are. Short-term medical plans are affordable and do a decent job of protecting you from injury and illness. They are terrible for pre-existing conditions or routine care. So why not string together a series of short-term plans like some brokers recommend? Well, short-term plans don't count as insurance. Yes, you get a lower premium, but then you'll get hit with some hefty tax penalties when you file your taxes. Only use short-term plans for three months or less (the tax penalty grace period) if you have a unique situation. Never never never buy an indemnity plan and run from whoever is selling it to you. Indemnity = pure snake oil.
Don't buy based on fear of the unknown
Many people get overwhelmed trying to "shop" for health insurance because they feel like predicting the future is impossible:
How do I know what will happen to me this year?

What if I get really sick or injured?
You don't have to predict the future, just stick with what you already know. Statistically, over 75% of your costs in the next year are predictable based on your known needs. In that case, what really drives costs, and therefore your plan choice, are the things you know about: prescriptions, doctors visits, therapy, medical equipment, etc. If you're healthy, maybe you plan on none of these things–which is just as important to know.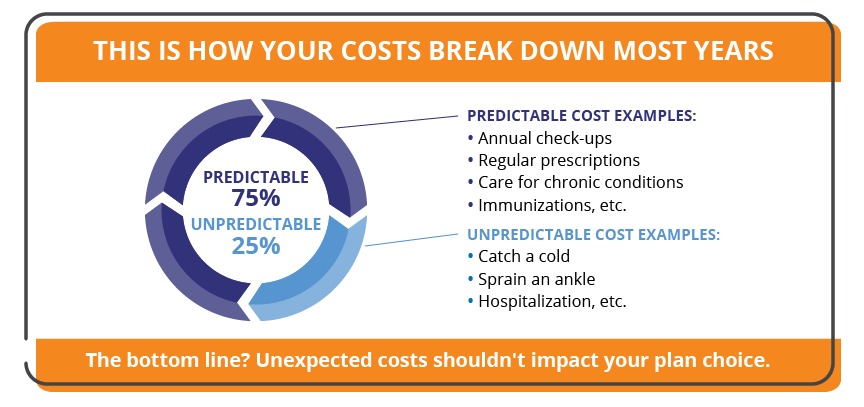 At Take Command Health, you can quickly search for your prescriptions or tell us about any health needs you are managing such as "physical therapy" or "having a baby." We'll run all the numbers for you and help you estimate your out-of-pocket costs on each plan.
But what about if someone in my family gets seriously hurt or injured? Applying some more data science, in a given year you have < 1% chance of experiencing a "catastrophic" accident or illness. Also, it doesn't really matter much (financially, at least), because if you get a large hospital bill, you'll end up paying your plan's max-out-of-pocket limit and then no more: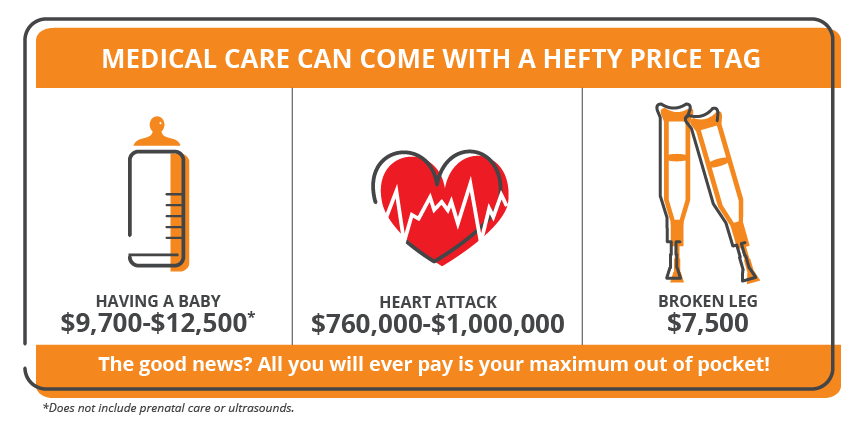 Let's say you have a bad year and rack up a $200,000 hospital bill. The only number you should care about is your plan's max-out-of-pocket limit. Your total spend for that year would be premiums * 12 + max-out-of-pocket.
Here's a sneaky secret: if you run this equation for every plan on the market, they will all be really close together. Therefore, catastrophic incidents (or concern you may experience one) should never drive plan choice.
Know which doctors you really need
This year, we are seeing a lot of new EPO networks. With an EPO, you don't need a primary care doctor and you can see any specialist you'd like that's in-network. The only difference between an EPO and a PPO is that an EPO doesn't cover out of network benefits. But as long as you're smart about choosing a plan that has your doctors in network, this can be a great money saving opportunity!
If your doctors happen to be in an HMO or if you don't have preferred doctors yet, the HMO can be a great money saving choice. These aren't the HMOs of the past with long wait times and long lines. You can get referrals online (check with your provider) and going to see some specialists (like an OBGYN) no longer requires a referral.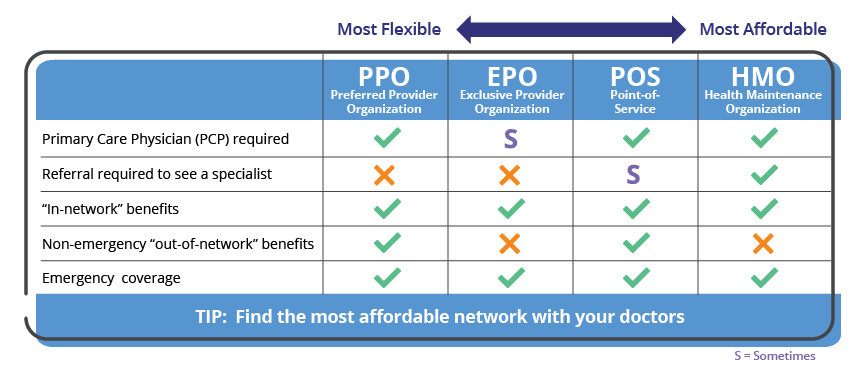 At TakeCommandHealth.com, we have a first-of-its-kind universal doctor search tool. Search for your doctors and we'll help you find the least expensive networks and plans he or she accepts!
Never buy dental insurance
Dental insurance is now almost completely separate from health insurance and it's almost always a bad deal! Traditional dental insurance only works if someone (like a company) is helping you pay for it. Otherwise, if you take the time to read the fine print, you'll realize that with waiting periods, maximum limits, and exclusions, it's very very hard to get more out of your dental insurance than you put in. We compare it to an expensive layaway plan or pawn shop. They hold your money, charge you interest and fees, and then give you a little bit back when you visit the dentist. Brokers get HUGE commissions for selling dental insurance because it's a money-maker for the insurance companies.
Instead, we recommend discount dental plans. Discount plans are not insurance–they are more like wholesale club memberships. You pay an annual fee and you get access to the same dentists and same rates as people who purchase traditional dental coverage. There are many discount dental plans and it's easy to find one that your dentist works with. And get this: an annual membership costs the same as about two months of dental insurance.
At TakeCommandHealth.com, we've set up partnerships with several discount dental providers. We can help you find your dentist and get you enrolled. (It's separate from your health insurance plan.) That advice alone will save you about $30/mo per person. You're welcome!
Take advantage of HSAs and tax credits
One way to pay too much for health insurance is to leave money on the table. In Texas last year, at least 600,000 Texans could have claimed a tax credit but didn't. Part of the reason Texans left this money on the table is because going through Healthcare.gov can be challenging–so many people didn't know they were eligible!
If you do make too much money for a credit, then you should probably consider using a Health Savings Account (HSA). HSAs allow you to pay for your care with tax-free dollars. For high-earners in a higher tax bracket, that's like a 30 to 35% discount on health costs!

Our recommendation engine can quickly determine if you are eligible for tax credits and automatically apply them to your plan each month. We will also help you decide if an HSA plan is a good fit for you. Pretty awesome.
Why use Take Command Health?
Take Command Health believes in transparency and empowerment in this confusing realm of health insurance. We use data to provide unbiased information for on- and off-market plans as well as faith-based plans. We want to empower you to make smart decisions and avoid wasting money on the wrong plan.
We stand behind our product too. If you have any questions, feel free to email us at support@takecommandhealth.com or click the button below to give our online health insurance shopping tool a try.[/vc_column_text][us_single_image image="819" size="full" align="center" link="url:https%3A%2F%2Fwww.takecommandhealth.com%2F|||" animate="aft" animate_delay=""][us_single_image image="2454" size="full" align="center"][/vc_column][/vc_row]
Jack
I wrote this blog to help people make smart health insurance decisions. I am a small business owner, a husband, and a dad to three boys, so I've seen firsthand how important understanding insurance decisions can be. As a co-founder of Take Command Health and a licensed health professional, I've been recognized as a leading expert on healthcare transparency and defined contribution arrangements (QSEHRA). I've been featured in the New York Times, Wall Street Journal, Dallas Morning News, Forbes and others. Learn more about me and connect with me on our about us page. Thanks!