When physical therapists and business partners Ben Graves and Michael Keresztes founded Mint in January 2016 in New Braunfels, Texas, they knew there would be some growing pains. Coming from larger organizations, they joined their orthopedic and neurological skill sets to provide higher quality physical therapy with a streamlined delivery model that is less clunky for patients, especially those with multiple comorbidities.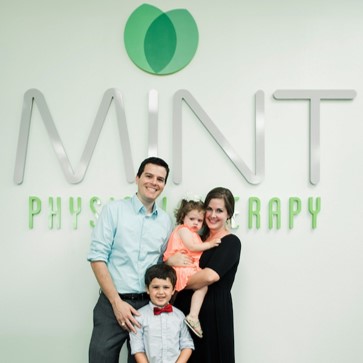 "Any time you step out on your own, a big challenge is healthcare," shares Ben. "That started with paying for my family of four's health insurance once I left my big group plan from a previous employer."
With COBRA rates at $1,000+ a month for a high deductible plan, he knew he needed to explore other options. He reached out to Take Command for guidance. Through our data-based platform, he was able to search for his doctors and compare estimated out of pocket costs with on- and off-market exchanges and faith-based medical sharing plans. He opted for Medi-Share, a faith-based plan that only costs him $500 a month. (Note: We recommend consulting with your CPA or tax professional as using QSEHRA with a sharing program like Medi-Share is a bit of a gray area.)
"Take Command helped us swim through the marketplace options, saving my family $500 a month," shares Ben.
His family was even able to keep their trusted local doctors instead of having to drive into San Antonio.
Using a QSEHRA to offer "big company" benefits
Ben then shifted his focus toward his growing team and recruiting the best talent in the area. In addition to Ben and Michael, Mint employs a full time office lead and supplements with three other PRN employees to fill the front office.
"With only seven employees on the payroll, offering group benefits just wasn't feasible," Ben shares. "We set up a small business HRA so we can cover some expenses for our full-time employees at a level we can afford using pre-tax dollars." What's more, each of us can select the best plan for our family's needs, instead of having to be on the same plan.
"The small business HRA is simple and affordable for us, costing only $15 per month per employee to administer. Funds that employees don't use come back to the company at the end of the year, which is an added bonus," Ben shares. Mint chose to contribute $200 for each full-time employee. Compared to group plans that typically start at $400 per person per month, this ultimately saves the company $200-400 a month, depending on plan selection.
Another perk is that they can offer a personalized employee benefits portal and provide "big company" perks like dental, vision, 24/7 doctor help line, medical bill negotiation and pharmacy discounts for only $15 per month per employee.

How it works
Many people have heard of Health Reimbursement Arrangements (HRAs), especially if you've worked at a big company. With the recent bipartisan 21st Century Cures Act, Congress created a special kind of HRA for small businesses called a QSEHRA (Qualified Small Employer Health Reimbursement Arrangement).
The most important thing about the small business HRA is that it allows business owners to reimburse employees tax-free for individual health insurance premiums and medical expenses. This is a big deal because small businesses can now get the same favorable tax treatment as big company group health plans but with a lot less hassle.
It also enables small businesses to adopt a strategy called "defined contribution" which is much simpler than hassling with a one-size-fits all group plan and is proven to be much more efficient, affordable, and predictable. Employers can now give their employees a fixed dollar amount each month, say $200, and each employee can then shop for the plan that fits his or her needs the best.
Take Command is here to help
"I've been able to work with several of the team members at Take Command and they are all a pleasure to work with. If I needed to make changes or ask a question, they responded very quickly each time." Take Command is also handling the accounting and legal legwork for the QSEHRA, allowing Ben and Michael to focus on what they do best.
Want to see if an HRA could work for your small business? Learn more about our small business platform or schedule a call with one of our small business HRA experts today.
About Take Command
Take Command launched with the goal of bringing awareness, advocacy, and transparency to the confusing world of health insurance for small businesses and individuals. Take Command is at the forefront of this issue, a recognized leader in QSEHRA administration and small business tax strategy, with customers in every state.
Amy
I wrote this blog because I care about ideas (big and little) that can help fix our healthcare system. I used to work on projects for Kaiser Permanente and the Parkland Health & Hospital System so I've seen the system inside and out. It's so important that consumers keep up with industry shifts and changing health insurance regulations. I'm also Take Command Health's Content Editor and a busy mom. Learn more about me and connect with me on our about us page. Thanks!