Medi-Share
Vaccines and Medi-Share: Our Family's Experience
by Jack
Medi-Share has been a great way for me and my family to save on health insurance. However, before you take your kid for a regular checkup and for vaccines, there's something you should know: it WILL NOT cover vaccines. Here's our story of how we saved $1,800 and a few tips on how you can make vaccines and Medi-Share work for you.
Time to update those vaccines
We got a call last week from the pre-school nurse that our kids' vaccination record was out of date. "No problem," I thought, our boys were going for their 4 year old check-ups in a week or two (nevermind they're almost 4 and a half now, no judgement please), we'd get all caught up on any vaccines we need then.
Thankfully, I remembered there was something in the Medi-Share guidelines about vaccines and immunizations. Here is it from the Medi-Share manual so you don't have to go digging:
"Sharing for routine well-child care is eligible until the child reaches the age of six. Well-child care is defined as recommended, routine check-ups and associated lab work, excluding vaccinations and/or immunizations." (Section 7.E)
Ok, so what vaccines do my kids need and how much will it cost? I called our pediatricians office and it turns out turning 4 is a big year, you need 4 vaccines. Total cash price even with the Medi-Share PHCS discount was going to be about $900. Oh yeah, and we have twins, so $1,800. Ouch.
There had to be a better way. And thankfully, there is!
I spent some time researching the retail clinics. It turns out you can get most common vaccines (including the ones we needed—DTAP, IPV, MMR, Chicken Pox if you're wondering) at Walgreen or CVS clinics. It was much cheaper than our pediatrician, but was still going to be about $400 a kid.
Even better though is the Vaccines for Children (VFC) program managed by the Centers for Disease Control and Prevention.
The VFC is a federally administered program and buys vaccines for a discount (I imagine in a very large bulk quantity) and distributes them to state and county health departments and even some physicians and practices directly who register as VFC providers.
So how do I find a VFC provider and will it be creepy? Thankfully, there's a great map provided by VFC where you can look-up your state.
For us, I choose Texas and then could refine the list further and zoom in on Dallas. There were some places on the list I'd probably not want to take my kid but where they could get free vaccines—juvenile detention, homeless shelters, etc. Thankfully, there were some much better options. Turns out most of the VFC eligible clinics in Dallas are run by Dallas County Health and Human Services (HHS). They have a handful of clinics scattered about the city and a main one downtown. Great!
I called to see if I needed to make an appointment. In Dallas, it's all walk-ins. I asked on the phone about the vaccines for 4 year-olds. The lady on the phone immediately listed the ones the doctor said we needed (gave me some confidence) and said no problem, come on it. Since it would be our first visit, it would cost a little more--it would be $10 a kid for all the vaccines, or $20 with twins. Bring cash. Wow! I planned with my wife a time in the morning when they said it's typically not too busy.
Now, a question was irking me—was I taking advantage of a program not meant for me? I mean, $1,800 is not fun, but I could pay it. Would my kids be taking a vaccine from a kid that truly could not afford it?
I went back to the VFC guidelines to learn more about the program (they have a nice FAQ on their website):
Q: Is my child eligible for the VFC Program?
A: Your child is eligible if it is before his or her 19th birthday, and if he or she is one of the following:
Medicaid-eligible
Uninsured
American Indian or Alaska Native
Underinsured (Underinsured children are only eligible for VFC Vaccines through Federally Qualified Health Centers and Rural Health Clinics.)
Q: What do you mean by "underinsured?"
A: Underinsured means your child has health insurance, but it won't cover the vaccine(s) because:
It doesn't cover any vaccines.
It doesn't cover certain vaccines.
It covers vaccines, but it has a fixed dollar limit or cap for vaccines. Once that fixed dollar amount has been reached, your child is eligible.
Ok, well, our faith-based plan clearly meets the definition of "underinsured" in this case. I also confirmed with a doctor friend that the vaccines you get through VFC and that you'd get at your doctor's office are pretty much the same. There's no substantial quality difference or anything like that.
So why are the same vaccines $10 one place and $900 another? Yes, the government is subsidizing the cost, but this speaks to broader problems in our healthcare system—middlemen, insurance company billing, distributors, etc. If the government is buying it direct in bulk vs the route it has to take to reach my pediatricians office, it's no wonder it's cheaper. So while VFC is clearly meant to help low-income, uninsured families, we certainly qualified and I felt better that it's not like it was a zero-sum game and we were taking something away from a family that needed it. It's just there for anyone that qualifies!
So we went. Here's what it looked like: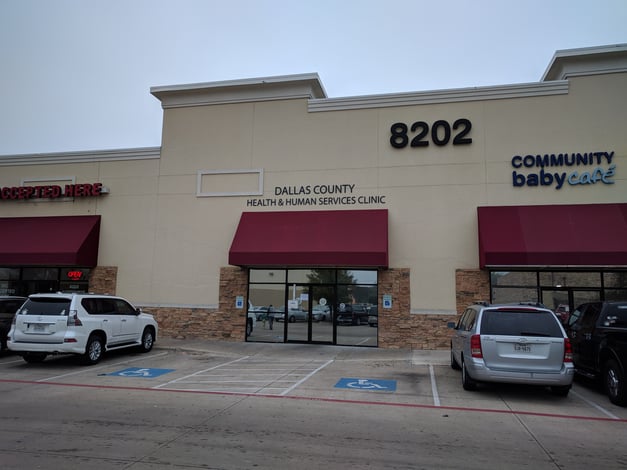 And it was easy. And it really was $10 (well, $20 for twins). Here's what we did:
We signed in at the waiting room
We filled out a bunch of paperwork
We signed consent forms
We paid a cashier $20 cash
We waited about 45 minutes (3 families were in front of us)
A really nice nurse named Wanda came to get us
We went to Wanda's examination room
She told my kids they were brave
They cried
They got stickers and lollipops
We then left the clinic and went to our kids' scheduled 4 year-old check up at their regular pediatricians office. We handed them the shot record given to us by the clinic and they updated it in their system. We'll take a copy of the record back to the school nurse too.
Afterwards, we went to lunch to celebrate our brave boys who got 4 shots each and now wanted to show off their muscles, lollipops, and bandaids: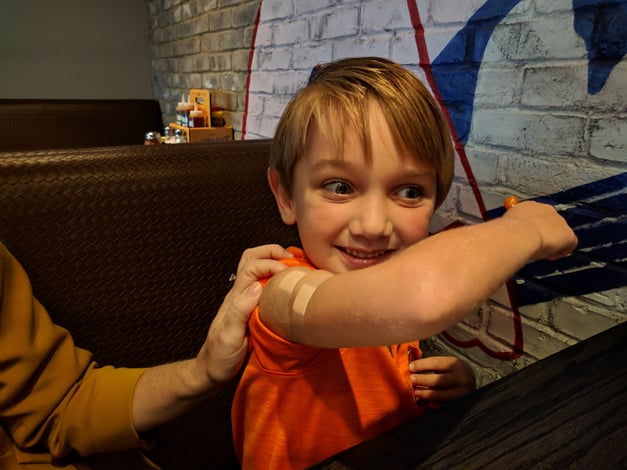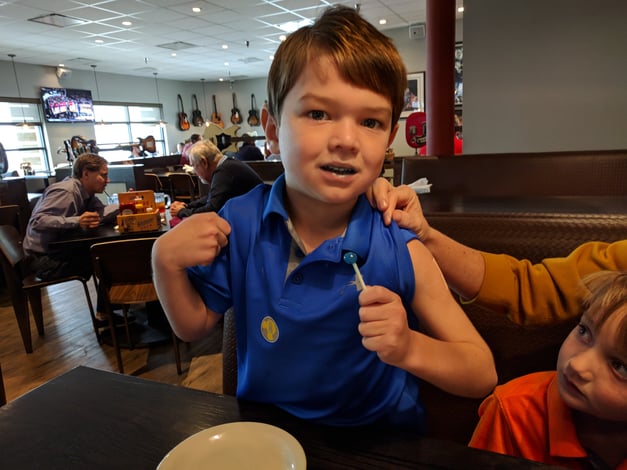 (Note: Teeth are blue because of the lollipop, not because of the vaccines.
So was it worth it?
Was the clinic as nice as the regular pediatricians office we go to? No.
Was it safe and clean? Yes.
Was it a hassle going two places instead of one with my kids? Yes.
Will I go back every time my kids need a vaccine? Yes. Yes. Yes.
Long-story short—if you're on a faith-based plan and need to get your kids vaccinated, look-up the local VFC program in your area (probably administered by your state, county, or city) and go there.
We got our vaccines at Dallas County and then went to our kids' regular pediatrician check-up. Oh, and saved about $1,800 in the process.
Want to see if a faith-based plan is a good option for your family? Chat with one of our experts on our website or find a plan below.