Texas
Did your Blue Cross PPO get discontinued?
by Amy
If you're one of the over 365,000 Texans trying to figure out what to do for health insurance coverage in 2016 since your Blue Cross Blue Shield PPO is going away, we're here to help. Before you get stuck in your BCBS replacement HMO, be sure to shop around and consider these tips:
You can still get a PPO in Texas. For 2016, you can still get a PPO in Texas--you just can't get one from Blue Cross. To stay on a PPO, consider the Humana Bronze 6450/ChoiceCare PPO. In some markets, Scott & White is selling PPO plans.
You can still get a plan that doesn't require a primary care referral to see a specialist. In addition to PPOs, EPOs generally don't require a referral to see a specialist, as long as they are in network. And the even better news? Several carriers in Texas offer EPOs: Aetna, Humana, United, Cigna and Oscar all offer EPOs. EPOs are also more affordable than PPOs.
You can still get a plan with out of network benefits. If you were sold on your old PPO because of the out of network benefits, consider opting for a POS plan. (The new Blue Cross HMO+ plans include some out of network benefits, too! However, they are not as extensive as a PPO or POS.) Also, don't forget that all plans (no matter the type) offer out of network benefits in emergency situations.
Here's a summary of the network types you'll see this year in Texas: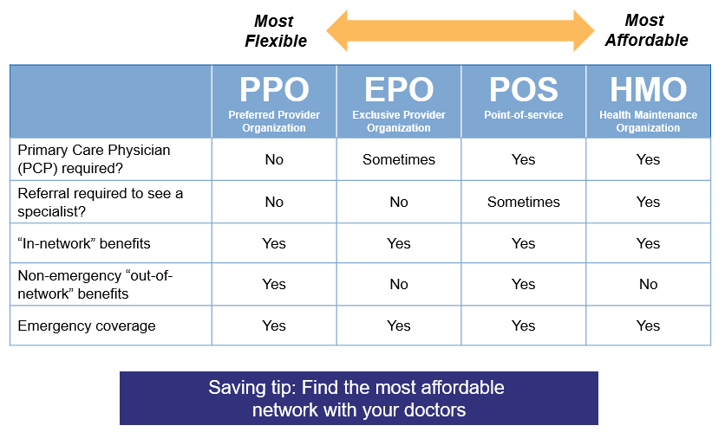 The most important thing is knowing which plans your preferred doctors will accept. At Take Command Health, our doctor search feature makes it easy to figure out which plans your favorite doctors will accept.
While we can't promise that you can "have it all" -- low monthly premiums, no required referrals and out of network benefits -- we can promise to help you find the plan that works best for your family.
At Take Command Health, our goal is to help you make smart health insurance decisions. Our online survey captures your preferences, known care needs, medications and favorite doctors so that we can recommend a plan to meet your unique needs. We're sorry you have to say goodbye to your old PPO, but we hope we can help you feel a little bit better about heading into 2016!