Texas
Texas CPAs - Beware of using the TSCPA website for health insurance
by Jack
You're about to get sucked into an over-priced, up-selling machine
We've had more and more CPA clients come to us lately with questions about the health insurance options provided to them on the Texas Society of of Certified Public Accountants (TSCPA) website. We decided to check it out and weren't really impressed--in fact, we were downright concerned accountants who use the site are getting a raw deal. In summary:
We found the site uses a false sense of exclusivity to trick you into providing information that can be used to "up-sell" you stuff you don't need
The site only shows a subset of plans available, withholding plans that could save you $100s a month
The site positions optional upgrades as "required" and then overcharges 5x for them
Shopping for health insurance can be a daunting task, especially if you're an independent accountant or work at a small firm where you need to take care of your own health insurance. At Take Command Health, we focus on consumer advocacy and empowerment to help you avoid insurance tricks and instead make a great decision for you and your family.
Pearl & Bswift/Aetna: The men behind the curtain
The TSCPA announced a partnership with Pearl Insurance from Illinois to offer health benefits this year through an exclusive "exchange" just for accountants. Pearl's exchange is managed by a company out of Chicago called Bswift. Bswift was acquired in 2014 by Aetna for $400M. We have no problem with Bswift, but you should know about their background: Bswift got it's start as a software platform for large, corporate benefits. They made their hay by providing large corporations a software platform to administer health benefits (not bad) and then by up-selling ancillary benefits to employees (things like dental, vision, life insurance, etc). Here's an old article from one of their former executives, Geoff Winthrop, explaining how they equip their "support" staff with up-sell scripts and bragging about his 82% boost in revenue. This was fair game though because the employers were paying most of the up-sold bills for their employees and had the power to negotiate the contracts directly with Bswift to keep things under control.
However, Bswift has recently started selling their software to associations and professional groups (like Pearl and the TSCPA) to create individual exchanges. It seems like a great fit at first, but then you start to realize their platform still reeks of old corporate artifacts: filters for "maternity" coverage? Options on drug coverage? Those are options that don't exist on the individual market. And then you start to notice the constant up-selling: supplemental insurance, dental insurance, vision, gap (never buy any of those, by the way). They seem so nice about wanting to chat and schedule an appointment with me, but is it to help or to funnel me to one of their up-sell specialists?
We'd forgive all of the above as just being pushy broker, but there are three other things we think you really need to be aware of that we think are misleading and go too far.
1. False sense of exclusivity and "deals" for accountants
The first thing that really frustrates us is they take advantage of your affiliation with the TSCPA hint that you're getting a special deal because of it:
Because we value our TSCPA members, we are committed to providing you with a single resource for your personal and professional insurance needs. Additionally, through the power of group purchasing through the TSCPA, we can offer you quality coverage at affordable rates!
But the reality is they have the exact same plans as everyone else on the individual market. Despite what they suggest, there are no special group deals or discounts for accountants, we promise--ACA forbids it.
Despite that, the site requires you to "sign in" and indicate that you're a TSCPA member or related to one. At first, I used a close friend's credentials to test it out, but then after getting a barrage of phone calls and emails on her behalf, I thought I would try some other ways. It turns out, Mickey Mouse and Donald Trump can sign in too: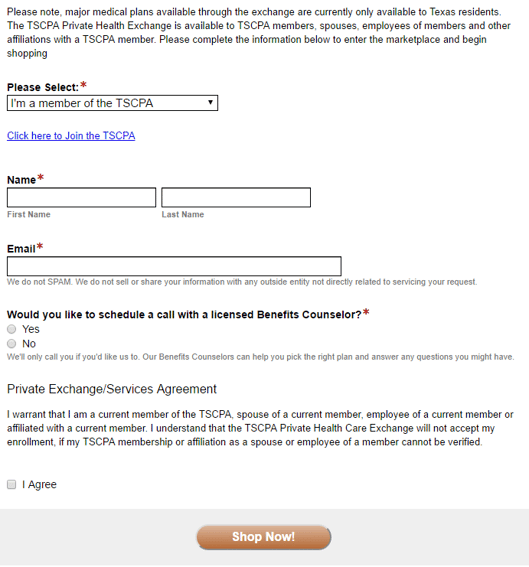 There's no validation. You're not "signing in" to some exclusive portal for accountants, it's a clever trick for Bswift to grab your email and information so they can begin bugging you to buy stuff you don't need!
2. Restricted plan options
But what about the health insurance options Bswift provides? I mentioned earlier how Bswift got it's start as a corporate exchange and has recently started applying their software to individual markets. As a result, Bswift only shows plans available from large group benefit providers it has standing relationships with, potentially cutting you out of much better plans actually designed for the individual market.
We ran a little experiment to look at the number of plans and the starting premium price CPAs in Dallas, Houston, Austin, and San Antonio might see. These quotes are for a 30 year old CPA with no tax-credit. In Dallas for example, the TSCPA site returned 18 plans, starting at $312/mo. While better than eHealth, this is actually worse than Healthcare.gov. Our site (which pulls from all sources) found 34 plans starting at $210/mo (over $100 less) or $84/mo if you're considering faith-based options (over $200/mo less!).
Here are the full results: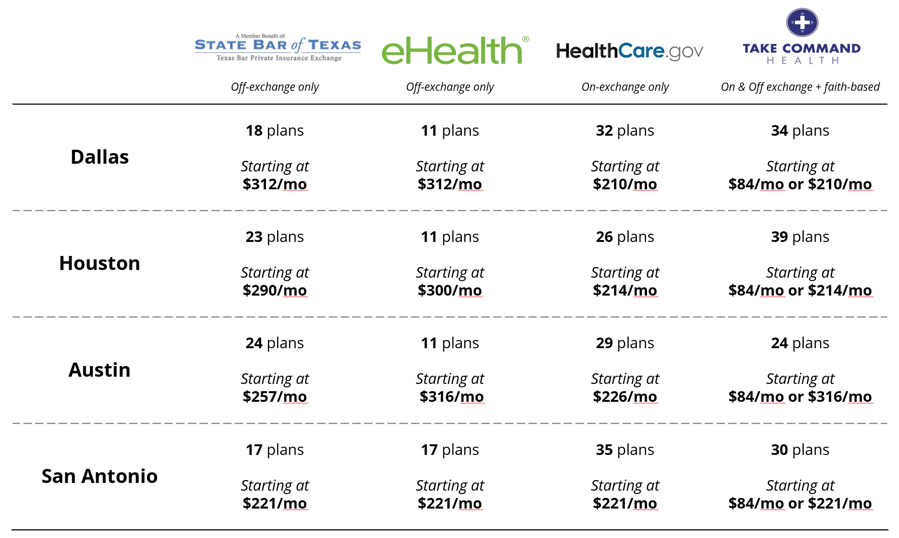 Oddly, despite being owned by Aetna, Bswift does not feature Aetna's off-exchange plans this year in TX.
Only in San Antonio would a CPA even be presented with the lowest cost major medical plan. Of course, the starting premium is only part of the story. You're also only getting about half your options. What if your doctor is only on a plan that Bswift is not presenting? What if you could get better prescription coverage from a plan not shown?
Finally, many accountants will make too much money to qualify for a tax-credit, but if you're a family of 3 or 4 and have a year where you make less than $100k, then you might qualify for a tax credit. Bswift says they can help you, but we didn't see any on-exchange plans or connections that would actually assist you to get that done. You could potentially be way overpaying.
At Take Command Health, we pull from as many sources as we can, including Healthcare.gov, the "off-exchange" plans Bswift has, as well as faith-based options. We'll help you search for your doctors and prescriptions and then automatically route your application directly to the carrier or through Healthcare.gov, whatever is best for you (not most convenient for us).
3. Misleading and overpriced "up-sells"
We thought the "up-selling" on the Bswift site was tricky, obnoxious, and worst of all, overpriced. I suppose after learning Bswift was running the TSCPA, we should not have been surprised but it looks like they didn't adjust things from the group market to the individual exchange at all.
It starts right away on the plan choice options where they try to sell you on supplemental insurance. Here's a tip: never buy supplemental insurance for major medical plans under 65. It's almost impossible to get more value out of it than you put in. If you read their example closely by clicking on "learn more" you'll notice their savings example is between a person picking a Gold plan and someone picking a Bronze plan if they were to get in a car wreck and need 4 days of hospitalization. It's not an apples-to-apples comparison, and if you needed 4 days in the hospital, you'd almost certainly hit your plan's max-out-of-pocket limit which would make the supplemental insurance even more worthless.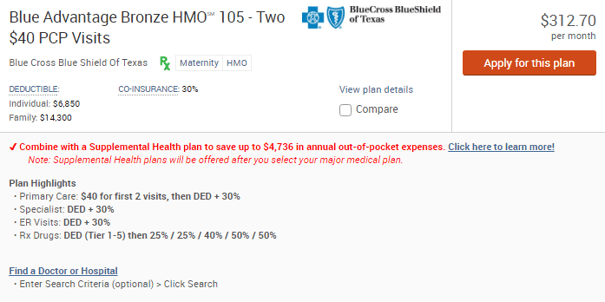 After you choose a plan and begin the check-out process, you then get this screen that shows ancillary products. What we think is really tricky here is the "selection required" in red lettering. These services are not required, we promise. Yes, there is a way to click through it and skip making selections, but it's not obvious.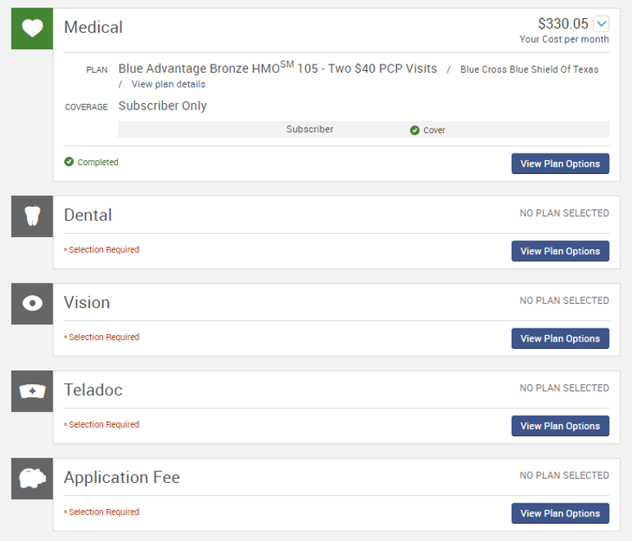 Worst of all, the options they present you with are overpriced. Back to our 30 year old CPA example, we followed their prompts above and were signed up for a MetLife Dental Insurance Plan, a MetLife Vision Plan, and a subscription to Teladoc for $60.72/mo. Here's another pro tip: Never buy dental insurance on an individual plan or trust anyone trying to sell you one. Here's an article that explains why, but in summary, unless a company is helping you pay for it, when you read the fine print on the exclusions and waiting periods, there is no way you come out ahead. Similarly, the Teladoc subscription appears to only get you access to Teladoc, you still have to pay when you call the doctor.
For comparisons sake, our membership plan includes Aetna's dental discount network (much larger than MetLife's), vision plan, Teladoc (you pay $0 when you call), pharmacy discounts, and a bill negotiation service for $12/mo. Bswift is going to trick you into thinking these things are required and then charge you 5x more a month for junky stuff!
Next Steps
It's possible to use the TSCPA site powered by Bswift and get a great deal on your health insurance. It's also possible with how they've positioned and manipulated things that you're about to overpay. Please share this article with your friends and colleagues so they can at least be aware of the challenges and trickiness on Bswift's site.
Next, if you're looking for an individual insurance plan, we highly encourage you to make sure you're shopping around adequately so that you're not getting funneled into a bad deal. We've put together this handy guide that walks you through the insurance buying process, explains all the terms in plain English, and shares our insider tips for getting a great outcome. Health insurance is expensive, but we want you to make sure you're getting your money's worth. If you've already purchased through the TSCPA site, it's not too late to cancel or at least make sure you got a good deal.
Finally, we'd love for you to give Take Command Health a try. We have almost all of the plans offered on the TSCPA site (powered by Bswift) and many more. We help you search for your doctors and prescriptions and even simulate conditions and health needs so you can see exactly what you're buying. We also don't rely on tricky sales tactics--we only suggest plans or offer ancillary services if we think you'll save money. If you have any questions, feel free to reach out to us at support@takecommandhealth.com.