Medi-Share
What to know about health sharing ministries and tax exemptions
by Larissa
Filing taxes is notably one of the least enjoyable things adults must do each year. To get ahead of the many questions we receive each year about sharing ministries and taxes, we've provided you with a quick guide to filing income taxes for Medi-Share members.
Take Command Health is a big fan of sharing ministries as affordable alternatives to health insurance. In fact, you can read about our CEO's review of Medi-Share on the blog. The important thing to remember is that sharing ministries are different than traditional health insurance in more ways than one (and reporting it on your taxes is a timely example as the April 15th deadline approaches!).
Unlike traditional health insurance, members of healthcare sharing ministries, such as Medi-Share, are exempt from the individual mandate penalty that has been imposed on those who can afford to purchase health insurance but opt out. You can view the Christian Care Ministry's Certificate of Exemption here.
Here's what to know about sharing ministries and tax exemptions.
Wait. Wasn't the Individual Mandate eliminated?
You are probably wondering why we are talking about tax exemptions for health insurance when not long ago, a tax bill signed by President Trump eliminated the individual mandate. As a refresher, the individual mandate is the fine you pay if you choose not to pay for health insurance when you are financially able. The fine initially was $695 per adult or 2.5% of household income, whichever is higher.
Here's where things get a little tricky. The mandate still technically exists, it's just that the penalty has been set to $0. The IRS is still going to ask the question "do you have insurance?" but is not going to make it a required response—i.e., you can turn in your taxes without answering.
Ok, moving on.
Form 1040
On the first page of Form 1040, check the box in the section titled "Full-year health care coverage or exempt" if you, your spouse (if you're filing jointly), and anyone you can or do claim as a dependent had qualifying health care coverage or a coverage exemption that covered all of 2018 or a combination of qualifying health care coverage and coverage exemptions for every month of 2018.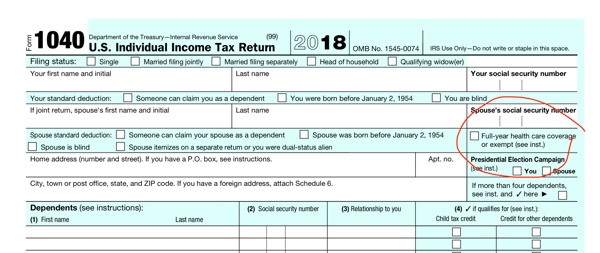 If you can check this box, you don't need to fill out Form 8695.
So what if you need to fill out Form 8695?
If you can't check the box above, you will need to fill out Form 8695.
Here is a simple breakdown of that process.
Part 1
Only complete part 1 If you can't check the "Full-year health care coverage or exempt" box on page 1 of Form 1040, and if you or another member of your tax household was granted a coverage exemption from the Marketplace that didn't cover every month of 2018, complete Part I of Form 8965.
Part 2
Answer "No" for Part II (unless you are claiming an income hardship exemption)
Part 3
If you or another member of your tax household is claiming a coverage exemption that didn't cover every month of 2018 on your tax return, complete Part 3 of Form 8965.
As members of a health care sharing ministry, you'll fill out Part 3.
You can claim a coverage exemption for yourself or another member of your tax household for any month in which the individual was a member of a healthcare sharing ministry for at least 1 day in the month. Enter code "D" in Part III, column (c), and identify the months to which the coverage exemption applies as described under Columns (d) - (p)—Calendar Months.
If you experienced a short gap in coverage (for less than 3 consecutive months during the year,) you will use Coverage Exemption Type "B" and identify the months to which the exemption applies.
Next Steps
We know that this can get confusing and stressful. Keep in mind that this information is provided only as a guide. You should always consult your tax professional with specific questions. But please feel free to reach out to us with any questions that you may have! Our team is online and ready to chat when you are.