Mom Hacks
Prevention Puts a Pause on Panic
by Ali D.
From worrier to warrior: How preventive care keeps you healthy and calm
I'm a 33 year old woman, generally healthy but have a tendency to seep into anxiety about my health. The last three months I had lower abdominal pain and was sure it was: ovarian cancer, colon cancer, an ectopic pregnancy or ruptured ovarian cyst. So how do I put myself at ease that it isn't the worst-case scenario without spending a fortune to learn I'm just constipated?
I've discovered a few tricks as both a patient and a primary health care provider to get the best bang for my buck at doctors visits, as well as calm my hypochondriac nerves. The most important thing is to know I'm getting the recommended screenings and test meant to detect any serious issues before they get, well. . . serious.
The best part? All "preventive" care is included with your health plan at no additional cost (small exception for Medi-Share users). That means if your doctor hands you a bill afterwards, you can politely tell him or her "no-thanks" as long as it's a covered service. Here is what is considered covered for women ages 21- 64: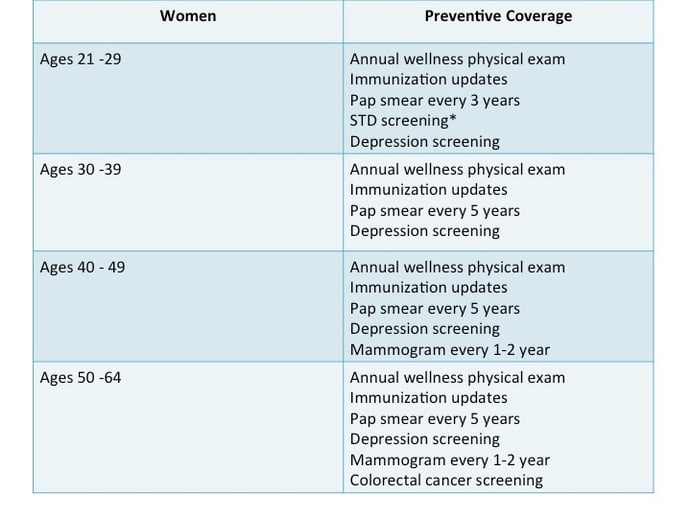 *STD screening offered at any age for those considered high risk and for pregnant women.
For a comprehensive list of what is covered under ACA, click here. Please know this applies to all health plans in the United States (as long as they are not some very rare grand-fathered plan), including if you got your plan through your job.
Next step: Use your plan and stop worrying!
It can be challenging to navigate the world of health insurance and doctors visits. TakeCommandHealth.com wants to help you make sense of what exactly you have access to with your insurance plan. And I hope to make those doctors visits a little less daunting! Stay tuned to the next blog and sign up for our emails to learn more about women's health.
Thanks to my insurance plan, when I'm temped to spiral into anxiety about my health, I can simply call to schedule my annual physical exam. Join me in fending off the worry by taking advantage of your covered visit; there is a reason you pay those premiums, after all! Then you can rest easy that you're taking care of yourself and those late night stomach aches are probably just the spicy dinner you ate and not a serious condition.
Do you know someone else that worries about their health? Please share this advice with them!
Do have a condition you need help covering? At TakeCommandHealth.com, our unique database of health costs can help you find a plan that covers the things you need, even if it's more than just preventive visits and screenings.