We have a lot to celebrate at Take Command Health and we are so excited to share it with you. As an HRA administrator, we've seen HRA signups continue to grow even as the pandemic and its financial toll have destabilized the insurance market. Much of our time and investment at Take Command Health has been building innovative products and teams to better support our clients and their employees.
The current regulatory landscape paired with stabilizing individual markets has created an environment conducive to the widespread adoption of health reimbursement arrangements like Qualified Small Employer HRAs and Individual Coverage HRAs. This is worth celebrating! It means more choice, more flexibility, more budget control and more predictability for business owners and their employees.
Our team doubled over the past six months to be able to serve our clients better.
(Read more about some of our new hires here!)
Here's what's new this year.
Exciting news at Take Command Health for Open Enrollment 2021
Meet our enrollment team!
This i

s Emily, the head of our enrollment team! She's in charge of growing the enrollment team and strengthening our ability to help people navigate the confusing world of health insurance shopping.
We are the only HRA administrator to offer actual plan enrollment, and now we have a dedicated team of personal enrollment navigators to walk you through the process. With phone support (new this year!) and online chat, we will make the process of choosing a health plan easy and stress-free.
We've gone nationwide!
Take Command Health is now licensed in 49 out of 50 states including Washington D.C. (with plans to be licensed in all 50 very soon). Stay tuned!
Updated platform
Our shopping experience just got even better and our admin portals and employee portals have been redesigned to be streamlined, intuitive, and super simple.
Here are a few of the highlights:
Better search results for HRA compliant health plans
Auto-compliance
Online shopping and support for every state
Phone support
Easier way to submit proof of coverage and recurring premiums
Shop for multiple plans within a family
New partnership to make shopping for HRA-compliant Medicare plans easier
ICHRA and Medicare can be confusing. That's why we've partnered with LIG Solutions to help your over 65 employees find the right Medicare solution to integrate with ICHRA. If you have Medicare-eligible employees, LIG Solutions' white glove service will help them find the right Medicare Advantage and Medicare Supplemental plans that are designed to help cover the costs of various deductibles, co-payments and coinsurance charges that Medicare alone does not include.
Read all about our partnership here.
Dedicated broker partner program to train, empower and engage brokers
With ICHRA enrollments on the rise, brokers play a key role in the widespread adoption of this new benefits model. This will be especially valuable for larger companies, which are more likely to engage their brokers in benefits decisions. The Take Command Health broker partner program, open to all licensed health insurance agents, provides educational tools and resources for brokers to add the individual reimbursement model of health insurance to their portfolio of employee benefit offerings.
Want to learn more? Read our post on our new broker partner program for HRAs here.
We've got a spiffy new office
We have loved our time on Insurance Lane (yes, that's actually what our street was called), but we are looking forward to a bigger office for our growing team.
The new space isn't quite camera ready, but here is a progress shot!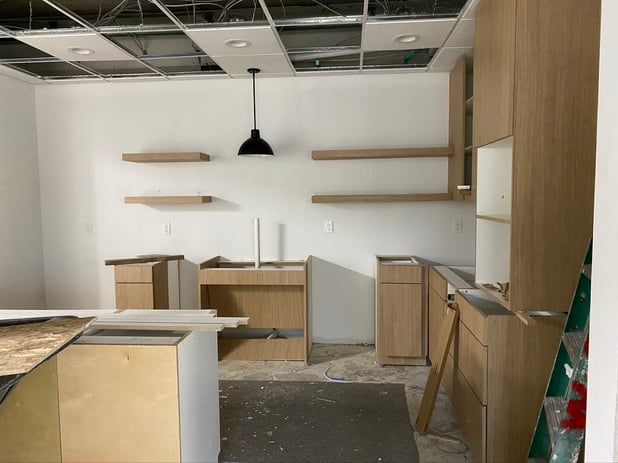 Stay tuned for more pictures. We will be rolling in to the new space before open enrollment begins!
Get excited for Open Enrollment 2021!
We are so thankful for our clients; 2021 already feels like it's off to a great start because of you! Our team at Take Command Health has been preparing for this benefits season for months and are so excited to help you this coming year. We hope our product and service updates spark a little joy—they certainly do for us!
While there are changes we hope to see from a regulatory standpoint to help HRAs be more accessible and easier to administer, (like shortening the 90 day employee notice requirement and finalizing the affordability safe harbors), there are bold indicators pointing toward stabilizing individual markets (a critical factor in the success of ICHRA), and we are excited to see what next year holds for HRAs!
Here's a link to the letter we sent to the Treasury and IRS we alongside several other benefits industry leaders that outlines a few of our ideas to improve HRAs for everyone.
And lastly, happy open enrollment! It's our favorite time of the year!
Amy
I wrote this blog because I care about ideas (big and little) that can help fix our healthcare system. I used to work on projects for Kaiser Permanente and the Parkland Health & Hospital System so I've seen the system inside and out. It's so important that consumers keep up with industry shifts and changing health insurance regulations. I'm also Take Command Health's Content Editor and a busy mom. Learn more about me and connect with me on our about us page. Thanks!