It's no secret that proper dental care is important and expensive. If you have an HRA through your employer, there's a silver lining beyond having a dazzling smile. Your individual dental insurance premiums can be reimbursed through your health reimbursement arrangement from your employer, either through a Qualified Small Employer HRA or an Individual Coverage HRA. Here's the scoop.
Dental care isn't just about gum health and plaque and cavities. A trip to the dentist is preventative care for your health.
Did you know that your dentist can detect about 120 different signs and symptoms of non-dental diseases during a routine examination? In fact, dentists can detect serious medical issues early:
Anemia
Crohn's Disease
Dementia
Diabetes
GERD
Gum disease
Heart disease
Intense stress (hello teeth grinding)
Oral cancer
Osteoporosis
Rheumatoid arthritis
And one more thing to consider: regular preventive dental care can lower your blood sugar levels, which actually helps you manage your overall health (and healthcare costs). Sweet!
HRAs and Dental Insurance
Your HRA can be used to reimburse for medical premiums, as well as premiums for dental and vision insurance. If your employer also reimburses for medical expenses, your leftover HRA dollars (after paying your premiums) can cover the costs that dental insurance does not, alleviating out of pocket costs.
Where do I buy individual dental insurance?
There are two ways to get individual dental insurance. The good news here is that there are lots of good options, you can enroll any time, and all premiums are reimbursable through an HRA.
The Marketplace: Dental plans sometimes are included in health plans sold on the Marketplace, otherwise known as the ACA, the Exchange, and even state-based exchanges. When you compare plans on our window shopping tool or even on Heatlhcare.gov, you'll be able to see which ones include dental coverage. In these cases, your premium would cover both health and dental coverage.
Separate dental plans: If your health plan does not include dental coverage, you'll want to purchase a separate dental insurance plan. Just remember, if you pick a separate dental plan, you'll pay a separate premium. This is in addition to the premium you pay for your individual health insurance plan. There are several big players in this space, including Delta Dental. Sometimes, when you're shopping on the Exchange, you'll see an option to add a dental plan. This will provide further options for you. For our own clients, we have researched quality individual health insurance plans through Renaissance and AmFirst that we recommend to use with an HRA.
How do I choose an individual dental plan?
While having health insurance is required by law, dental insurance remains a personal decision. As with anything in the insurance world, always always do your research and read the details carefully. There are some good products out there, but there are a whole lot of bad ones that will not offer the coverage you need or will charge an arm and a leg for very little benefit.
If you take the time to read the fine print, you'll realize that with waiting periods, maximum limits, and exclusions, it's very hard to get more out of your dental insurance than you put in. In fact, for most, monthly dental insurance premiums exceed the out of pocket cost for routine check ups and cleanings.
Here's what to pay attention to when selecting an individual dental plan:
Pricey dental premiums: Let's do some simple math to see how much benefit you'll get out of a dental plan. The average premium is around $50 per month, or $600 a year. Your cleanings may be covered for a $75 copay right away. With the average cleaning and routine checkup coming in around $160 on average, that doesn't make a lot of sense. If you need orthodontics, great! You've got to wait 24 months for that to be covered and then it caps at $1,500 for coverage. That means you paid $1,200 to only get a $1,500 benefit.
Max limits: The true value of dental insurance lies in any major work that is performed such as root canals, fillings, and crowns. However, most plans have a cap of around $1,500/ year for coverage.
Waiting periods: Another thing you'll want to look carefully at when purchasing dental insurance is the waiting periods. For example, most individual plans won't cover fillings for the first six months of a policy and may not offer coverage for certain other procedures for up to 18 months. Insurance companies use this waiting period to protect themselves from having people sign up to use benefits, and then quickly drop the insurance once the work is completed.
Remember, not all dental plans are bad deals. You just have to do your homework and pay attention. Take Command has done some research and partnered with two different companies that have quality dental insurance products.
Renaissance Dental
We have partnered with Renaissance Dental to offer employees affordable dental insurance that can be reimbursed tax-free with an HRA.

Here's what their dental plans through Take Command offer:
Affordable pricing.

Single member plans starting at $40 per month, with $50 individual deductible and $1,000 annual maximum.

No waiting periods.

Typically, there are 6-month waiting periods before a cavity can be filled, but with the Take Command offering through Renaissance Dental, waiting periods have been waived.
100% coverage for diagnostic and preventative services. No charge to you when you receive diagnostic, preventative service or annual cleaning from an in-network provider.
Robust networks. Renaissance has an extensive footprint with more than 300,000 top quality providers across the country.
No copays
Great customer service!
What does Renaissance Dental cover?
The chart below summarizes expected costs for different types of care for both in and out of network.
Disclaimer: Rates vary by state and age
Is your dentist in network with Renaissance Dental?
Renaissance Dental has an extensive network of partner providers (300,000+ dental providers, in fact!). Follow the link for a provider search tool to check if your favorite dentist is in network. Their provider search tool will be a better resource than calling your dentist and asking about Renaissance Dental.
Pro-tip: Take Command's plan with Renaissance Dental allows you to go to any dentist, but you'll save on out of pocket costs if you stick with in-network providers.
AmFirst Basic Plan
AmFirst is another quality dental plan that we recommend. They have two different plans: Basic and Advanced. Here's how the benefits break down for the basic package.

Disclaimer: Rates vary by state and age
AmFirst Advanced Plan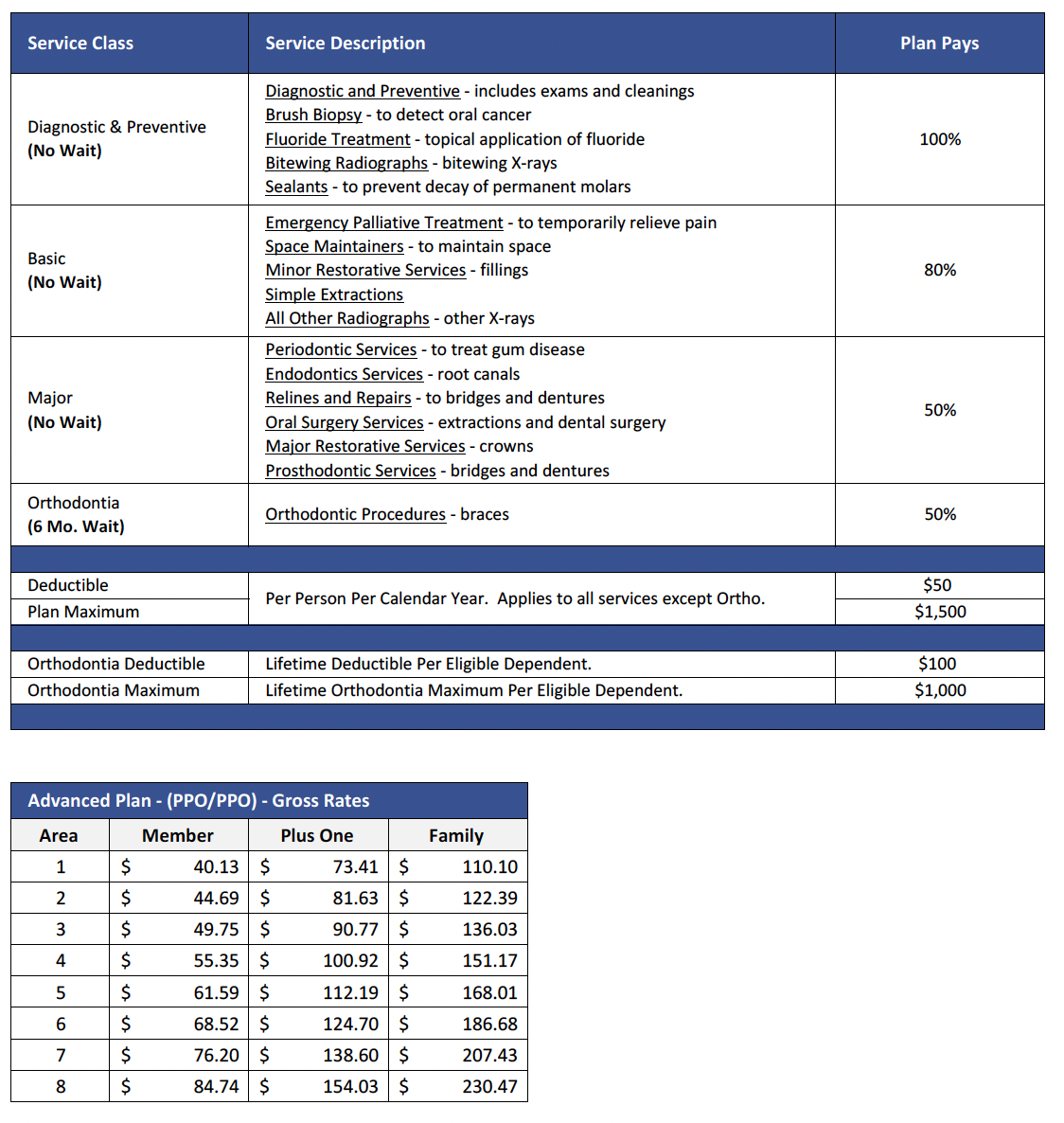 Disclaimer: Rates vary by state and age
How to get set up with dental insurance
Here are the steps to sign up for a dental plan.
Choose a dental plan and sign up.

Set up a recurring premium on the Take Command portal.
Get reimbursed on your paycheck for dental premiums.

Visit a participating dentist and their office

will complete and file claims for you.
Questions?
We are here to help you navigate this insurance adventure and figure out what works bets for you. Chat with us at the bottom of this screen or email support@takecommandhealth.com for help!
This post was originally published in 2022 and has been updated in 2023 to reflect the latest HRA changes.
Amy
I wrote this blog because I care about ideas (big and little) that can help fix our healthcare system. I used to work on projects for Kaiser Permanente and the Parkland Health & Hospital System so I've seen the system inside and out. It's so important that consumers keep up with industry shifts and changing health insurance regulations. I'm also Take Command Health's Content Editor and a busy mom. Learn more about me and connect with me on our about us page. Thanks!