Medi-Share
Medi-Share review: Why we moved our family from Blue Cross
by Ali D.
When Katherine Herron, owner of Hola HP, went into business tutoring high school students, the last thing she anticipated being her greatest challenge was health insurance. But after a year of wrestling with Blue Cross Blue Shield, spending way too much money and striking out finding doctors in network, she will tell you navigating the world of health insurance has nearly beaten her down.
"After my husband and I stepped out on our own as independent contractors, we signed up for a Blue Cross Blue Shield plan without knowing much about how health insurance worked," shares Katherine. "While we initially signed up with BCBSTX's PPO plan to keep our doctors, the next year they changed their plan offerings from PPO to HMO." That's when things started going downhill.
From PPO to HMO: More than a Three-Letter Difference
"I got a letter in the mail from BCBSTX telling me that our plan was changing from a PPO to an HMO. The letter led me to believe nothing was really changing," states Katherine. But what she would soon find out, those three letters H. M. O. meant losing every doctor and specialist she and her family had trusted for years. Here is a breakdown of the differences among the provider networks. While an HMO may appear to be more affordable, the lack of flexibility means you may be paying for out of network doctors. As the Herron family experienced, this could mean huge out of pocket expenses.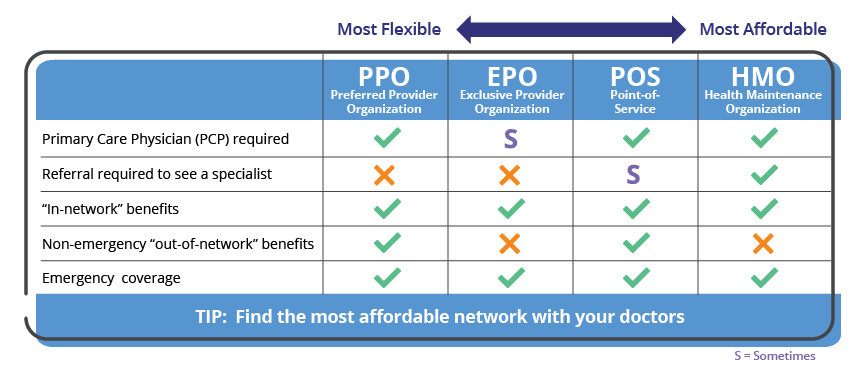 "Immediately we were dropped from every doctor we had previously seen." With a five year old, four year old and baby on the way, all new doctors and hospitals meant inconvenience and confusion."
To make matters worse, it was a tumultuous year for their oldest daughter, Anna Kate. From a tonsillectomy to an orthopedic complication, they found themselves in more pediatric specialists offices last year than ever before.
Katherine describes hitting rock bottom when they couldn't find a specialist to evaluate their daughter's vision.
"Anna Kate's teacher was concerned that Anna Kate might have a vision-processing issue. We looked for a doctor in a 1,000-mile radius who could see my daughter for her vision problem, not one doctor accepted our HMO plan."
The Turning Point: Katherine turns to Take Command Health
"In a last ditch effort to get out of our horrible health insurance situation, I posted on Facebook, 'I'm desperate for health insurance, help!' A good friend connected me with Jack Hooper at Take Command Health."
After a year of encountering unfriendly, unhelpful and insincere insurance representatives, Katherine was skeptical of anyone related to insurance. When Jack emailed her right away and agreed to meet in person to discuss her options, Katherine was blown away. "Immediately I felt more at ease and sensed I finally was talking with someone I could trust."
Why Medi- Share?
After discussing all of their options with Take Command Health, they decided upon Medi-Share for their family. Medi-Share is a faith-based medical bill-sharing program. Medi-Share is not insurance, but they look a lot like insurance and even qualify as insurance under the Affordable Care Act. Katherine said, "I had heard a little bit about Medi-Share, but misunderstood it as something only church employees could receive."
We were most drawn to Medi-Share because it is an honest, Christian-based model. It also helps that we will be saving $1400/ month.
How Medi-Share is just like traditional insurance:
ACA Compliant – Under the ACA (Obamacare), everyone in the US is required to carry minimum health coverage or pay a penalty. Medi-Share meets the requirements just like plans from Blue Cross, Aetna, and others so you won't have to pay a penalty fee.
Doctor Network – Medi-Share has a Preferred Provider Organization (PPO) network of doctors. It's built on MultiPlan's PHCS network, which is the same company that manages networks for some of the major traditional insurance companies.
Premiums – Medi-Share calls it your "share amount", but it's the monthly payment you have to make to stay on the plan. The only difference is that it's typically significantly less expensive than traditional insurance!
Copays – When you see a doctor or need services, Medi-Share has copays just like traditional plans.
Deductibles – Called the "Annual Household Portion" or AHP, this is the amount you have to pay out of pocket on your own before your bills are eligible for sharing (or reimbursement).
How Medi-Share is different from traditional insurance:
Faith-based – Everyone must attest to Christian beliefs and lifestyle, and provide a church reference.
Sign up anytime – No open enrollment limitations or deadlines.
Limitations on pre-existing conditions – Medi-Share won't deny you for a pre-existing condition, but there may be a "phase-in" period before you'll get full coverage. As an example, if you're pregnant and then sign up for Medi-Share, it won't be covered.
You pay for preventive care – On a traditional plan, your preventative care (annual physicals, kids' immunizations, etc.) are covered at no cost to you. With Medi-Share, your typical office copays ($35) will apply and you'll have to pay out of pocket for immunizations.
No coinsurance (this is a good thing!) – Once you meet your deductible or "AHP" on Medi-Share, you "share" everything and pay nothing for things that are covered.
No max-out-of-pocket limit – While Medi-Share covers most things you would expect a regular health plan to, it doesn't cover mental health, substance abuse counseling and a few other areas. Remember, there is no coinsurance, so you're paying nothing for covered treatment after your deductible/AHP. Make sure you're clear on what Medi-Share covers and doesn't cover! (here's more details from Medi-Share)
No Tax Credits – If you qualify for a Federal Tax Credit (or subsidy) on Healthcare.gov, you can't apply it to Medi-Share.
No HSAs – Medi-Share is not eligible for use with Health Savings Accounts (HSAs). Note: you can still keep your HSA and use it if you have one, you just can't make tax-free contributions to it.
Is Medi-Share right for your family?
Katherine's story is just another story of real families paying way too much money out of pocket for health related expenses. Could you save money too by making the switch to Medi-Share? Search for your doctors and compare it to other major medical plans in your area at Take Command Health. Don't over-pay for your health insurance this year! We want to help you make the most out of your health insurance dollars.
Looking for more information on Medi-Share? Check out our blogs here and here for more insider tips!
About Take Command Health
Take Command Health launched three years ago with the goal of bringing awareness, advocacy, and transparency to the confusing world of health insurance for small businesses and individuals. Take Command Health is at the forefront of this issue, a recognized leader in QSEHRA administration and small business HRA tax strategy, with customers in every state. It operates in Arizona, California, Florida, Georgia, Indiana, Michigan, North Carolina, Pennsylvania, Texas, Tennessee, and Wisconsin for individual insurance and offers small business HRA administration nationwide.