Individual
Why Healthcare.gov is not your friend
by Jack
If you're considering using Healthcare.gov to sign up for health insurance, you're not alone. Healthcare.gov and it's parent CMS will spend millions of dollars convincing you to come sign up. You're probably getting a flood of emails in your inbox.
But is Healthcare.gov really the best place to shop and sign up for insurance this year? In short: No, it's not.
Below, we share our insider knowledge of the insurance industry and 3 key reasons why you should look beyond just Healthcare.gov this year.
Healthcare.gov shows fewer plan options
Many people, politicians, and paid celebrity endorsements refer to Healthcare.gov as "the marketplace" or "exchange" for health insurance. Depending where you live this year, you may or may not be surprised with the number of plans available in your area. Some areas still have 4-5 insurance companies participating in the marketplace while others are down to just 1-2.
But what you see on Healthcare.gov is actually just one-type of plan available to you. In addition to the public "marketplace" plans you'll find on Healthcare.gov, there are also dozens of insurance companies that provide "off-exchange" or private plans. These plans are often from the name-brand insurance companies you've heard of (Blue Cross, Aetna, Humana, Oscar, etc), often have larger doctor networks, and are sometimes even more affordable than the full-price of the marketplace plans. All of these plans are "ACA" or "Obamacare" compliant, so purchasing one means you're covered and you won't face a tax penalty.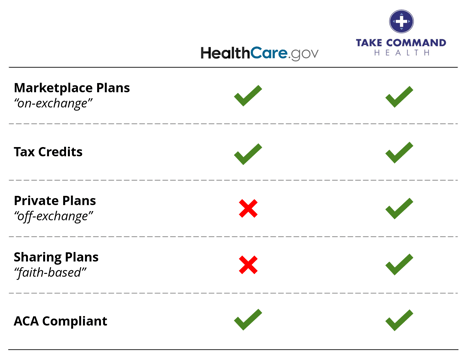 If you qualify for a tax-credit based on your household size and income, it's true you can only apply the credit to marketplace plans, but you don't have to shop or enroll on Healthcare.gov to do it! There are a handful of registered web-based entities (WBEs) that work directly with Healthcare.gov and can automatically apply tax credits for you. Take Command Health is one of the few national WBEs.
Finally, for some of our clients, there's a third type of plan--a faith-based sharing plan. These plans are exempt from ACA tax penalties and count as coverage in the eyes of the government. While they won't be for everyone depending on your personal faith and convictions, they usually cost about a third of the plans you'll find on Healthcare.gov.
We see many clients each year make the critical mistake of thinking Healthcare.gov is there only option. At Take Command Health, you can see the marketplace plans in your area and compare them side-by-side with the private off-exchange plans. If a marketplace plan is best for you or you need a tax credit, we'll automatically submit your application for you. If an off-exchange plan is best, we'll submit it directly to the insurance company.
Special note: Some aggressive brokers or salesmen will try to sell you insurance products called "indemnity" plans. These are not ACA compliant and are frankly a fancy form of snake-oil. You'll end up paying premiums, have limited coverage if you get hurt, and then have to pay a tax penalty. All of the plans we're talking about above and featured on our site are ACA compliant and will not result in a tax penalty or limited coverage.
'Neutral Nancy' helps no one
By nature, Healthcare.gov has to remain neutral to the insurance companies whose plans they display on their site. They can't show favoritism or make a recommendation. If you call Healthcare.gov and ask for a recommendation or which plan will fit you best, they can't and won't answer.
Choosing a health plan can be tricky too. In fact, research has shown that 88% of people actually choose the wrong health plan and spend over $550 a year paying for things they wouldn't have to if they had made a better choice. We see many clients trying to use the filters and features on Healthcare.gov but instead they end up confusing themselves more.
So, what to do?
At Take Command Health, we've built some unique tools to put you in the driver's seat. You can search for your doctors and prescriptions and even simulate different medical conditions. We'll crunch the numbers for you and recommend the plan we think will save you the most money by minimizing your total out-of-pocket costs (premiums + cost of care).
Our client is you and helping you get the plan that fits you best, not keeping the insurance companies happy by treating them all equally. The truth is some insurance plans are much better than others. We'll help you figure it out so you make a great choice and save money.
Healthcare.gov offers limited support and features
What happens if you sign up for an insurance plan through Healthcare.gov, but then have a problem? The ID cards don't come, you need to find a new doctor, or you get a medical bill that doesn't make sense.
You can call Healthcare.gov, but they'll refer you to the insurance company you signed up with. You'll call them, and they'll ask you to call the Marketplace. We call this the death spiral of support--no one is looking out for your, you're a transaction.
When you sign up for a health plan through a website or in person with a health insurance agent, he or she or the organization will be assigned as your "agent of record". Health agents are paid by the insurance companies to take care of their clients and the good thing is there's no cost to you.
When our clients contact us with an issue, we're able to proactively help them. As their agent of record with the insurance company and Healthcare.gov (if the application was routed that way), we're able to intercede on their behalf to get issues resolved. Unfortunately we do get lots of emails from people looking for help that have gotten stuck in the death spiral of support--we do our best to help, but we're limited unless the person signed up with us to make us the agent of record.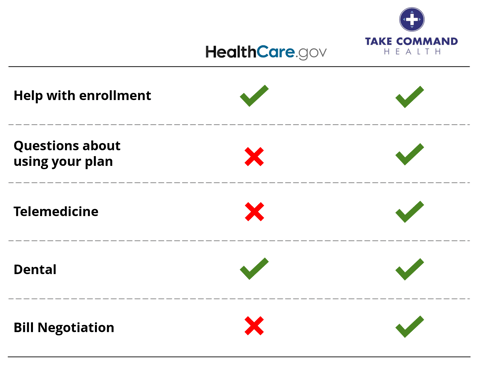 While many brokers and websites may hope you never need them, at Take Command Health, we're different. We want to help. That's why we've developed a unique suite of tools for our members to find doctors, schedule appointments (coming soon), and access resources to help them better understand and use their plans. We've also negotiated some pretty cool deals that typically are not available to individuals--a cool bill negotiation service (just snap a photo on your phone), the ability to call a doctor 34/7 for $0 and get basic prescriptions, and access to dental and vision discounts.
At Take Command Health, you're our client and we want to help! Our service costs you nothing, but without it, you're on your own to handle Healthcare.gov and the insurance companies.
Next steps
We invite you to try our service (it's free, remember!). Use our website to see ALL of the options in your area (Marketplace + private + faith) and don't get hemmed in by just looking at marketplace plans on Healthcare.gov. We'll help you search for your doctors and prescriptions and then recommend a plan that we think fits you best. Our goal is to save you money by helping you make smart decisions. Give it a try!