Mom Hacks
Insurance and Infertility: Funding Your Fertility
by Amy
How are we going to pay for this?
"When I was diagnosed with endometriosis, we were told the only way we could biologically start a family would be through in-vitro fertilization (IVF). My husband and I both have great jobs, but our insurance doesn't cover IVF. When we learned that it would cost $10,000 to do one round of IVF, we nearly fainted! And that excluded the medications, which can cost another $5,000. How are we going to pay for this?"
We are in a four part series looking at the medical, emotional and financial burdens of infertility. After researching and interviewing couples in the midst of infertility, I've gathered practical advice about how to navigate the journey.
This week we are talking about one of the biggest barriers to treatment: cost. As it turns out, unless you or your spouse work for a company that covers infertility, you are likely looking at paying a lot of money out of pocket. This article, we will focus on how to make the most of your insurance and where to cut costs along the way.
Tips to maximize your insurance:
Know your state's policies towards IVF
In the United States, there are 15 states that mandate or require insurance companies to offer IVF coverage. Here's a quick break-down from the American Society of Reproductive Medicine:
Hey, so I can just move to one of these states, right? Well, unfortunately that strategy doesn't always play out. While insurance companies might be required to offer IVF coverage, the employer gets to elect whether or not to include this coverage as part of the employee health benefit package.
If you work for a large company with generous benefits, there's hope! 1 in 5 employers will elect to offer fertility coverage. If you're on an individual plan from us or another marketplace (including Healthcare.gov), you won't find any coverage for IVF even in the states listed above.
If you find out your company does cover IVF, in most cases the coverage only applies to you if you have been trying to conceive for 5 years, or have a diagnosed condition (like endometriosis). You might be a lucky one and qualify! Learn more about the insurance mandate here.
Learn exactly what your insurance will cover
Ugh. The dreaded call to your insurance company. I know, I hate it too! But I would rather take the time to make the call, learning what is covered, than pay the price of going into debt because I was surprised by a bill.
Before I went to a Fertility Specialist, I had no idea what questions to ask, much less what to ask of my insurance provider about what is or is not covered. The National Infertility Association, has put together a great list of questions to ask your insurance company. Questions like: "Are there specific tests that need to be completed before you are referred to the infertility unit or specialist in your plan?" or "Are medications covered?"
Please download and print these out. We highly recommend answering these questions before you go to the specialist. You'll be able to have much better conversations that will help you save money and understand your options.
When billing insurance, focus on "diagnostic"
Unless your company plan covers IVF, you're probably wondering what you can do. Well, there is a strategy you can use to at least get something out of your insurance plan (even individual plans).
All plans have to cover diagnostic testing. My friend Tessa's insurance company wouldn't pay a penny for IVF, but covers all diagnostic procedures 80/20. That means when the doctor ordered studies and procedures to figure out what was causing her infertility, insurance covered 80%, and she only had to pay 20%. She clarified with her doctor which procedures were "diagnostic," then ensured they were coded correctly to get her insurance benefits. This is an important conversation to have with your doctor as they have some flexibility in how they code and they are not likely thinking about it how you are. Be sure your doctor codes diagnostic procedures correctly so your insurance will cover it. If you're a Take Command Health member, we're pleased to review your bills and help you do this.
Other saving tips:
Discounts on medications
My friend Jesse worked for a company that covered IVF. She thought she was in good shape, but then ran into another common issue: although her company's insurance covered fertility treatments, it didn't cover the medications needed for those procedures. Her medications for one round of IVF cost $5000. Yikes!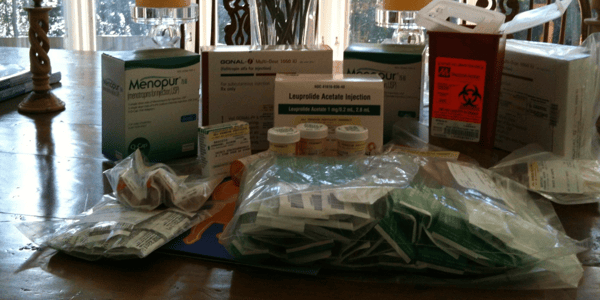 Thankfully, Jesse's nurse helped her find discounts on medications through pharmacies like Freedom Fertility Pharmacy and Walgreens Specialty Pharmacy. She writes, "through Freedom Fertility Pharmacy we had medications mailed to our home for a fraction of the cost."
Be aware, most doctors' offices don't factor in the cost for medications to the procedure estimates. Ask your nurse what she recommends or what she has heard from other patients: chances are you can save a lot of money on medications by asking around. If you're a Take Command Health user, you can email us and we'll help you search for discounts in your area and can even hook you up with a pharmacy discount card.
Grants and Financial Assistance
No insurance coverage? The costs for treatment can seem overwhelming. Organizations exist for the sole purpose of helping you pay for your fertility. Resolve has put together fabulous resources for couples looking for financial assistance with ART. Grants and financial aid are accessible if you apply. It's worth the look to see if you qualify!
Next Steps
Have other tips that you'd like to pass along? Post them in the comment box below.
Take Command Health wants to be your health insurance advocate. Although your insurance company may not cover IVF, that's no reason to give up! We would love to be your advocate to help you and there are steps you can take to save money and be smart about funding your fertility treatments.
About Take Command Health
Take Command Health launched three years ago with the goal of bringing awareness, advocacy, and transparency to the confusing world of health insurance for small businesses and individuals. Take Command Health is at the forefront of this issue, a recognized leader in QSEHRA administrationand small business tax strategy, with customers in every state. It operates in Arizona, California, Florida, Georgia, Indiana, Michigan, North Carolina, Pennsylvania, Texas, Tennessee, and Wisconsin for individual insurance and offers small business HRA administration nationwide.