Imagine having someone to call every time you had a question about a bill or your insurance plan. Imagine that instead of waiting on hold to schedule an appointment, someone would do that for you. Imagine that instead of running all over town trying to find a fax machine to send over medical records (seriously why do records still need to be faxed?), someone would take that off your plate, too.
Guess what: this can happen now—thanks to a new partnership that allows us to offer our small business clients a valuable service along with the Smart Benefits already available for QSEHRA users.
Those who opt for Smart Benefits for their team will now have access to a personal Health Pro in addition to the great benefits they already receive, like bill negotiation, Teledoc, and more. This new service works for both employees and their families, and is available to all QSEHRA clients that upgrade to the Smart Benefits plan.
And the best part? The price is staying the same for the Smart Benefits plan and it works seamlessly in the QSEHRA portal, just like all the rest of the great perks.
The new partnership to help us better serve our small business clients
At Take Command, we are constantly looking to partner with innovative companies who believe what we do: that healthcare should be simple, smart, and affordable for individuals and small businesses, instead of confusing and expensive. That's why we pursued a partnership with Compass Professional Healthcare Services, a company dedicated to providing an exceptionally better healthcare experience.
Founded in 2005, Compass Health Pro consultants know a thing or two about delivering the premier health benefits experience; they've helped 2,000 companies and 2 million members nationwide navigate the complex healthcare landscape.
Meet your new personal Health Pro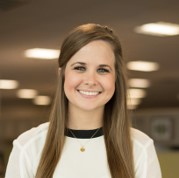 This is Elizabeth (pictured), one of the personal Health Pros on hand to help you and your family navigate the confusing world of health insurance.
You can email her or call her. On the phone!
Health Pros like Elizabeth can:
Schedule doctor appointments
Resolve medical billing issues
Coordinate care and medical records
Understand your health plan's benefits
Help you use Take Command Health's other Smart Benefits
About Smart QSEHRA Benefits
A small business can choose to add on Smart Benefits for an additional $15 per person per month along with QSEHRA administration. Leveraging our collective negotiation power, Smart Benefits help small companies offer "big group" benefits and discounts to their employees.
In addition to the new personal health professional perk, Smart Benefits allows you and your family members to:
Call a doctor 24/7for $0

Phone or Video Appointment
Experienced doctors offer diagnosis, treatment options, and prescriptions (if necessary)

Get Corporate Discounts:

Dental – Up to 50% discounts through Aetna's PPO Network
Vision – Members save 10% to 60% on glasses, contacts, laser surgery, exams and even designer eyewear
Smart Benefits are optional and can be turned on or off at any time, but we really recommend it as it makes the QSEHRA feel like "big company" benefit, a key strategy to help small business recruit and maintain the best and brightest in their industries.
About Take Command
Take Command launched with the goal of bringing awareness, advocacy, and transparency to the confusing world of health insurance for small businesses and individuals. Take Command is at the forefront of this issue, a recognized leader in QSEHRA administration and small business tax strategy, with customers in every state.
Amy
I wrote this blog because I care about ideas (big and little) that can help fix our healthcare system. I used to work on projects for Kaiser Permanente and the Parkland Health & Hospital System so I've seen the system inside and out. It's so important that consumers keep up with industry shifts and changing health insurance regulations. I'm also Take Command Health's Content Editor and a busy mom. Learn more about me and connect with me on our about us page. Thanks!