Individual
Think beyond TRS: A primer on your health insurance options
by Amy
**This article has been updated with 2017-2018 TRS rates, which are even higher than they were last year.**
TRS used to be a great deal for teachers and their families. Unfortunately, that's just not the case any more for a few reasons.
Most districts only subsidize premiums for teachers, not spouses or families (average contribution this year is $225 for teacher-only)
TRS uses a flat premium structure rather than one that varies with age and income. This makes TRS a great option if you are a single teacher near retirement and a terrible option for those of you in your working years with families.
TRS subsidizes retired teachers. As more teachers retire, this number continues to grow and current teachers get less value for their money.
Rethink your health insurance plan this year
Savings Examples
We've run the numbers and found that in most cases, teachers and their families can save money and get equal or better coverage if the teacher sticks with TRS (to get the district subsidy) and moves their spouse and children to a separate, private plan from companies like Blue Cross, AETNA, Cigna, Humana, Medi-Share, Oscar, or others.
Let's look at two examples, one for a family of 4 and one for a married couple. (Please note, these numbers are ball-park since actual private plan premiums will vary by your age, location, and tobacco-status.)
Family of 4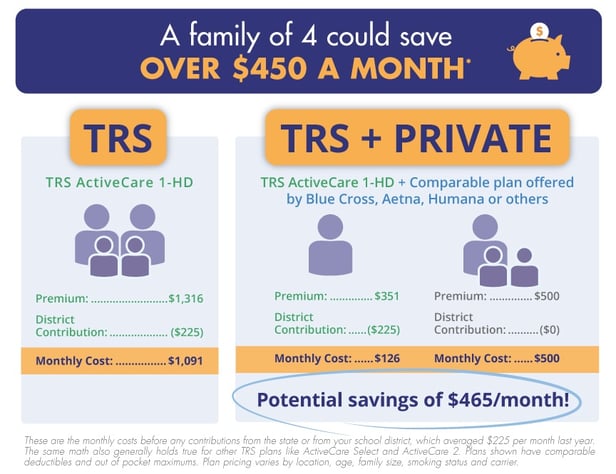 Married Couple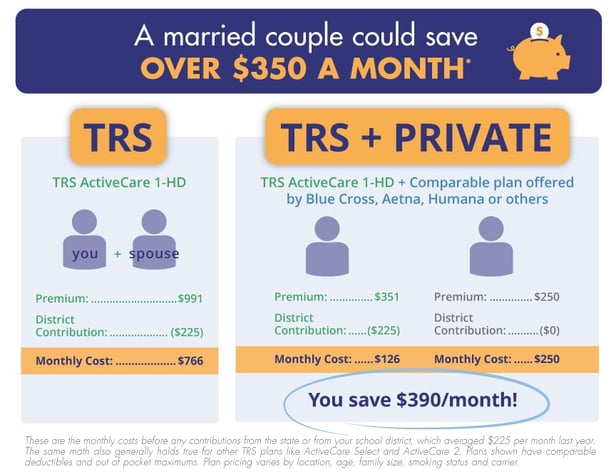 If you compare the numbers for Activecare Select and Activecare 2 plans with comparable private plans, you'll find similar results. The bottom-line is that while TRS still works great for individual teachers because of district subsidies, you'd be wise to shop around for your spouse and kids.

Next Steps
Have more questions? We've put together a detailed FAQ about moving your family off TRS.
You have until August 25th to choose a new plan for your family that starts September 1st. Teachers will need to make TRS selections by August 25th (or your school's deadline).
It's important to note that you can drop family members from your TRS plan at any time, but you'll want to make sure they have a qualifying reason within 60 days to enroll in a non-TRS plan. Family members currently on TRS will qualify since their TRS plan is technically ending August 31.
If your family is currently uninsured, then your options are faith-based Medi-Share plans (which don't have an enrollment period) or short-term plans (email us at enroll@takecommandhealth.com for more information on short-term plans). You can then sign them up for a different private plan during the regular open enrollment period in November and December (we can send you a reminder if you'd like, see email sign up below). For more information, please see the FAQ.
Teachers deserve better
Want to see what your other options are? Visit TakeCommandHealth.com today to get started! We'll help you quickly search plans private plans, plans from Healthcare.gov, and even faith-based Medi-Share plans in your area for your family's doctors and prescriptions. You can see what your savings compared to TRS will be. In summary, we make it really simple to figure out which plans will provide the best coverage for you and your family.