Texas
Open enrollment and hurricanes: Why some Texans have more time
by Amy
Many Texans were affected by Hurricane Harvey and other natural disasters this past year. In fact, 58 counties in the state were declared eligible for assistance by FEMA, including the metro areas of Houston, Dallas, San Antonio, Fort Worth, and Austin. While recovery continues, special enrollment periods have been established to help individuals avoid gaps in health coverage at a time when they need it most. If you fall into this category, you get an additional two weeks to choose a health plan for next year. Your deadline is December 31st.
That means that the four largest metro areas in Texas are still accepting applications. When it comes to open enrollment and hurricanes in Texas, here's what you need to know.
What parts of Texas get an extension due to hurricanes?
If you live in or move from counties designated by the Federal Emergency Management Agency as hurricane disaster areas, you have until December 31st to enroll in health plans for Jan. 1. In Texas, this includes the following counties.
Aransas, Austin*, Bastrop, Bee, Bexar*, Brazoria, Burleson*, Caldwell, Calhoun, Chambers, Colorado, Comal*, Dallas*, DeWitt, Fayette, Fort Bend, Galveston, Goliad, Gonzales, Grimes*, Guadalupe*, Hardin, Harris, Jackson, Jasper, Jefferson, Jim Wells*, Karnes, Kleberg, Lavaca, Lee, Liberty, Madison*, Matagorda, Milam*, Montgomery, Newton, Nueces, Orange, Polk, Refugio, Sabine, San Augustine*, San Jacinto, San Patricio, Travis*, Tarrant*, Tyler, Victoria, Washington*, Walker, Waller, and Wharton.
*These counties were designated as eligible for "public assistance" only but are still considered "affected" and therefore people in these counties are eligible for the SEPs.
Here is a handy map from FEMA: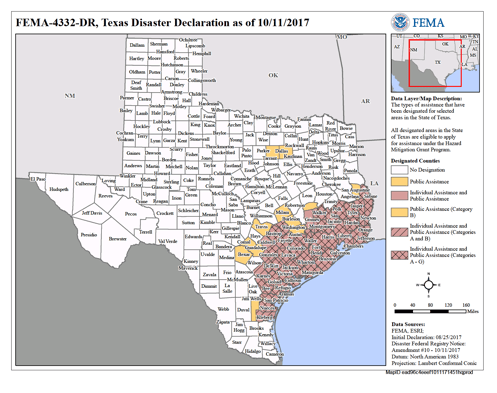 Take Command Health is here to help
You've endured enough this year with the hurricanes so we want to make finding a health plan as easy and painless as possible. Please visit our website and we'll walk you through your options quickly before that December 31st deadline. Our goal is to help you get the most out of your money and find the plan that really works for you and your family. While finding PPOs in Texas is a little dicey this year for individuals, we are pretty certain we have the most complete lineup of individual and family plans to choose from in the state.
For those of you who don't live in one of the 58 affected counties, our team can help you determine if you qualify for an extension based on other criteria and what your best options are.
We also have a premier membership designed to save you money and headaches, including some pretty awesome deals for our members. Call a doctor 24/7 for $0, medical bill negotiation support, dental, vision, and pharmacy discounts, etc. In addition to saving stress and time spent in waiting rooms, the Take Command Health membership plan helps those dollars spent on healthcare stretch further.
Ready to start? You can chat with us on our website or email us at support@takecommandhealth.com.