Individual
Humana PPO now available in Austin Metro-Area!
by Angela
Austin, we have a new PPO!
Finding an individual or self-employed health plan with your doctors has been tricky for 2016, especially if you live in the Austin metro-area! In our previous post looking at PPO options available in Texas, the best option for many people, the Humana Bronze PPO 6450, was not available in Travis county or surrounding areas: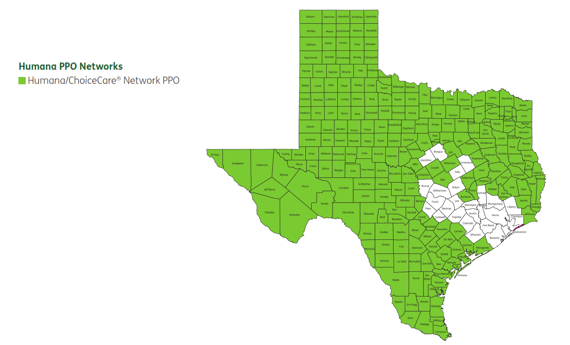 This week, Humana announced they will offer their PPO plan to the missing counties above for 2016. Humana will join Scott and White and faith-based alternative Medi-Share as the only PPO offerings in Austin for 2016.
Here are the details:
Humana Bronze 6450 with ChoiceCare PPO network
Deductible and max out of pocket limit are $6,450/person
HSA eligible
Off-exchange only: No tax credits available
Only the Bronze plan will be available as a PPO to go along with Humana's HMO offerings. If you purchase this plan you're paying a premium for the network, but sometimes the flexibility is worth it and this will be the only plan that has MD Anderson and others in network. If you're generally healthy and only take generic medications, we usually recommend Bronze plans anyway.
Sign up details
This plan won't show on the Humana site until December 18th, but will be available on TakeCommandHealth.com immediately! Please note that we are estimating the premiums at this time, but we're pretty good at estimating. You can enroll through our site and we'll take care of reconciling any issues for you (and of course let you know if the premium is more than a few dollars different).
Humana will not be able to confirm your plan until after December 18th, which is after the December 15th deadline for most other plans. However, if you live in one of the counties where this plan is not being offered, you will still be able to get a January 1st 2016 effective date if you enroll through TakeCommandHealth.com, it just may not be confirmed until after the 18th.
Visit our site to search for your doctors and see how the Humana plan will cover your prescriptions and medications. You can also search all of the other networks available in Austin for your doctors too to see if there are other options for you and your family.
What if I already signed up for a plan but want to change to this one?
You can still sign up! If you sign up before Dec 15th, we can get you a Jan 1st start date and you can cancel your other plan before you even use it. If you miss the Dec 15th deadline, open enrollment goes through Jan 31st. Jan 15th is the deadline for Feb 1st start dates and Jan 31st is the deadline for Mar 1st start dates. You could use your current plan for a month or two, and then use the Humana PPO effective February or March 1st 2016.
See if the Humana PPO has your doctors and is right for you! Visit TakeCommandHealth.com or click the button below to get started: