News
Here's the HSA Limits, Out of Pocket Limits for 2019 HDHPs
by Amy
The IRS has taken us on quite a roller coaster ride this year when it comes to changes in the 2018 annual contribution limits for health savings accounts (HSAs). As you may know, they were finalized a little earlier this year.
To refresh your memory, the IRS had originally decreased the 2018 family cap in March after Congress revised the inflation adjustment for many employer benefit rates. However, in April, the IRS restored the family cap back to the original 2018 level.
Beginning in 2019, HSA contributions for participants with self-only health coverage will increase by $50 and HSAs attached to family coverage will increase by $100.
In Revenue Procedure 2018-30, the IRS provided the HSA contribution limits affected by inflation effective for 2019. They also provided the minimum deductible and maximum out-of-pocket expenses for the high-deductible health plans (HDHPs) that HSAs must be coupled with.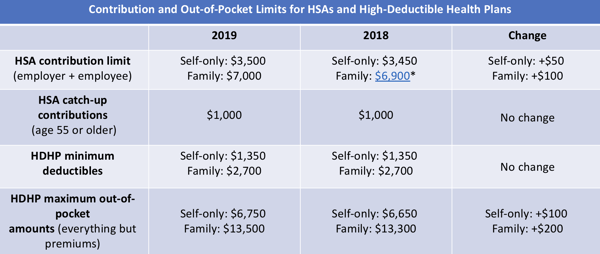 *The IRS originally set at $6,900 then recalculated to $6,850, but subsequently provided relief to effectively restore the original limit.
Source: IRS, Revenue Procedure 2018-30.
Why the roller coaster ride?
These limits reflect cost of living adjustments and rounding rules set forth by the IRS, which ensures that each year, the limits go up. Last December something happened that changed this pattern. A bill call the Tax Cuts and Jobs Act was passed that ties HSA and other employee benefit limits to something called a Chained CPI. Unlike the more commonly used CPI (consumer price index), the chained CPI assumes people will change their buying habits as costs go up and therefore it rises at a slower rate than CPI. Experts agree that because of these changes, contribution limits will go forward at a slower pace than in years past.
What about ACA limits?
Because there are two sets of limits on out-of-pocket expenses for HDHPs that are determined annually by federal agencies, things can get a little tricky and confusing for plan administrators.
The Department of Health and Human Services (HHS) sets an annual out-of-pocket or cost-sharing limits under the ACA, applied to essential health benefits covered by a plan, but excludes grandfathered plans.
HHS published its 2019 ACA out-of-pocket limits this past April. Their out of pocket limits for ACA compliant plans were $7,350 for self-only and $14,700 for families this year, and $7,900 and $15,800 for self and family plans this coming year, respectively.
On the other hand, out of pocket limits for HSA qualified HDHPs are slightly lower, and set by the IRS. In 2018, these numbers were $6,650 for self only and $13,300 for families, and for 2019, they'll be $6,750 for self only and $13,500 for families.
Get the most out of your HSA
Our team is here to help you read through the fine print and make smart decisions with your HSA and High Deductible Plan! We think HSAs are such an important tool that we've even partnered with Lively HSA to offer our members simple and free HSA administration.
Remember, HSAs are designed to grow, much like a 401(k) for healthcare, and are a crucial piece of retirement savings these days. HSAs offer a tax-free way to put aside money for short- and long-term health expenses, both expected and unexpected. It's basically like getting a 25% discount on your health expenses, depending on your tax bracket. Unused funds stay in the account and grow tax free, available for healthcare costs in the future or for retirement needs once you turn 65.
Remember:
Contributions are tax-deductible.
Contributions can be invested and grow tax-free.
Withdrawals aren't taxed if you use them for qualified medical expenses like doctor's visits or prescription drugs.
We are online on our website to chat and answer any questions you may have.