Health insurance startup Taro Health ironically didn't offer health insu
rance for their team. Then, they found a solution they could afford that could scale as they grow and seamlessly cover their fully remote team. They saw in Take Command a tech-forward partner with a shared mission to help them recruit and retain employees for less than two hours a month. Learn more about the solution they found for health insurance for startups.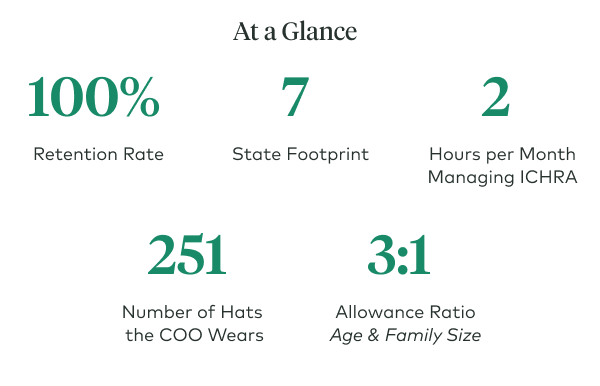 A health insurance company without health insurance
Starting their company from the ground up, Taro Health had no shortage of challenges, from regulatory hurdles and licensing components to marketing and hiring. Another challenge was figuring out employee benefits for a growing team that lived in different states.
Before we decided to offer an ICHRA, we didn't have health benefits—which is ironic considering we were building a health insurance company and we didn't have insurance. To attract and retain talent, we needed benefits. Take Command's ICHRA platform was our first foray into that.
As a young startup with only seven employees, Taro Health didn't initially offer employee benefits. When they began to ramp up and scale, it was clear they needed to offer employee benefits for recruitment and retention purposes. While they are still small enough to not be subject to the Employer Mandate, they made it a priority to find group coverage to take care of their team.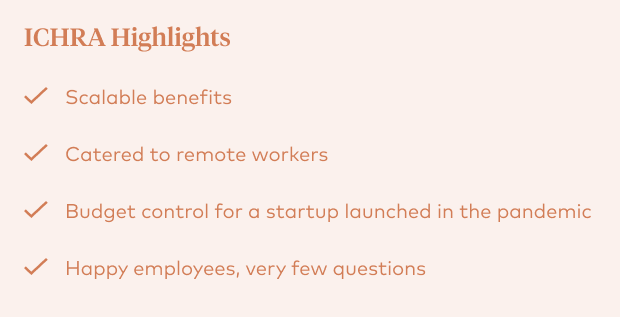 A multi-state team of remote workers posed challenges with benefits
While the cofounders resided in New York and New Jersey, the first five employees were scattered across the country, in Washington State, Washington D.C, Texas, Minnesota, Tennessee, and California. Trying to hire and figure out employment taxes and health insurance in different states posed many challenges. Taro Health wanted a solution that could reduce complications for its remote employees.
Searching for a benefits solution to scale as they grow
Avid followers of healthcare legislation and the evolution of health insurance, they had heard about Individual Coverage HRAs and reached out to several vendors to see if the reimbursement model might work for their needs.
An HRA administrator with a shared mission
As they were evaluating vendors, Take Command stood out as a leader in the space. There's a mission alignment between Taro Health and Take Command, both tech-based startups in the health insurance space trying to make healthcare more transparent, accessible and affordable. The automated, tech-first platform was also appealing.
One of the things that attracted us to Take Command, being a tech-first company, was that we appreciated a platform that is SaaS based and automatically sets you up. As Co-Founder and COO, I can trust that it will be set up in a way that will make my life easier and my employees' lives easier.
The COO and co-founder also points out that "On a macro scale, people should not be tied to their employer when it comes to health insurance and people should have a choice in their health plan.
We wanted our employees to have a choice regarding their health insurance and to empower them to make that choice."
Empowering Employees to Make Their Own Choice
"Our entire team is on our ICHRA plan," shares Yuan. "We read up on the 3:1 ratio based on dependents and age to give families and older employees more allowance to cover their statistically higher medical expenses. We matched our contributions to the average silver plan in each state."

Most of the Taro Health team previously worked in health insurance, had experience with SaaS tools, and appreciated that they had flexibility and choice in their health insurance decision.
My employees appreciated that we weren't forcing a group plan on them. They could make their own choice.
"Set it and Forget it" HRA is very hands-off
Jeff manages the day-to-day management of the Take Command platform for his team.
"I'm technically the Co-Founder and COO, but as any COO can appreciate, my job spans all types of functions, including HR, payroll, taxes, corporate governance and fundraising."
Managing our ICHRA has been simple and hands-off. I spend maybe two hours a month managing and administering it.
"Every month, I download the reimbursement report, I ensure things are staying on track, and we upload into Gusto, our payroll provider," adds Yuan. "I field very few questions and the team self-onboarded with Take Command."
Yuan also shared that being able to "Set it and forget it" brings a lot of value and time savings.
"Take Command allowed us to create a contribution structure that makes sense and deploy it quickly, instead of managing on individual levels," shares Yuan.
With a lot of customization options for ICHRA, Take Command worked with Taro Health's team to find the perfect reimbursement rates that worked for them.
About Taro Health
Taro Health is a team of healthcare operators, direct primary care (DPC) physicians, software engineers, product designers, and insurance experts – all on a mission to build a healthcare system that makes sense. Taro's reimagined health insurance plans reduce friction for both providers and patients, and invest in ways to create more meaningful, trusted doctor-patient relationships.
Founded in 2021, Taro partners closely with independent DPC practices, local specialists and labs, and top hospitals and health systems to offer comprehensive care, affordable benefits, and increased access for patients.
Launching their inaugural market in the state of Maine for plans beginning in 2023, Taro Health will provide on- and off-exchange ACA plans to individuals, families and small groups.
Taro provides solutions for two major consumer pain points: the first is people's understanding of health insurance and their reluctance to use it. The second is that consumers are often intimidated by the health insurance process with confusing terms like copays and deductibles.

Taro sends a clear message to its members: when it comes to primary care, all evaluative services are free and at your fingertips. You can see your DPC doctor in-person or virtually, have unrushed appointments on average of 45 minutes, and even call, email, or text your doctor in between visits. Patients can actually build a relationship with their doctor and don't have to wait weeks for a rushed five-minute visit, pricey specialist appointments and even more expensive emergency room visits.

To learn more, visit www.tarohealth.com
About Jeff Yuan, Co-Founder and COO, Taro Health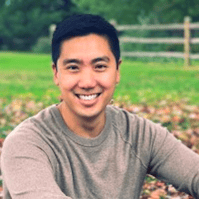 Jeff has spent the last 15 years in healthcare in a variety of strategic, operational, and commercial roles, working closely with provider and payer executive teams. Prior to Taro Health, he led Sales & Commercial Strategy at TrialSpark, was a General Manager of the Hospitals and Health Systems business at Zocdoc, and consulted at The Advisory Board Company. Jeff also pursued medical research at Memorial Sloan-Kettering, received his masters at WashU, and graduated from the University of Michigan. As the Co-founder and COO of a growing startup like Taro Health, he wears many hats including managing HR, taxes, corporate governance, operations, fundraising, etc.
Amy
I wrote this blog because I care about ideas (big and little) that can help fix our healthcare system. I used to work on projects for Kaiser Permanente and the Parkland Health & Hospital System so I've seen the system inside and out. It's so important that consumers keep up with industry shifts and changing health insurance regulations. I'm also Take Command Health's Content Editor and a busy mom. Learn more about me and connect with me on our about us page. Thanks!