Looking for hands-off administration, flexibility and tax savings, this Presbyterian church dropped their group plan and their salary increases to be responsible stewards of their resources and invest in the health and well-being of their church.
Redeemer Church Rockwall, a PCA church in downtown Rockwall, Texas, was on a mission to offer competitive benefits to their diverse team of 12. Balancing the needs of full time and part time employees as well as both clergy and non-clergy employees, it's imperative to responsibly and affordably take care of the team who takes care of the church.
Initially, the church was offering a traditional group health plan from Blue Cross Blue Shield. As you might imagine, it was expensive and rigid, offering a one-size-fits-all approach to benefits.
Prices went up year over year and the administrative burden continued to pile up.
To combat the rising prices, Redeemer Church Rockwall opted to stop offering group health insurance and instead give their employees salary increases to cover the costs of medical sharing plans. Faith-based plans come with a lower price tag and operate vastly differently than health insurance. For a little background, medical sharing plans are required to be paired with a plan that offers Minimum Essential Coverage (MEC) in order to be compliant.
The issue here was that since employees who were not clergy were subject to income tax based on those increased salaries, and the church was paying employer tax and payroll on the funds. What's more the full-time clergy paid high taxes on the amount added to their salary, which cancelled out any extra funds to cover the cost of MEC plan alongside a medical sharing plan. There had to be a better way.
Making the Switch
Julie Meyer, the Director of Operations at the church, manages everything HR-related (and so much more). She knew that benefits were an essential way to take care of the church staff and clergy that represented the heart and soul of the church. She shares that she's always looking for ways to retain top talent and provide for her staff at a level comparable to the corporate world. When she heard about Qualified Small Employer Health Reimbursement Arrangements (QSEHRAs) and their tax advantages and integration with medical sharing plans, she got to work doing her research. Changing their benefits strategy would require a well-vetted partner to ensure a smooth transition for her team.
While she evaluated her options among HRA administrators, Take Command stood out for being the most knowledgeable.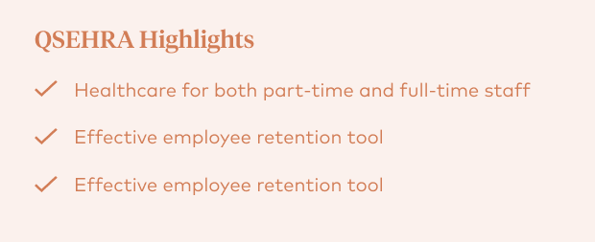 More Time for What Matters Most
The benefits of their Take Command QSEHRA were apparent from day one.
Not only did Julie find herself only spending about half an hour a month on the new benefit, she no longer had to be a health insurance expert or field complicated employee questions surrounding their health benefits.
With a streamlined and hands-off process, she used ADP to run payroll and integrated Take Command's reporting to reimburse employees on their paycheck.
Highly Automated and Highly Personal
She enjoys the highly automated approach, but also appreciates the teams of people in place at Take Command to help if issues or questions arise.
ADP and Take Command make my life easier because they allow me to quickly process payroll monthly, while having any resource we need when something new comes up.
She shares that when she has questions, she gets a response from the Take Command team right away.
The customer care has been really exemplary
Keeping the Mission-Critical Employees on Board
Julie credits their QSEHRA as a boost to their employee retention. Offering a QSEHRA ensures that the clergy and non-clergy church staff stay on board and stay healthy. Their role in the church is simply too important to risk high turnover, poor health, or staff turmoil. The idea of recruiting and training new staff members as a result is something that would cost the church a lot of critical resources, specifically money, time, and energy.
Helping church resources stretch further
On a financial level, the church's QSEHRA decreased the tax liability for non-clergy full time staff. With its tax advantages, their QSEHRA allowed their benefits dollars to stretch further, delivering a smart boost to their bottom line.
A true blessing for church employees
The biggest benefit of all is watching the employees react to their new benefit. One such employee now not only saves the taxes he would have paid on the increased salary, a $750 medical device for his wife is covered alongside his sharing ministry and MEC plan. Julie shares, "His family regularly thanks us for implementing this benefit." Seeing how valuable QSEHRA is to her team and their families is truly rewarding.
With churches often operating on tight budgets and balancing high expectations of stewardship with an innate desire to take care of their staff, the reimbursement model of health insurance just makes sense for them. That's why Julie shares her win with other churches in her denomination whenever she gets the chance
Amy
I wrote this blog because I care about ideas (big and little) that can help fix our healthcare system. I used to work on projects for Kaiser Permanente and the Parkland Health & Hospital System so I've seen the system inside and out. It's so important that consumers keep up with industry shifts and changing health insurance regulations. I'm also Take Command Health's Content Editor and a busy mom. Learn more about me and connect with me on our about us page. Thanks!