Hey there, budding techpreneurs and tech company business owners! The technology field can be quite an adventure, right? It's like hopping on a roller coaster ride filled with ups and downs. From shaping your awesome idea into a product to finding the right people to join your team, it can be both exciting and challenging.
This is the dynamic and competitive world of technology, a realm driven by innovation, creativity, and the relentless pursuit of growth. It's an environment where ideas are transformed into practical solutions, and startups turn into industry behemoths.
In this highly competitive landscape, attracting and retaining top talent is of paramount importance. Yet, beyond a compelling vision or a competitive salary, there's another crucial element to consider – health benefits. Offering a robust health benefits package is no longer an option but a necessity in today's employment market.
So why are health benefits so important in a tech company context? Comprehensive health benefits ensure your team's wellbeing and demonstrate your commitment to their personal and professional growth. When employees feel valued and cared for, their engagement, productivity, and loyalty tend to increase significantly. Health benefits can be a decisive factor for prospective employees when comparing job opportunities.
And this is where your friends at Take Command come into play. We're like the superheroes of health benefits. As a dedicated health benefits platform, Take Command specializes in assisting tech startups to strategize, implement, and manage the best possible health benefits for their teams. With an array of customized solutions and a user-friendly approach, they make navigating the complex landscape of health benefits significantly easier. So, instead of navigating the tricky world of health insurance alone, you get a trusty guide to help you through it all.
In this article, we'll explore why health benefits are so crucial for tech startups, and how Take Command can be your guiding light. So strap in, let's start this exciting journey together!
P.S. Don't forget to bookmark this page. We bet you'll want to come back and read again!
The Importance of Health Benefits in Tech Companies
In the competitive arena of tech companies, health benefits play a starring role. They're not just about making sure everyone stays healthy, they can also drive your startup's success in more ways than one. Let's delve into this a little further.
Attraction and Retention of Talent: Firstly, think about your team. You want to attract the best and the brightest, right? Offering solid health benefits can be a major draw. When potential employees compare job offers, a comprehensive health benefits package can tip the scale in your favor. It's like a magnetic force pulling the top talent towards your startup.
But it's not just about getting people on board, it's also about keeping them there. Health benefits can help with employee retention. People are more likely to stick around when they know their health is being taken care of. It's like giving them an extra reason to love being a part of your team.
Improved Productivity and Engagement: Next up, let's talk about productivity. When your team knows their health is covered, they can focus on doing their best work. They're less likely to be distracted by health concerns and more likely to be engaged and motivated. It's like fueling their energy to power up their performance.

Enhanced Company Reputation: Then, there's your startup's reputation. Offering health benefits can boost your image in the industry. It shows that you care about your employees' well-being and that you're invested in their success. This can make other companies, clients, and investors see you in a positive light. It's like polishing your startup's image until it shines.

The Role of Health Benefits in Building a Diverse Workforce: Finally, health benefits can help you build a diverse workforce. By providing a variety of health benefits that cater to different needs, you can attract people from various backgrounds and life situations. This can lead to a rich mix of ideas, perspectives, and skills in your team. It's like adding a splash of color to your startup, making it more vibrant and dynamic.
Health benefits aren't just perks or bonuses. They're essential components of your tech company strategy. They can help you attract and retain talent, boost productivity and engagement, enhance your reputation, and build a diverse workforce. So if you haven't thought about health benefits yet, it's high time you did.
Key Considerations When Offering Health Benefits in Tech
When it comes to offering health benefits at your tech company, there's more to consider than meets the eye. It's like a puzzle, where every piece needs to fit together perfectly. Here's a look at the main pieces of this puzzle:
Understanding Different Health Insurance Options:
First things first, you need to get a handle on the different health insurance options available. It's like being in a candy store, each with its own set of features and benefits. From traditional health insurance plans to Health Maintenance Organizations (HMOs), Preferred Provider Organizations (PPOs), and even Health Savings Accounts (HSAs), there's a lot to consider. You'll need to evaluate each option based on the needs of your team and the financial resources of your startup.
Balancing Cost and Quality of Health Benefits:
Next, you need to strike the right balance between the cost and quality of health benefits. It's a delicate balancing act, just like walking a tightrope. On one hand, you want to offer top-notch benefits to your team. On the other, you have to manage the costs so it doesn't put a strain on your startup's budget. It's important to shop around, compare plans, and negotiate to get the best value for your money.

Ensuring Compliance with Laws and Regulations: Then, there's the legal side of things. Offering health benefits means complying with laws and regulations, like the Affordable Care Act (ACA) in the U.S. It's like learning a new language, but it's essential to avoid penalties and ensure your benefits plan is legit. You might want to consult with a legal or HR expert to make sure you're on the right track.

Fostering a Health-Focused Company Culture: Lastly, offering health benefits should be part of fostering a health-focused company culture. It's not just about insurance cards and doctor visits, it's about promoting overall wellness and healthy habits among your team. It's like planting a seed of health consciousness that can grow into a healthier, happier, and more productive team.
Offering health benefits in tech companies involves understanding insurance options, balancing costs and benefits, complying with laws, and promoting a health-focused culture. It might seem challenging, but with the right approach and resources, you can create a health benefits plan that works for your team and your company.
Health Benefit Strategies
Innovative Health Benefit Strategies for Tech Companies
In the ever-evolving tech industry, staying ahead of the curve is vital, and this applies to health benefits too. By leveraging innovative strategies, you can offer a health benefits package that truly stands out. Let's explore some of these cutting-edge strategies:
Incorporation of Telemedicine
First on the list is telemedicine. With the advent of digital technology, medical consultations can now be done remotely, saving time and making healthcare more accessible for your team. By incorporating telemedicine into your health benefits package, you enable employees to consult with doctors without leaving the comfort of their homes. It's a convenient and efficient approach to healthcare, much like the tech solutions your startup aims to offer.

Offering Personalized Health Benefits
Next, consider offering personalized health benefits. Just like how technology is increasingly tailored to individual needs, so too can health benefits be personalized. This could involve offering a range of health insurance plans to cater to different needs, or providing a health allowance that employees can spend on the health services of their choice. This strategy acknowledges and respects the unique health needs of each team member.

Mental Health and Wellness Initiatives
Given the stressful nature of work in tech startups, mental health and wellness initiatives are crucial. This could involve providing mental health coverage in your insurance plan, organizing regular wellness activities, or offering subscriptions to mindfulness apps. Such initiatives not only enhance the well-being of your team, but also send a strong message about your startup's commitment to mental health.

Implementation of Preventive Care Programs
Lastly, don't forget about preventive care. After all, as the old saying goes, prevention is better than cure. Preventive care programs could include regular health screenings, fitness memberships, nutrition workshops, and more. These programs can help detect health issues early on and encourage healthier habits, leading to a healthier and more productive team.
By incorporating telemedicine, offering personalized health benefits, initiating mental health and wellness programs, and implementing preventive care, your startup can push the boundaries of what health benefits can offer. It's an investment in your team's well-being that can reap dividends in terms of productivity, retention, and overall success.
Administrative Partner: Take Command
Role of Take Command in Streamlining Health Benefits for Tech Companies
When it comes to offering health benefits in a tech startup, Take Command is your reliable partner. Like the perfect navigator in an unfamiliar terrain, it helps tech startups devise a health benefits strategy that's both beneficial and cost-effective. Let's explore how Take Command can assist your startup, with a special focus on Health Reimbursement Arrangements (HRAs), and delve into their available plans and packages.
How Take Command Assists Tech Companies
Take Command provides a simple and straightforward approach to setting up health benefits. It's like having an expert advisor by your side. Our team will assist you in understanding different health insurance options, evaluating costs and benefits, and ensuring compliance with laws and regulations.

Most importantly, Take Command is a champion of HRAs, which are particularly well-suited to tech companies. Why? Well, HRAs are flexible, customizable, and can be adapted to a wide range of budgets. Essentially, HRAs allow you to reimburse your employees tax-free for their health insurance and medical expenses, which means your team can choose the health insurance that best fits their needs, and your company can control costs. It's like designing your own health benefits package tailored to your unique needs.

Take Command has the expertise to guide tech companies in setting up and managing HRAs. They simplify the process, handle the paperwork, and ensure everything is compliant and above board.
Catering to Diverse Needs: Take Command's HRA Solutions for Tech Companies
Take Command provides a spectrum of plans and packages tailored to the varied needs of tech companies, regardless of size or growth stage. Whether you are a lean startup with budget constraints or a rapidly expanding firm with more extensive requirements, Take Command offers a solution for you.

We offer different HRA plans, like the Qualified Small Employer Health Reimbursement Arrangement (QSEHRA) for small businesses, and the Individual Coverage Health Reimbursement Arrangement (ICHRA) that's suitable for businesses of any size. Each plan has its own unique features and benefits, giving you the flexibility to choose the one that's best suited to your company.

Take Command can be a game-changer in the way tech startups manage health benefits. By leveraging their expertise, and the flexibility of HRAs, you can offer a competitive, cost-effective health benefits package that will set your startup apart. It's about making health benefits work for you, for your team, and for the success of your company.
Pros and Cons of HRAs for Tech Companies
HRAs have emerged as a viable alternative to traditional health insurance plans, particularly for tech companies. But as with any strategy, it's important to weigh the advantages and potential drawbacks. Let's explore the pros and cons of HRAs for technology industry:
Benefits of HRAs for Tech Companies
Flexibility and Customizability: HRAs allow startups to design a health benefits package that suits their budget and their team's needs. Employees can choose the insurance plan that best fits their personal circumstances, leading to increased satisfaction.
Cost Control: With HRAs, you define the amount you're willing to reimburse each employee for their health expenses, giving you more control over costs. This is particularly beneficial for startups that need to manage their finances carefully.
Tax Advantages: Reimbursements made through HRAs are tax-free for both the company and the employees, leading to tax savings.
Attract and Retain Talent: The flexibility of HRAs can make your startup more attractive to potential employees and increase retention rates among existing staff.
Potential Drawbacks of HRAs for Tech Companies
Administrative Burden: While companies like Take Command can alleviate this, setting up and managing an HRA can involve substantial administrative work, especially ensuring compliance with tax laws and regulations.
Employee Responsibility: With HRAs, employees are responsible for purchasing their own health insurance. This can be a pro for some who appreciate the flexibility, but a con for those who prefer a more straightforward, company-managed plan.
Variable Costs for Employees: As employees choose their own plans, costs can vary widely among your team. Some might find adequate coverage within the reimbursement amount, while others might need to pay out of pocket for more comprehensive plans.
Market Fluctuations: Insurance market fluctuations could impact the cost of premiums. If costs rise significantly, the set reimbursement may no longer cover enough of the employees' expenses, potentially leading to dissatisfaction.
Overall, HRAs offer significant benefits for tech startups, including flexibility, cost control, and tax advantages. However, they also come with potential challenges such as administrative responsibilities and variable costs for employees. Understanding these pros and cons will help your startup decide whether an HRA is the right approach to health benefits.
Comparing ICHRA and QSEHRA: Finding the Right Fit for Tech Companies
As you consider implementing an HRA at your tech company, you'll come across two primary options: the Individual Coverage HRA (ICHRA) and the Qualified Small Employer HRA (QSEHRA). Both are offered by Take Command and can provide your startup with valuable benefits. Let's break down the differences and similarities between ICHRA and QSEHRA, and see which one could be a good fit for your tech company.
Individual Coverage HRA (ICHRA)
ICHRA is suitable for businesses of all sizes, making it an excellent option for tech companies that are scaling rapidly and hiring more employees. Here's how ICHRAs can benefit your company:
Flexibility: With ICHRAs, you can offer different allowances to different groups of employees based on bona fide job criteria such as job title, geographic location, and full-time vs. part-time status. This is especially beneficial for tech startups that have a diverse team with different healthcare needs.
No Maximum Limit: There's no cap on the amount you can contribute to ICHRAs, giving you the flexibility to offer a generous health benefits package to attract top talent.
Year-Round Enrollment: Employees can enroll in or change their health insurance plan outside the regular Open Enrollment period if they have an ICHRA, ensuring they're always covered.
Qualified Small Employer HRA (QSEHRA)
On the other hand, QSEHRAs are designed for small businesses with fewer than 50 employees, making them a suitable option for tech companies. Here's why a QSEHRA could be a good fit:
Cost-Effective: With QSEHRAs, there are annual maximum limits on the amount you can contribute ($5,450 for individuals and $11,050 for families in 2023). This can help you control costs while still providing a valuable benefit to your employees.
Simplicity: QSEHRAs offer a uniform allowance to all eligible employees. This can make the plan easier to manage, especially for startups without a dedicated HR department.
Tax Advantages: Like ICHRAs, QSEHRAs offer tax-free reimbursements for both the company and the employees.
In conclusion, both ICHRA and QSEHRA offer distinct advantages and can be a great fit for tech startups, depending on your size, growth trajectory, and the healthcare needs of your team. With Take Command's expert guidance, you can choose the right HRA option for your tech startup and navigate the process with ease.
Comparing ICHRA and QSEHRA: Which is the Right Fit for Your Tech Companies?
Navigating the world of health benefits can be challenging for tech startups. Understanding the key differences between ICHRA and QSEHRA can help startups determine the best fit for their unique circumstances. Here's a comparative look at these two types of HRAs: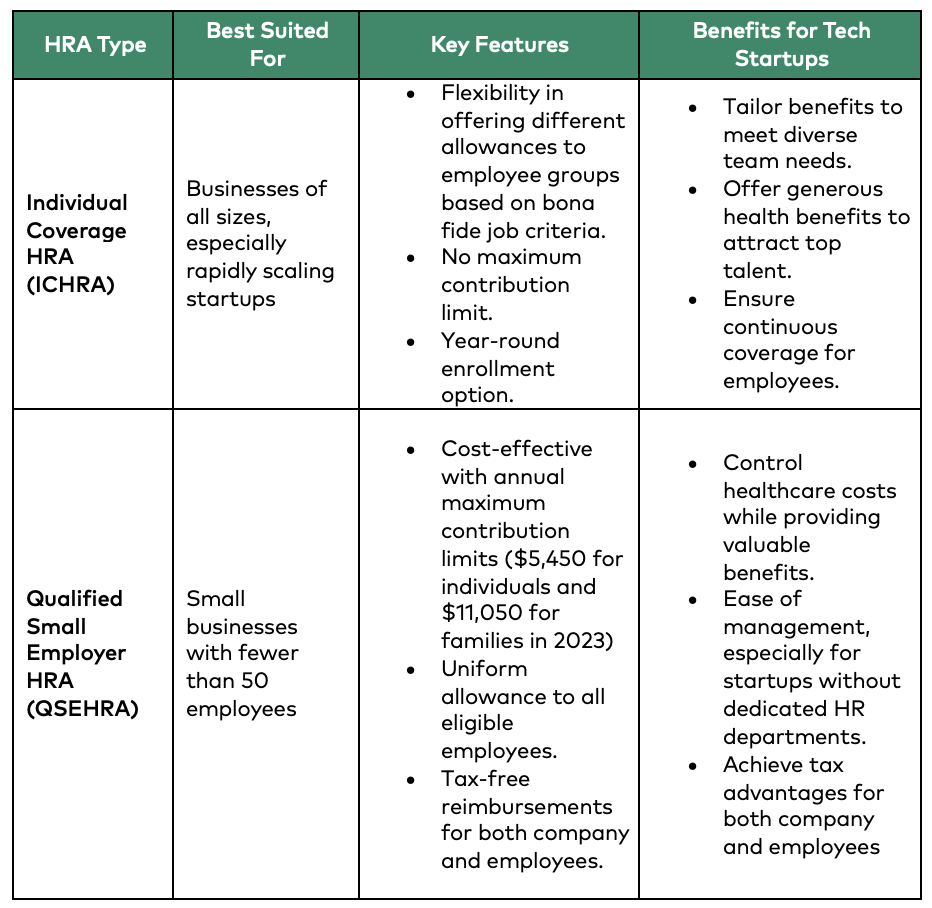 Example Scenarios for Tech Companies
A tech company in rapid growth phase with an increasingly diverse workforce might opt for an ICHRA. This would allow them to provide flexible allowances based on the varying needs of their employees, from software engineers to sales teams located in different geographical regions. The lack of a maximum contribution limit also allows for a more generous benefits package to attract and retain top talent.
A smaller tech company looking for a simple, cost-effective solution might find the QSEHRA to be a good fit. The annual contribution limits help keep costs predictable, while the uniform allowance can simplify administration, especially in the absence of a dedicated HR department. The tax advantages offered by QSEHRAs can also be an appealing incentive for both the company and its employees.
Exploring Other Health Benefits Plans Suitable for Tech Companies

While HRAs are a popular choice for companies, they're not the only option on the table. Let's explore other types of health benefits plans that might be a good fit for your tech startup:
Group Health Insurance Plans
Group health insurance plans are a traditional choice and offer comprehensive coverage to employees. They often include health, dental, and vision coverage, making them attractive to potential hires. However, they can be costly and may not be as flexible as other options.

Health Savings Accounts (HSAs) and High-Deductible Health Plans (HDHPs)
HSAs, when paired with HDHPs, can offer a cost-effective solution for tech startups. Employees can contribute pre-tax dollars to an HSA to pay for eligible health expenses. This model promotes consumer-driven healthcare, with employees taking a more active role in their healthcare spending. However, HDHPs have high deductibles, which means employees will have to pay a significant amount out-of-pocket before insurance kicks in.

Flexible Spending Accounts (FSAs)
FSAs allow employees to contribute pre-tax dollars to pay for eligible healthcare or dependent care expenses. However, unlike HSAs, FSAs typically have a use-it-or-lose-it policy, meaning employees forfeit any unused funds at the end of the year. This can be a disadvantage for employees who overestimate their healthcare expenses.

Wellness Programs
Wellness programs offer a different approach to health benefits. These programs aim to promote healthy habits among employees through gym memberships, mental health resources, healthy eating workshops, and more. While they don't replace health insurance, they can complement it and contribute to a healthier, happier workforce.

Voluntary Benefits
Voluntary benefits or supplemental insurance plans allow employees to choose additional coverages at their own expense. Examples include critical illness insurance, accident insurance, and more. These plans can complement the main health insurance and provide additional security.

There's no one-size-fits-all when it comes to health benefits for tech companies. The best approach is to understand the needs of your team, evaluate the pros and cons of each option, and choose the plan or combination of plans that best meets those needs. After all, a good health benefits plan can make your company a more attractive place to work and contribute to the success of your company.
Comparing HRAs to Other Health Benefits Options: Why HRAs Stand Out for Tech Companies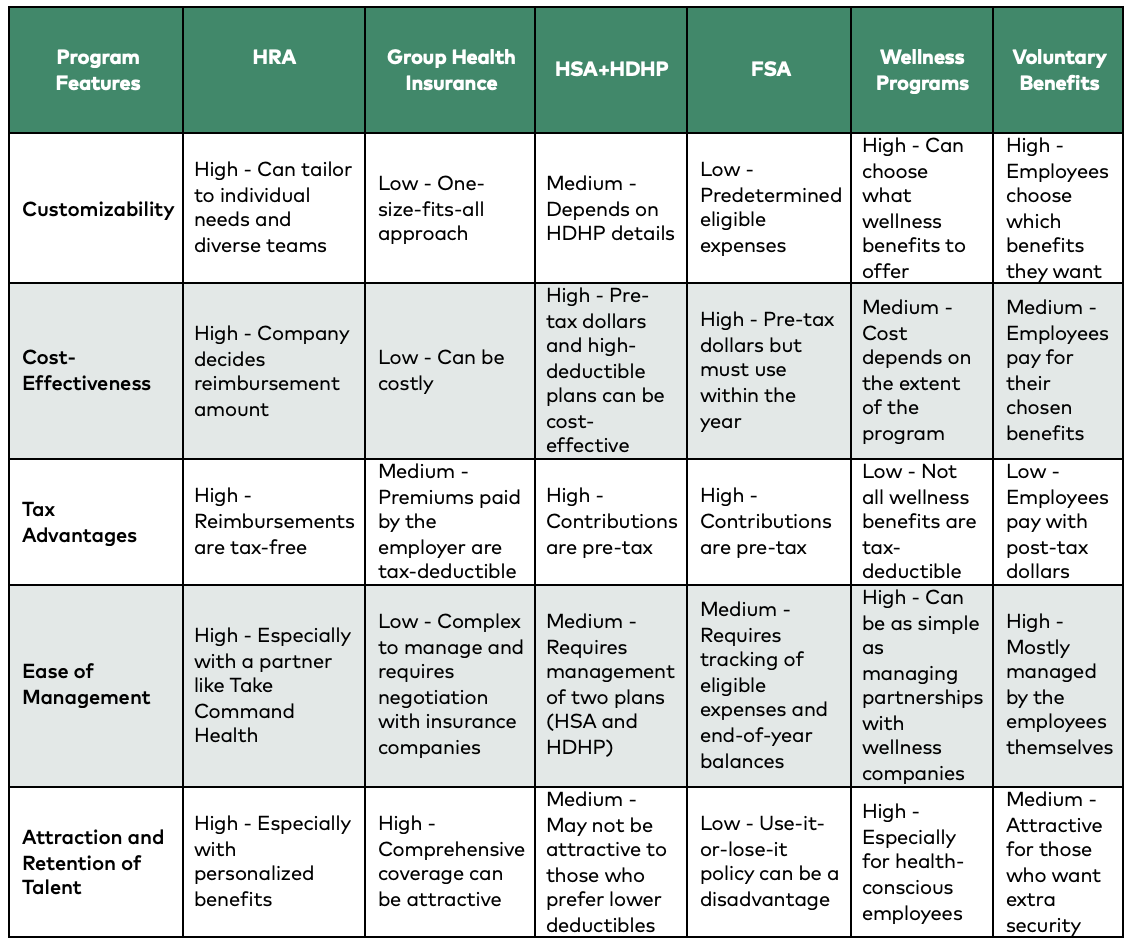 Take Command HRAs offer a unique combination of customizability, cost-effectiveness, tax advantages, ease of management, and attractiveness to talent. These qualities make HRAs an optimal choice for many tech companies.
Health Reimbursement Arrangements (HRAs)
Customizability: High
Cost-Effectiveness: High
Tax Advantages: High
Ease of Management: High
Attraction and Retention of Talent: High
Group Health Insurance
Customizability: Low
Cost-Effectiveness: Low
Tax Advantages: Medium
Ease of Management: Low
Attraction and Retention of Talent: High
Health Savings Accounts (HSAs) and High-Deductible Health Plans (HDHPs)
Customizability: Medium
Cost-Effectiveness: High
Tax Advantages: High
Ease of Management: Medium
Attraction and Retention of Talent: Medium
Flexible Spending Accounts (FSAs)
Customizability: Low
Cost-Effectiveness: High
Tax Advantages: High
Ease of Management: Medium
Attraction and Retention of Talent: Low
Wellness Programs
Customizability: High
Cost-Effectiveness: Medium
Tax Advantages: Low
Ease of Management: High
Attraction and Retention of Talent: High
Voluntary Benefits
Customizability: High
Cost-Effectiveness: Medium
Tax Advantages: Low
Ease of Management: High
Attraction and Retention of Talent: Medium
Mitigate Challenges with Take Command
Leveraging Take Command Health to Navigate Health Benefits Challenges in Tech Companies
Implementing health benefits in tech companies comes with its own set of challenges. From managing costs and catering to diverse health needs, to ensuring a smooth onboarding process and continuously improving health offerings, there's a lot to consider. Fortunately, partnering with Take Command can help you navigate these hurdles with ease. Here's how:
Managing Costs While Providing Competitive Benefits
Health benefits can be a significant expenditure for startups. However, they are essential to attract and retain talent in the competitive tech industry. Take Command aids companies in overcoming this challenge by providing cost-effective solutions like HRAs. With HRAs, startups can determine the amount they want to reimburse, thus offering a valuable benefit while controlling costs.
Catering to the Diverse Health Needs of Employees
Many companies often have diverse teams, each with unique health needs. Take Command's HRA solutions allow each employee to choose a health insurance plan that best suits their needs. This flexibility can result in a more satisfied and healthier team, which can boost productivity in the long run.
Ensuring a Smooth Onboarding Process for Health Benefits
Introducing a new health benefits plan can be daunting for both the company and the employees. Take Command simplifies this process by providing all the resources and support needed. They help tech companies set up their HRA, guide employees on how to use their benefits, and handle the administrative tasks, making the onboarding process seamless and stress-free.
Continuous Evaluation and Improvement of Health Benefit Offerings
Healthcare needs and regulations change over time, and so should health benefit offerings. Take Command supports companies in this ongoing process by providing data and insights, advising on industry trends, and ensuring compliance with laws and regulations. This allows companies to continuously evaluate and improve their health benefits to better serve their employees.
The challenges of offering health benefits in tech companies are manageable, especially with a trusted partner like Take Command. They not only help startups navigate the complexities of health benefits but also empower them to provide flexible, cost-effective, and competitive benefits that cater to their team's diverse health needs. With Take Command, startups can focus on what they do best: innovating and growing their business.
AI and Tech Advancements in Health Benefits Management: The Role of Take Command
Artificial Intelligence (AI) and technology are revolutionizing health benefits management, and Take Command is at the forefront of this innovation. By leveraging the power of these advancements, Take Command plays a vital role in making health benefits management more efficient and effective for tech companies.
Streamlining Administrative Tasks
Take Command uses technology to automate many administrative tasks related to managing health benefits, such as enrollment, claims management, and reporting. This reduces the manual workload for HR teams, freeing them to focus on strategic initiatives.
Data-Driven Decision Making
Through AI and data analytics, Take Command helps companies make better, informed decisions about our health benefits offerings. We provide insights into health benefits usage, cost trends, and employee preferences. This data-driven approach helps startups optimize their health benefits, ensuring they get the best value for their investment.
Enhancing Employee Engagement
The platform provided by Take Command offers an interactive and user-friendly experience for employees. It makes it easy for employees to understand their health benefits, make claims, and seek support when they need it. The use of AI technology also enables a personalized user experience, offering recommendations tailored to each employee's health needs.
Staying Ahead of the Curve
As early adopters of new technologies, tech companies are uniquely positioned to benefit from these AI and tech advancements in health benefits management. By partnering with Take Command, they can harness these technologies to not only improve their health benefits management but also provide an exceptional experience for their employees.
In conclusion, the incorporation of AI and technology into health benefits management is not just a trend—it's the future. And with Take Command, tech startups have a partner that's leading the way in this digital revolution of health benefits.
Future Trends in Health Benefits for Tech Companies
The world of health benefits is ever-evolving, and tech startups are ideally positioned to embrace these changes. As we look towards the future, several trends are poised to shape how tech companies manage health benefits.
The Increasing Importance of Mental Health Benefits
Mental health has been pushed to the forefront of workplace health discussions, particularly due to the challenges posed by the COVID-19 pandemic. Recognizing this, more tech startups are expected to prioritize mental health benefits. This could involve offering mental health days, access to therapy and counseling, mindfulness apps, and creating a workplace culture that supports mental well-being.
The Rise of Personalized and Flexible Health Benefits
The one-size-fits-all approach to health benefits is becoming a thing of the past. Employees now value personalized and flexible health benefits that can be tailored to their specific needs. Health Reimbursement Arrangements (HRAs) offered by companies like Take Command are set to become even more popular as they allow employees to select the health insurance plan that best fits their individual needs.
Health and Wellness Beyond Traditional Insurance
The future of health benefits in tech companies also lies in moving beyond traditional insurance. Startups are increasingly recognizing the importance of overall health and wellness. As a result, we can expect to see more startups offering wellness programs, promoting regular exercise, providing healthy food options, and creating spaces for relaxation and downtime.
By staying ahead of these trends, tech companies can ensure they're offering health benefits that not only attract top talent but also foster a healthier, happier, and more productive team. With the right partner like Take Command, navigating these future trends can be seamless and efficient, allowing companies to focus on their core business while providing the best possible health benefits to their team.
Harnessing the Power of Health Benefits for Tech Companies with Take Command
In the competitive landscape of the tech industry, health benefits are more than just a perk - they are a strategic tool for success. They play a crucial role in attracting and retaining top talent, enhancing productivity, fostering a diverse workforce, and ultimately propelling the company forward.

Take Command stands as a formidable partner in this journey. Our innovative approach towards health benefits management, leveraging advancements in AI and technology, and offering personalized and flexible health solutions, align perfectly with the dynamic and forward-thinking nature of tech startups. We understand the unique challenges faced by startups and provide the tools and support needed to overcome them. Our HRAs and other services empower startups to provide competitive health benefits while managing costs effectively.

To tech companies looking to leverage health benefits for success, the message is clear: With the right strategies and a trusted partner like Take Command, you can turn the challenge of offering health benefits into an opportunity. As the future unfolds with promising trends like AI and tech advancements in health benefits management, increased emphasis on mental health, personalized health benefits, and an expanded vision of health and wellness, tech startups are uniquely positioned to lead the way. By staying ahead of these trends and making health benefits a priority, tech startups can build healthier, happier teams that drive their business to new heights.
Let's do this!
Begin designing your ICHRA plan today and be set up in minutes. You could start reimbursing your employees tax-free sooner than you think.
We look forward to talking with you.
To save some back-and-forth scheduling, please select a time below that works for you. We'll give you a ring!