TRS Alternatives
Texas teachers: Should you put your kids on your TRS health plan?
by Jack
**Updated with 2017 rates, which are even higher than last year**
Teachers, save money and get better coverage for your kids with a private plan!
A TRS health plan used to be a great deal for teachers and their families. Unfortunately that's just not the case any more. We've found teachers can save money and get better coverage for their kids by putting them on a non-TRS plan. Let's run some numbers...
What do kids really cost on TRS?
If you pay close attention to the TRS premiums for the 2017-2018 school year, you'll notice that adding your kids can be pretty expensive. Let's run some numbers using the TRS 2017-2018 premiums straight from the TRS Activecare website and brochure: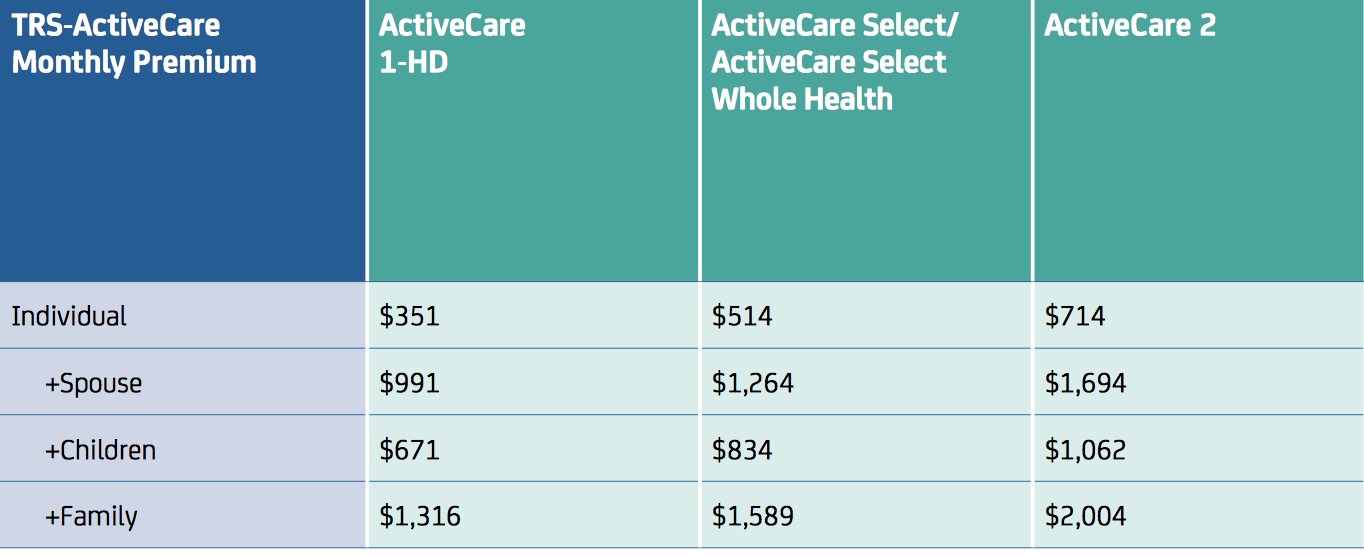 Let's just look at the ActiveCare plans in green. The key rows to look at are the "Employee only" and "Employee and Child(ren)". These have the gross premium amounts (ie, what the TRS plan cost in full). Most school districts will contribute a little bit each month to offset these premiums. However, these contributions are typically for the employee only, and do not increase for the family size. For 2017, the average district contribution is $225/mo. You get the same amount if you're a single teacher or you're a teacher with 10 kids.
Is this good or bad? Well, it depends. TRS is unique in that it costs the same no matter how many kids you are adding or their age. Private plans from companies like Blue Cross, Humana, and Aetna offer child-only plans, but their monthly premiums vary depending on how many children you are adding and the child's age.
Let's look at premiums for plans comparable to the TRS ActiveCare plans on Blue Cross (Blue Cross's plans are slightly better, actually).
Estimated monthly premium to add your kid (or kids) onto Blue Cross:
Bronze

(similar to ActiveCare 1-HD)

Silver

(similar to ActiveCare Select)

Gold

(similar to ActiveCare 2)

0-20 years old
$105/mo
$140/mo
$170/mo
21-26 years old
$170/mo
$225/mo
$275/mo
Let's say you have a 10 year old. Adding her onto your TRS ActiveCare 1-HD plan would cost an additional $274/mo versus only $105/mo on a similar Blue Cross plan!
Now let's say you have 3 children under 20. Adding them onto Blue Cross would cost approximately 3 x $105/mo = $315/mo. So in that case TRS is starting to look a little better.
So, should I put my kids on another plan? In general, TRS is only a good deal if you have more than 3 kids under the age of 20 or more than 2 kids between the ages of 21-26. If you only have 1 or 2 kids, you should consider looking into other options or frankly you'll be wasting a lot of money every month.
Many people worry they put their kids on a separate plan, they will be at a disadvantage because they would potentially have to deal with two deductibles and two max out of pocket limits. However, TRS plans have "family" deductibles and max out of pockets, which effectively doubles the individual amount, so the reality is you're not any better off all being on the TRS plan.
It isn't all a bed of roses, so you will need to consider the trade-offs to putting your kids on a separate plan. First, you'll need to carry two insurance cards (one for each plan). Second, "in network" doctors may vary between the two plans, so there's a little more to keep track of. When you're potentially saving $200-300 a month though, these issues are more minor hassles than major obstacles.
What's the deadline? My TRS enrollment is coming up!
Teachers can make changes to their TRS enrollment status up until 8/22. Schools will often set deadlines before this to prevent a rush of paperwork. However, you can still work with your benefit administrator up until 8/22 deadline. You can use this form to document your changes and make life a little easier on your benefit administrator.
It's important to note that you can drop your kids from your TRS plan at any time, but you'll want to make sure they have a qualifying reason within 60 days to enroll in a non-TRS plan. Children currently on TRS will qualify since their TRS plan is technically ending 8/31, so in most cases, you're good to go if you're looking to renew your TRS coverage. If you have a newborn, that qualifies too.
Check out other qualifying events or send us an email (info@takecommandhealth.com) and we can help.
How do I get started looking for other plans?
We'd love to help you! We've designed a first-of-its-kind website just for teachers that allows you to compare all of your options–TRS and private plans in your area–side by side. We can help you choose a TRS plan, and help you see more options for your kids. We'll even factor in your district's contribution amount, help you search for your doctors and prescriptions, and make it really simple to figure out which plans or combination of plans will provide the best coverage for you and your family.
We don't charge any fees for the use of our teacher site and our advice is data-driven and objective. We think teachers deserve better!