Image Source: Julie Cate Photography
Shopping for health insurance not all "roses" for Bachelor either
Sean Lowe, well known for his stint on the Bachelor and Bachelorette, recently had to make an important decision for his new family of three. He and his wife, Catherine, welcomed baby Samuel this past summer, so health insurance is more important than ever for their family. "Since we are both self-employed, we have to cover our own health insurance," shares Sean. "Shopping on our own each year has become a huge burden--premiums only seem to go up as coverage and doctor options diminish."
Sean and Catherine had signed up for a Cigna plan in 2016 that worked "alright" for them. But then they got a letter that their premiums were set to rise to close to $2,000 a month for 2017 with their new baby. "I felt sure there had to be better options out there than paying $24,000 a year in premiums alone," Sean said.
Discovering more health insurance options
Sean wasn't sure where to turn. A friend recommended a new website called Take Command Health. Take Command Health is a unique website that helps individuals discover more health insurance options and instead of just listing plans, it actually crunches the numbers to recommend the most cost-efficient plan.
"Clients are often surprised how many health insurance options they really have," says Take Command Health CEO Jack Hooper. "While most other websites only offer one type of plan, we work hard to put plans from Healthcare.gov side-by-side with private 'off-exchange' plans and even faith-based options."
For Sean, it was a "faith-based" option called Medi-Share that caught his attention. With lower premiums, a PPO doctor network, and Christian values it seemed like an intriguing option. "I was drawn to the Medi-Share program since it is a biblically-based concept that consists of a community of believers that supports each other," says Lowe.
But then the questions arose: How did Medi-Share work? Would he have to pay a tax penalty? Would it be a good fit for him, Catherine, and Samuel? Was it really that much cheaper?
Finding answers with Take Command Health
That's where Take Command Health helped. Sean found helpful reviews, Medi-Share FAQs, and testimonials from other Take Command clients who had switched to Medi-Share. He was then able to search for his families doctors--including Catherine's OBGYN and Samuel's pediatrician--directly on Take Command's website. Comparing Medi-Share's coverage to his old Cigna and other major medical plans was easy too. "The step-by-step platform at Take Command Health was very easy to navigate. It was seamless and gave me a fantastic option based on my needs," said Lowe.
Sean was able to enroll directly on Take Command Health and is excited not only about the savings but about joining the Medi-Share community. "Not only is it benefiting our family from a dollars and cents perspective," said Lowe reflecting on his decision. "It feels like we are doing something good by signing up. If you're a believer and are spending too much on your health insurance, you have to check out Medi-Share and Take Command Health."
"We're really excited to be able to help families like Sean and Catherine find better health insurance options for their families," said Hooper. "We're also thankful for the Lowes being willing to share their story and experience using our service."
To learn more about Medi-Share and Take Command Health, visit TakeCommandHealth.com or click the button below: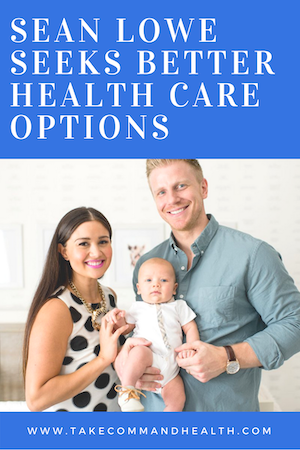 About Take Command Health
Take Command Health launched three years ago with the goal of bringing awareness, advocacy, and transparency to the confusing world of health insurance for small businesses and individuals. Take Command Health is at the forefront of this issue, a recognized leader in QSEHRA administration and small business HRA tax strategy, with customers in every state. It operates in Arizona, California, Florida, Georgia, Indiana, Michigan, North Carolina, Pennsylvania, Texas, Tennessee, and Wisconsin for individual insurance and offers small business HRA administration nationwide.
Amy
I wrote this blog because I care about ideas (big and little) that can help fix our healthcare system. I used to work on projects for Kaiser Permanente and the Parkland Health & Hospital System so I've seen the system inside and out. It's so important that consumers keep up with industry shifts and changing health insurance regulations. I'm also Take Command Health's Content Editor and a busy mom. Learn more about me and connect with me on our about us page. Thanks!