Health Decisions: Balancing time and money
My husband's car battery died last week. The local car repair shop offered to replace our battery. The convenience was tempting, but the cost was excessive. So, instead of getting our battery replaced that day, we had a marriage stand-off: do we spend $50 extra to conveniently get our battery replaced? Or do we try to manage with one car until one of us can take it to the place where we could get a deal? Money won in this debate. After a week of sharing a car, my husband went one town over for the DIY battery deal. While this is a "first world problem," don't we all find ourselves making decisions based on time and money?
Men and Preventive Health
If your husband is like mine, he's adamant (and maybe a little stubborn) about finding the best deal. And yet, when it comes to health care, all logic goes out the window and he'd prefer to just roll the dice. The Center for Disease Control and Prevention (CDC) conducted a study to learn more about health service utilization trends within the United States. Data suggests that women are twice as likely as men to take advantage of preventive health. And, while 25% of men ages 20-45 don't go to the doctor for their check ups, 18% of them will make at least one visit annually to the ER. If cost is one of the leading reasons men don't go to the doctor, you'd think a covered visit to the doctor would incentivize them to steer clear of the fortune they will be charged for an emergency room visit.
What is covered?
Major insurances are mandated to cover screenings for the most common preventable diseases. All men are eligible for: annual physical exam, blood pressure, diet/obesity screening, immunization updates, STD screening, tobacco, alcohol and depression screening. In addition, this chart can help you learn what is most important for your specific age: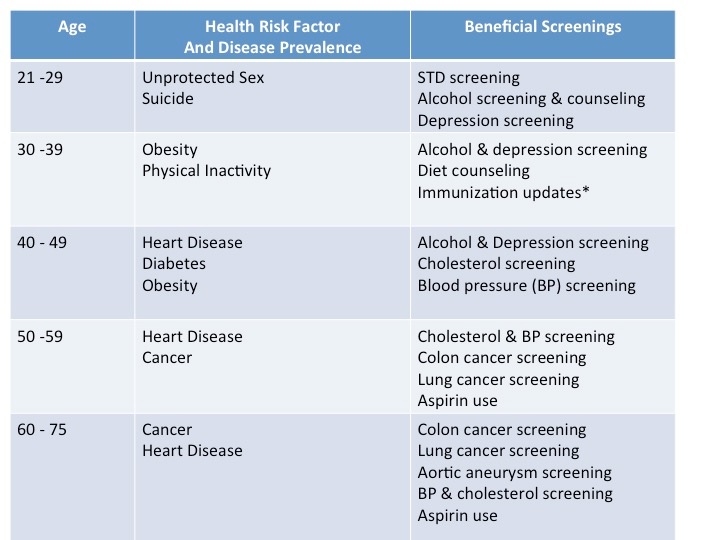 Information collected from 2014 CDC report and healthcare.gov. A full list of what is covered can be found at Affordable Care Act. *Don't forget to update your Tdap when you are expecting a child!
Next steps: Go! And Save Money
At our house, we clearly make decisions based on time and money. But if a two-hour doctor's appointment could save us thousands of dollars, and prevent the headache and heartbreak of a treatable disease, sign me up! If you are looking for the best way to save money on your health insurance, TakeCommandHealth is here to help.
Please share this information with the men in your life. Their health is worth it!

Amy
I wrote this blog because I care about ideas (big and little) that can help fix our healthcare system. I used to work on projects for Kaiser Permanente and the Parkland Health & Hospital System so I've seen the system inside and out. It's so important that consumers keep up with industry shifts and changing health insurance regulations. I'm also Take Command Health's Content Editor and a busy mom. Learn more about me and connect with me on our about us page. Thanks!