Individual
Is Take Command Health part of "the exchange"?
by Angela
Do you sell "Obamacare" plans? Are you part of the exchange? We get these questions a lot. Although we are not an exchange created by the Affordable Care Act, we are a licensed insurance agency that sells health insurance plans on and off "the exchange." What this means is that we can help you:
determine if you are eligible for any subsidies.

enroll in plans offered on the exchange.

enroll in plans not offered on the exchange.
In short: we can help you shop for plans on and off the exchange and we can help you compare them side-by-side! Whatever your situation, we'll do our best to help you enroll in the best plan for you.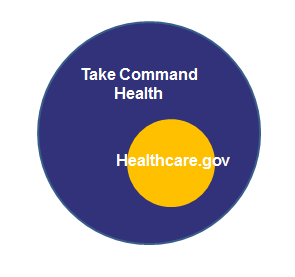 So where did the exchanges come from? The Affordable Care Act requires the creation of health insurance exchanges where individuals can research and buy health insurance plans. The law allows state governments to decide whether they want to set up their own exchanges ("State Exchanges") and if a state decides not to set up a state exchange, the U.S. Department of Health and Human Services (HHS) will set one up for them via the "Federal Exchange". Ideally these exchanges would function like one of the awesome travel sites out there-- like Kayak.com or Expedia.com, etc-- but unfortunately they're often slow, buggy, and have only a small portion of the available plans listed.
What's the difference in State and Federal Exchanges? The State and Federal Exchanges have a lot in common--they serve as a way to compare, sign up for, and purchase individual health insurance. They also are the only place you can use any healthcare tax credits for which you may be eligible. You can use exchanges online by yourself or you can work with someone who is trained to use them (a "Navigator") who can help you go through the application process.
Have more specific questions about Federal and State exchanges? Let us know! We would love to help. When you're shopping for health insurance, be sure to see all your options--both on and off the exchange--at www.takecommandhealth.com.