Understanding the marketplace
In the quest for affordable health solutions in Georgia, HRAs or Health Reimbursement Arrangements are emerging as a game-changer for business owners. As health insurance costs continue to climb, it's no surprise that many small business leaders in GA are on the lookout for cost-effective ways to offer their workforce top-notch health benefits. HRAs might just be the gem they've been hoping to discover.
One of the standout features of HRAs is their ability to let employers compensate employees for eligible medical expenses, including those elusive health insurance premiums, all while enjoying a tax-free perk. It's a win-win situation where both parties save money. Moreover, HRAs boast versatility. They can be customized to align with each business's unique requirements. Business leaders can decide the reimbursement sum and make modifications as and when necessary.
But here's the icing on the cake: HRAs can beautifully complement individual health insurance schemes. Often, these individual plans come with a friendlier price tag than their group health insurance counterparts. This means employees can cherry-pick a plan that suits their individual health needs and budget, yet still enjoy a financial boost from their employer.
Given the recent shake-up in Georgia's health insurance landscape, especially with the state stepping up to steer the market under fresh legislation, HRAs are shining brighter on the radar. They're shaping up to be a go-to choice for GA's business magnates eager to offer quality health coverage without breaking the bank.
Georgia's Exciting Leap: A Brand New Health Insurance Marketplace!
Big news on the health front: Governor Brian Kemp has given the green light for the Peach State to craft its very own health insurance marketplace. This move promises to simplify your journey in comparing and selecting health insurance options.
Here's the scoop:
Thanks to Senate Bill 65, Georgia is ditching the old law and paving the way for a state-run health care exchange. This is a massive shift from the earlier stance against the Affordable Care Act.
Remember the federal Healthcare.gov? While it served nearly 900,000 Georgians before, the hope is to launch Georgia's unique platform as early as this November. Fingers crossed!
Kemp's original idea was a tad different. He imagined a space where private brokers offered a mix of policies. However, after some discussions and valuable feedback, the decision is to focus on a central state marketplace with only federally approved plans. All for the best!
Having spent $31 million on preparations, the Kemp administration is all set and eager to roll this out.
Laura Colbert of Georgians for a Healthy Future points out some cool perks we might enjoy, like extended enrollment periods and an all-in-one application for state health programs. Exciting times ahead, and we're thrilled to keep you updated!
Why Georgia's New Marketplace and HRAs Are a Winning Combo for Businesses
With Georgia forging its own health insurance marketplace, let's dive into how this landscape can offer businesses like yours a splendid opportunity. Let's chat about HRAs and why they're making waves!
Georgia's Blooming Health Insurance Garden
Georgia's health insurance scene is like a garden with diverse blooms. We have private insurers bringing colors like HMOs, PPOs, and HDHPs to the table. Meanwhile, government initiatives like Medicaid and Medicare have their own vital role, catering to the low-income group and our lovely seniors. And let's not forget the blossoms provided by businesses: employer-sponsored health plans. Each petal and leaf adds its unique charm and function to the garden.
HRAs: The New Buzz in Town for Businesses
Now, where do HRAs fit in this picture? Think of HRAs as those versatile garden tools that help make every plant thrive. By introducing HRAs, businesses can sprinkle a little extra sunshine on their employees. How? HRAs let you reimburse your team for certain medical expenses. It's all tax-free, and it beautifully complements various health plans, especially those HDHPs.
What does this mean for your team? More choice, more flexibility! They can use HRA funds for those sometimes pesky out-of-pocket expenses, from deductibles to prescription shades. It's like giving them a little healthcare piggy bank they can tap into, ensuring they can smell the roses without stressing about healthcare costs.
Wrapping It Up with a Bow
To sum it all up, Georgia's evolving health insurance landscape is opening doors for businesses to embrace HRAs. It's like adding a cherry on top of the sundae! With the right moves and a sprinkle of guidance, businesses can dance through this vibrant health insurance garden, picking the best blooms that cater to their needs and aspirations.
ICHRA vs. QSEHRA: The Dynamic Duo of Health Reimbursement Arrangements
Health Reimbursement Arrangements (HRAs) have transformed the way employers can provide health benefits to their employees. Within the realm of HRAs, two standout models have emerged: Individual Coverage Health Reimbursement Arrangement (ICHRA) and Qualified Small Employer Health Reimbursement Arrangement (QSEHRA). While they both offer businesses unique advantages, they cater to different needs and structures. Let's dive into their key features and differences.
Individual Coverage Health Reimbursement Arrangement
ICHRA offers a modern twist to employee health benefits, providing businesses with a flexible and customizable way to reimburse employees for their individual health insurance costs. Here's the scoop.
Flexibility with Employees: One of ICHRA's shining features is the ability to offer different reimbursement amounts based on classes of employees. This means you can provide different reimbursement rates to full-time vs. part-time workers, or based on geographic location, among other criteria.
No Maximum Contribution Limits: Unlike QSEHRA, ICHRA does not have set annual contribution limits. This provides employers with the liberty to decide how much they want to reimburse employees.
Employee Eligibility: Employees are required to have individual health insurance, either through the marketplace or another source, to participate in an ICHRA.
Integration with Premium Tax Credits: Employees can't double-dip by receiving both ICHRA benefits and premium tax credits. If the ICHRA allowance is deemed "affordable," then the employee cannot claim the tax credits.
Qualified Small Employer Health Reimbursement Arrangement
QSEHRA presents a tailored health benefit solution for smaller businesses, enabling them to compensate employees for qualified medical expenses without the complexities of a traditional group plan. Here's the scoop.
Designed for Small Employers: QSEHRA is tailor-made for small businesses. Only companies with fewer than 50 employees who don't offer a group health insurance plan can use QSEHRA.
Annual Contribution Caps: $5,850 for individual employees $11,800 for employees with a family.
Equal Reimbursements: Unlike ICHRA, QSEHRA requires employers to offer the same reimbursement to all eligible employees. However, adjustments can be made based on age and family size.
Simpler Eligibility: Employees simply need proof of minimum essential coverage to be eligible for reimbursements. This can be through a spouse's plan, the marketplace, or other sources.
Choosing between ICHRA and QSEHRA depends on your business size, your budget, and your objectives for employee health benefits. Both HRAs offer tax advantages and can be more cost-effective and flexible than traditional group plans. Whether you're leaning towards the customization options of ICHRA or the small-business-friendly structure of QSEHRA, both options signal a forward-thinking approach to employee health benefits.
Group Health Insurance vs HRAs: Why Georgia Businesses are Eyeing a Change
Peach State entrepreneurs and workers, ever felt that group health insurance was a one-size-fits-all sweater that just didn't snug right? Let's dive into why so many are shifting gears to HRAs and championing individual choice!
Group Health Insurance Unzipped: The Old Guard
Group health insurance is kinda like cafeteria food: it's there, it's convenient, but it might not be your personal favorite. The employer picks a plan, pays part of the premium, and then everyone gets the same dish. Everyone pays a portion, but is it always what you'd choose?
The Hitches with Group Plans
Less Choice: Think of it as ordering for the table. Everyone gets the same thing, whether they're vegetarian, gluten-free, or meat-lovers. One plan for all might not address individual health needs.
Costly for Employers: Scaling up? As the team grows, so can the price tag of group insurance. This could leave employers feeling the squeeze.
Fixed Benefits: Unlike a custom playlist, you can't skip or add tracks. Employees get the same tune, regardless of their unique health rhythm.
HRAs: The Fresh Beat in Health Benefits
Here's where HRAs shine like a Georgia sunrise. Imagine giving your employees some cash and saying, "Go get the health insurance that dances to your beat!" That's an HRA.
Why HRAs Are The Talk of The Town
Tailored Fit: Employees aren't all wearing the same size. They pick a health plan that fits just right, from broad coverage to specialized care.
Empowerment: Put the decision in their hands! Employees cherish the autonomy to choose and not just get served.
Budget-Friendly for Employers: Set your limit and stick to it. HRAs offer predictable costs while delivering invaluable benefits.
Individuals Rejoice: Custom Plans and Freedom!
No more "thanks, I guess?" moments. With HRAs, employees get to cherry-pick plans that cater to their unique health needs. Got a family to consider? Need a specific doctor? Prefer a lower deductible? It's all in their hands. They select, get covered, and then, thanks to HRAs, get a sweet reimbursement for those costs.
So, Georgia businesses and workforce, there's a health benefits revolution afoot. Moving from the traditional to the transformative, HRAs offer a blend of choice, control, and cost-efficiency.
ICHRA vs QSEHRA Comparison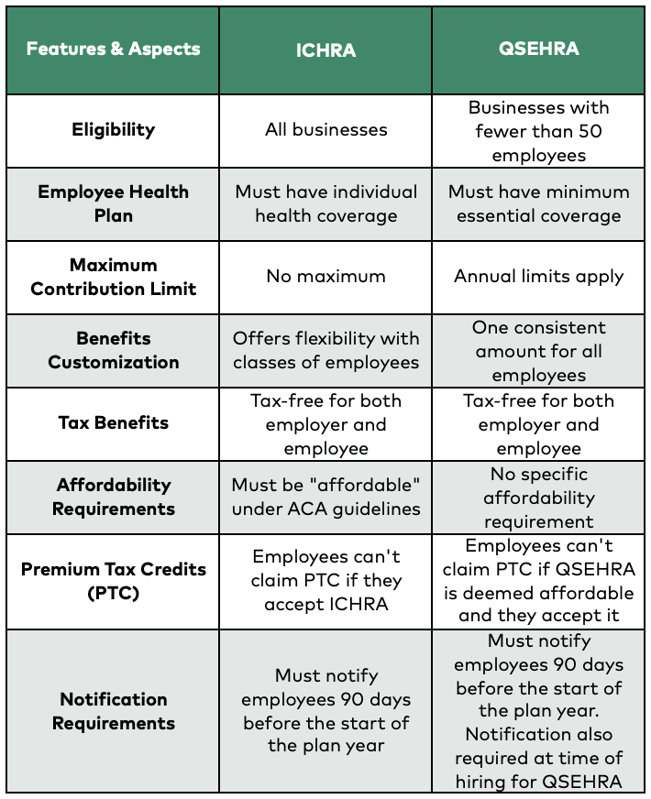 HRA Administrator: Take Command
Navigating HRA Administration with Take Command at the Helm!
HRAs are the new kids on the health benefit block! They're like a swiss army knife: flexible and ready for all your health benefit needs. But, managing the ins and outs of HRA, from compliance to those tax-free reimbursements, can sometimes feel like assembling a puzzle.
That's where the superstars at third-party administrators, like Take Command, step into the spotlight and make the magic happen.
Meet Take Command: Your HRA BFF!
Enter Take Command: your go-to guru for everything HRA. Whether you're setting up your HRA or diving deep into tracking reimbursements, the folks at Take Command have your back. And we're not just about the nuts and bolts! We also have a treasure trove of resources to make HRAs as easy as pie for employers and employees alike.
Making HRA Life Breezy with Take Command
With Take Command, the HRA world gets a whole lot sunnier. Set up your HRA in a jiffy, have employees float their reimbursement needs seamlessly, and, for those head-scratching moments, lean on their tools and resources. Whether it's compliance support or just wanting your plan to have a little extra flair, they've got you.
Premier Software is Like a Rock Concert for HRAs
Think of Take Command's software as the ultimate VIP backstage pass to the HRA show. Here's what's on the setlist:
Quick-as-a-flash online plan setup & management
Keep tabs on all those employee reimbursements
Ace the compliance game with their support & reporting
Jazz up your plan so it's just the way you like it
Learn the HRA ropes with their handy resources
All in all? With Take Command's software in your corner, you're not just managing HRAs; you're rocking them out, saving some cash, and ensuring your team gets those health benefit encores they deserve!
Getting Your HRA Up and Running: A Friendly Guide!
Georgia business owners, ever thought about giving your team the magic of an HRA? It's like a little health benefit wallet that tops up your employees for things like prescriptions, check-ups, and more. Plus, it's a win-win: your team gets awesome perks and you might just cut down on those hefty health insurance bills.
Here's how to roll out the red carpet for your HRA
Pick Your HRA Flavor: Like choosing your favorite ice cream, there are a few HRAs to choose from, including the snazzy QSEHRA and ICHRA. Think about what fits best with your team's vibe and your budget.
Tailor it to Taste: Decide on the nitty-gritty: who gets what, and how much? Maybe you'll give everyone the same amount, or you might shake it up based on family size. Just remember there's a cap for each HRA type.
Circle the Date: Mark the day you want to kick things off. No group health plans right now? Dive right in! Tip: Picking the start of a month can make things smoother.
Review and Tweak Your Policy: Take a peek at your current insurance setup. You might need some tweaks to ensure you're on the right side of HRA rules.
Craft and Share Your HRA Story: Whip up a clear doc that lays out the HRA details. Then, share the news with your team, making sure they're all clued in on their cool new perks.
Spread the HRA Cheer: Get your team pumped about the HRA! Let them know the ropes, guide them on how to get those reimbursements, and be there for any Q&As.
Launching an HRA can be your ticket to a happier team and some neat savings. Stick to the game plan, follow the rules, and watch your HRA journey take flight!
Making the Right Health Benefit Choices for Your Business
Navigating the landscape of health insurance options for small businesses can be a daunting task. From understanding the fundamental differences between ICHRA and QSEHRA to exploring the potential advantages of HRAs, the journey to selecting the best fit requires careful consideration. As Georgia's small business landscape continues to evolve, so too do the health insurance needs of its entrepreneurs and their teams. Whether prioritizing flexibility, cost-effectiveness, or employee well-being, the ultimate choice should resonate with the company's values and growth goals. Remember, a well-informed decision today can pave the way for a healthier, happier, and more productive tomorrow for everyone involved.
Frequently Asked Questions
Your Top Questions Answered: Why HRAs Shine in GA for Small Business Health Options
What's the best health insurance deal for small businesses in Georgia?
While Georgia's small business owners have some choices, from high-deductible plans with HSAs to group insurance, the real MVP is the Health Reimbursement Arrangement (HRA). Why? HRAs are tailored for flexibility, cost-effectiveness, and giving employees personalized health solutions.
Alright, so why are HRAs the crown jewel for GA's small business health perks?
HRAs are like the secret sauce for small businesses in Georgia. They let you pitch in tax-free bucks to cover your team's health costs like deductibles and copays. This means fewer money worries for your crew and a big, shiny magnet to pull in the best talent out there.
But there's got to be a catch, right? Any downsides to HRAs in GA?
Every option has its nuances. With HRAs, your team needs a high-deductible health plan. Some folks might miss the familiarity of traditional group plans. But, with the perks and flexibility of HRAs, many businesses find they're more than worth it!
What's the price tag on group health insurance for GA's small businesses?
It's a bit of a mix. Depending on your business's specifics and the health and age of your team, you could be looking at anywhere from $200 to $500 monthly for each employee.
Need a trusty health insurance broker in Georgia? How do you find one?
Network, network, network! Chat with fellow GA business owners and get their recommendations. Make sure your broker's clued in on Georgia's unique small business vibe.
Picking a health plan for your GA small business? What should be on your checklist?
Dive into the details: premium costs, deductibles, copays, and which doctors are in-network. And, always, always consider what your team wants – after all, a happy crew is a productive crew!
In a nutshell? If you're after a health benefit option that's flexible, employee-centric, and cost-friendly, HRAs are your go-to in Georgia!