QSEHRA benefits small businesses and startups with fewer than 50 employees looking to offer small business health insurance to recruit and retain talent and take care of their teams. The Qualified Small Employer HRAs (QSEHRA) allows owners to reimburse employee medical expenses and health insurance premiums tax-free. HRAs provide cost savings for employees and increase insurance flexibility for employees. Let's talk about QSEHRA benefits!
QSEHRA Benefits
Here are three reasons why HRAs may be a good fit for your company in your pursuit of small business health insurance options.
Savings through Fixed Costs
Businesses that want to provide health insurance for their employees are faced with rising costs each year that are rapidly outpacing inflation. According to a survey by the Department of Health and Human Services, the average cost of individual health insurance for an employee in 2001 was $2,889. In 2015, the cost had risen to $5,963, exceeding both inflation and wage growth. With an HRA, companies are able to budget better and fix their costs, eliminating group plan increases. Employees are only reimbursed for amounts they spend up to their maximum allowance. Most companies find that employees utilize about 87% of their allowance.
Attract and Retain Employees
Employees are looking for employers offering health benefits, and 69% of job seekers would prioritize job offers based on health benefits. HRAs provide employees choice and portability when it comes to health insurance. Employees are able to purchase the best plan for their needs (with their preferred doctors) instead of being forced into a one-size-fits-all group plan. When it is time for the employee to switch jobs, they will still have insurance coverage, eliminating the need for costly short term options through COBRA. Employee HRA reimbursements stop when the employee leaves the company.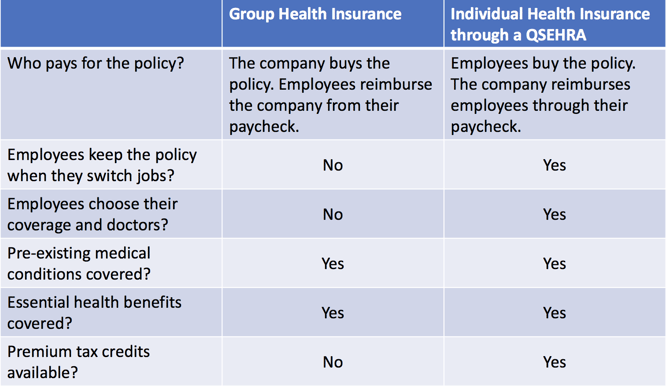 Tax Free Reimbursements
Everybody loves to save money on taxes, and utilizing an HRA is one way to do it. Businesses typically save 7.65% in payroll taxes and employees save 20-40% in state and federal income tax on money spent on health insurance premiums and medical expenses reimbursed through HRAs.
More questions on QSEHRA benefits?
As you can see a small business HRA provides great value for both small businesses and their employees. Take Command makes HRAs really easy and affordable (no set up fees)! Our expert team will help you set up your HRA, onboard your employees, and take care of the compliance and reporting hassles so you can focus on running your business.

Hungry for more? Check out the benefits chapter in our handy new QSEHRA Guide!
Ali
I wrote this blog because I love helping people decode confusing insurance jargon and understand the fine print. I'm a licensed health insurance professional and specialize in simplifying health insurance for individuals and small businesses. My QSEHRA articles have been featured regularly on Accounting Today, Accounting Web, HRWeb, and other industry publications. I'm also a member of Take Command Health's client success team and a full-time mom. Learn more about me and connect with me on our about us page. Thanks!