Texas
Is your Blue Cross PPO going away? Here's what you need to know.
by Angela
If you're one of the over 365,000 individuals in Texas whose Blue Cross Blue Shield PPO is going away next year, we want to help you navigate your decisions for 2016 health insurance coverage, and share with you how we can help! Our quick online survey captures your known medical needs, prescriptions, favorite doctors and insurance preferences so we can recommend and enroll you in the right plan for your needs.
All the major carriers have now released their plans for 2016 and we've been studying up on what the changes mean for you and what your best options are. Here are the high points:
Don't let yourself get "rolled over". If you do nothing, Blue Cross will automatically convert your PPO to a plan on an HMO or "HMO+" network. Before you let this happen, make sure that it's the right plan for you… and not just the next plan for you. If you don't select a new plan during Open Enrollment, you'll be locked into whatever Blue Cross puts you in until 2017 (unless you have a qualifying event, of course). Our site will help you easily compare plans across all the major providers in Texas to see if Blue Cross is still the best fit for you.
Know your networks. Most people know about PPOs and HMOs, but what about EPOs and POS networks? We've put together a chart so you can quickly understand the differences. What was awesome about your PPO was the flexibility and access it provided to nearly every doctor in Texas. Now, Blue Cross is going to take you from one end of the spectrum to the other. In our review, we've found the "HMO+" to really just be the same HMO with some out-of-network benefits, somewhere in between an HMO and a POS.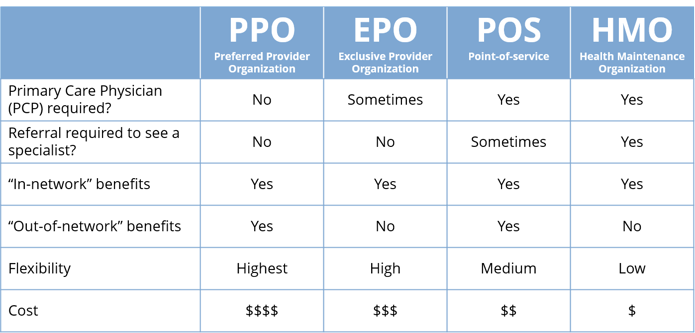 Know your doctors and your needs. Most of the doctors who were on Blue Cross's PPO network are

not

going to be on their HMO or HMO+ networks. If your doctor is going to be on the HMO or HMO+ networks and you don't mind sacrificing a little flexibility, the new HMO plan could actually save you a lot of money.
However, if they are not on the HMO or HMO+ networks and you desire true flexibility, we recommend considering one of the new PPO and EPO networks from Humana, Cigna, United, Aetna and others.
The real key is figuring out which networks your doctors participate in. Our site can help you quickly search for your favorite doctors so you can easily pick between plans that they participate in.
Understand Blue Cross's new plan terms. This year, Blue Cross is promoting plans with better copays. Copays sound like a great deal, but really

they can be a double edged-sword

, especially with deductibles trending higher since copays

don't

count towards your deductible. Sure, low, flat rates are nice for office visits, but what if you're in an emergency? Some of the new plans have $500 or $1000 copay for an ER visit, which means you'll pay that copay...

then a deductible

...and

then any coinsurance on top of that

. Man, maybe you should have stayed with the no-copay plan!
This stuff can really be a headache. The good news is we've built a system that can handle this math for you and put the terms in plain English. Our recommendation page walks you through all of the key "numbers" on your plan and helps you confidently choose the best for you.
See if another company might fit better. For 2016, there are several new options in Texas--as well as some that have been around but you may not have considered before. We can help you quickly search plans on-and-off the exchange from the major carriers and even compare faith-based sharing programs like Medi-share to traditional insurance. Our site also helps you secure Tax Credits you may not know you qualify for and apply for them automatically. Our goal is to help you find the plan that fits best, no matter where it is!
Not sure where to start after your Blue Cross PPO disappeared?
Take Command Health is here to help!