The new Individual Coverage HRA will be available January 2020, which means that employers are already getting set up with this new, better way to offer benefits to their staff. While this is a great option for businesses across the country, certain areas are primed for this 401k-style benefit based on six key factors. Here are the top 50 major markets ready to embrace the new ICHRA.
An attractive alternative to pricey, one-size-fits-all group plans, the new, tax-friendly reimbursement model brings flexibility, efficiency, and cost-control to the employer and portability, personalization, and more choices for the employees. In addition, ICHRA takes the burden of managing a health plan and underlying health risks off of the employer. There's no need to hassle with renewals, worry about participation rates, stress about what doctor networks your employees want, or be surprised by annual premium increases.
As the name implies, ICHRA is based on reimbursing employees for insurance rather than buying it for them. At a high-level, the way ICHRA works is very simple:
Employers design their plan, including defining which employees are eligible and establishing reimbursement limits based on an unlimited number of custom ICHRA classes
Employees purchase the individual plans they want
Employees submit claims for reimbursement
Employers reimburse employees for valid claims
This new, superior model of benefits is for businesses of any size. But when it comes to deciding if ICHRA is the best route for your company, it comes down to your own company's unique DNA and local market conditions.
Which cities within the top 50 metro areas rank best for ICHRA?
Our team at Take Command Health used proprietary research and key market factors to paint a clearer picture of which cities stand to benefit the most from this new model. We analyzed the top 50 metros in the country and here's how they stacked up.
1. Minneapolis ranks significantly above average for key factors used in determining market readiness for ICHRAs; individual market plans are more affordable here, including relative to small group plans, premiums are generally declining for individual coverage in Minnesota (in part from a waiver that the Trump administration granted that allows the state to use taxpayer dollars to subsidize the cost of people with expensive conditions), and there are comparatively more and better choices of coverage for people that buy individual market plans. Hennepin Country is one of the only places in the country where individual plans are cheaper than their group plan counterparts - $72 cheaper per month for a 50 year old on a lowest cost silver plan or $43 cheaper per month for a 27 year old on a silver plan. Rates for both individual plans and group plans are stable with minimal increases.
2. Los Angeles has more options than most in terms of carriers, and the average premium increase is less than 1% - two key indicators that the market is prime for ICHRA. For 2020, they'll be implementing an individual mandate and state-based subsidies to boost participation and keep costs low on the individual market. Individual plans come in slightly higher than small group plans, $52 more for a 50-year-old on a bronze plan and $30 more for a 27-year-old on a bronze plan.
3. Providence doesn't top the list for its carrier competition (it only has two; Blue Cross Blue Shield of RI and Neighborhood Health Plan of RI, but its affordable individual plan pricing relative to its small group pricing makes it an attractive setting for an ICHRA. For Providence County, individual plans are less expensive than small group plans by $37 for a 27-year-old on a bronze plan, and $64 less for a 50 year old on a bronze plan. Rate increases come in at less than one percent on average for 2020. They're also implementing an individual mandate for 2020, which should boost participation in individual exchanges and stabilize prices.
4. Boston: With a more robust exchange and more carrier options than most states, Massachusetts boasts the lowest uninsured rates and lowest average unsubsidized premiums in the country. Premiums will rise 4.5% on average for the coming year, a slight decrease from last year. Based on 2019 data, individual rates are the exact same price as those for group plans in Suffolk County, coming in at $220 for both small group and individual for a 27-year-old on a bronze plan and $314 for both small group and individual for a 50-year-old on a bronze plan. Other factors likely stabilizing their market include the merging of individual and small group risk pools, a 2:1 age ratio cap, the preservation of an individual mandate requiring people to purchase insurance, and penalties for employers whose employees receive state subsidized healthcare.
5. Philadelphia rounds out our list of the top 5 cities that are most ready to adopt ICHRA. The individual market is strong here and plans on average are 4% cheaper than their small group counterparts. The lowest cost silver plan premiums range from $278.20 for a 27 year old to $474.11 for a 50 year old. Philadelphians' have HMO, EPO, and (the most coveted and ever elusive) PPO plans available to choose from when looking at provider networks. The average premium on the individual market fell 3% between 2018-2019. For 2020, OSCAR health is a new carrier entering the Philadelphia market which will lead to increase choice for consumers.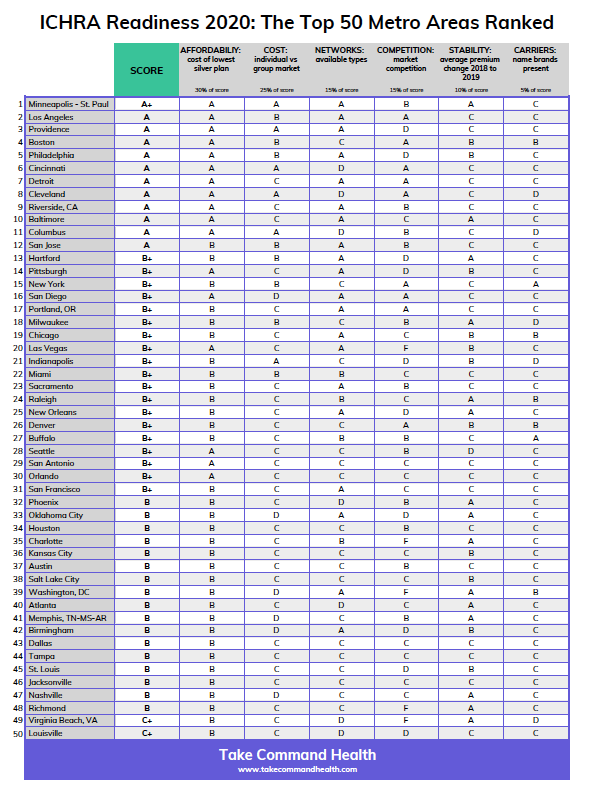 ICHRA Metro Ranking Methodology
To determine which metro areas are best suited for adoption of the Individual Coverage HRA (ICHRA), we analyzed six key factors of the individual health insurance market and weighted them according to their importance. The factors were chosen based on conversations with employers, benefit consultants, and market analysts and focus on criteria where ICHRA implementation is likely to be most successful. Data analyzed was for the year 2019 and is applicable to ICHRAs implemented in the year 2020 (their inaugural year). Here's how they stack up:

1. Affordability
Affordability is an important measure for the new ICHRAs: Large employers have to offer an "affordable" ICHRA in order to avoid tax penalties and small employers need to be aware of it because of how it impacts employees' ability to receive premium tax credits (PTC).
Affordability varies by location because it is based on the Lowest Cost Silver Plan (LCSP) premium an employee can purchase. For this analysis, we looked at the LCSP data from our friends at Vericred in each rating area for a 27 year old and a 50 year old. Premiums ranged from $196 - $740/mo for 27 year olds to $333 - $1261/mo for 50 year olds. Since adoption of ICHRA will rely heavily on individuals being able to afford their premiums after employer reimbursement allowance is received this metric was weighted the heaviest at 30%.
2. Individual vs Group Market Premiums
Since most employers considering offering an ICHRA will be replacing a traditional group plan, understanding how the individual market premiums compare to similar premiums in the group market is important.
In this analysis, we compared the least expensive Bronze, Silver, and Gold plans that could be purchased by a 27 and 50 year old individual on the individual market to what their equivalent premium costs would be on the group market.
The difference in premiums ranged from negative 42% (individual plans are cheaper than small group plans) to 123% (individual plans are more expensive than group).
Using data provided by Vericred we analyzed data to find which markets were more affordable for individuals to purchase a plan from the individual market versus a small group plan from their employer for 2019. This metric was weighted for 25% of the score.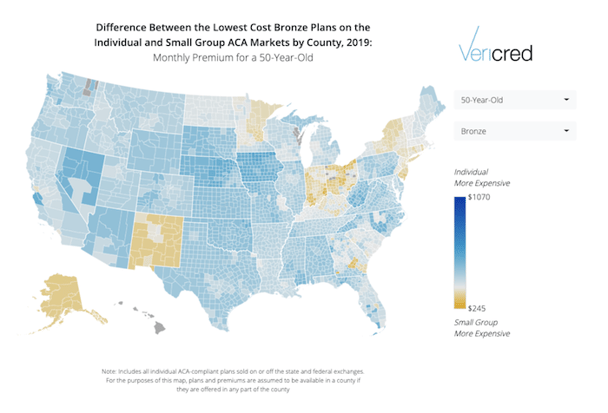 3. Network Type and Availability
Another difference between the small group and individual markets are the types of doctor networks available. Small group plans typically operate on a PPO network--which gives employees the flexibility to go to any doctor and get out-of-network benefits. On the individual market, PPOs can be hard to find in some locations and are abundant in others.
Data provided by Vericred compared the availability of PPO, POS, and EPO plans in the individual market for 2019. Points were awarded based on plans individuals prefer when shopping: PPO plans were awarded the most points, followed by POS and then EPO plans. Network type accounted for 15% of the score.
4. Carrier Competition
If employers move to ICHRA and employees are now purchasing on the individual market, how many choices will they have? One of the great selling points of ICHRA is that it gives employees more choice, but that may not be the case in markets where the individual market only offers one or two carriers.
Data provided by Kaiser Family Foundation analyzed the number of carriers available in each metro area for 2019. Carrier competition accounted for 15% of the score.
5. Average premium change 2018-2019
Another great selling point for ICHRA is the "Defined Contribution" aspect--employers get to set the budget and don't have to worry about premium increases out of their control. But how much does an employee's buying power increase or diminish each year due to changes in the individual market?
For this analysis, we looked at year-over-year average premium increases in each market between 2018 and 2019. Steady and downward cost trends were given more points, whereas increasing price trends suggest that the individual market is getting more expensive and were given less points.
Data provided by Kaiser Family Foundation compared the percent of premium increase in individual plan premiums from 2018-2019. This metric accounted for 10% of the score.
6. Name brands present
When it comes to health insurance a few key players dominate the market. New carriers are coming to the individual market but they are still building their reputations as insurance carriers. For individuals shopping the marketplace for the first time, name recognition is very important as it comforts individuals leaving their group plan behind. The good news is most markets are lucky to have one big brand insurance carrier option to choose from. We looked at the availability of the following name brand carriers: BCBS association plans, United, Cigna, and Aetna in each market for 2019. Points were awarded on a sliding scale for areas that had 1-3 big brand carriers in their counties. Data provided by Vericred and this metric accounted for 5% of the ranking score.
Are you ICHRA ready?
Need help understanding how a reimbursement model like ICHRA will benefit your bottom line? Our team of experts is at the ready to help. Chat with us online and we'd be happy to answer any questions.
Other helpful resources include our first-of-its-kind comprehensive ICHRA Guide, our ICHRA Affordability calculator, and our extremely thorough list of ICHRA FAQs.
Amy
I wrote this blog because I care about ideas (big and little) that can help fix our healthcare system. I used to work on projects for Kaiser Permanente and the Parkland Health & Hospital System so I've seen the system inside and out. It's so important that consumers keep up with industry shifts and changing health insurance regulations. I'm also Take Command Health's Content Editor and a busy mom. Learn more about me and connect with me on our about us page. Thanks!