QSEHRA
How Take Command Health's QSEHRA administration tool stacks up
by Ali
As a small business owner, you wear many hats. Now that you have decided to offer a HRA to your employees (QSEHRA) you may be wondering if you should administer the plan yourself or hire a plan administrator. And while you may be tempted to just buy the plan templates and administer yourself, it may be too much for you to handle trying to juggle a business and keep up with ever changing compliance laws.
Take Command Health vs. our top competitors
We compared the QSEHRA admin tool from Take Command Health to administration tools from our top competitors.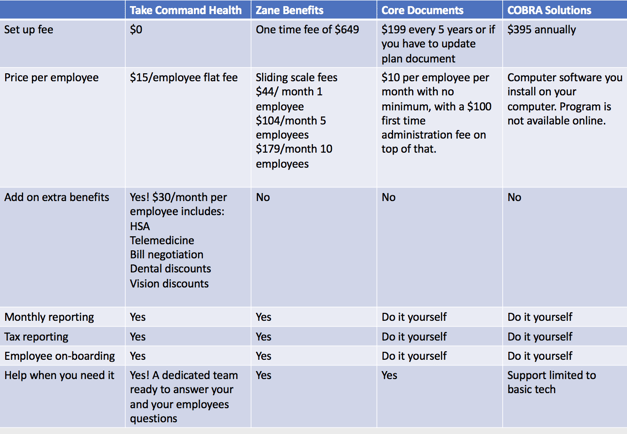 Take Command Health gives you more bang for your buck!
Compared to competitors, TCH has zero enrollment fees which means you have more money in your budget to spend on your employees. Take Command Health also gives you the option of adding on extra benefits for your employees for a low monthly fee such as: telemedicine, medical bill negotiation, and discounts on vision, dental and prescriptions.
The downside with do it yourself options is that you are responsible for ensuring your plan documents and software are up to date and compliant to the most recent changes. Take Command Health takes the hassle out of compliance and ensures our processes are continuously up to date.
Each month you will be sent a report detailing how much to reimburse your employees. We handle the expense approvals for you, double checking for common reimbursement mistakes. We make tax time easy for you and give you all the necessary documents to complete W-2s and taxes.
And because we know how special your employees are to you, we go out of our way to ensure the on-boarding process is quick and simple for them. We review employees insurance coverage and help them purchase a plan if they are without. We are happy to answer any questions your employees have about reimbursements and utilizing their new HRA.

About Take Command Health
Take Command Health is a small business, just like you. We understand the challenges of running a small business and that is why we are excited to offer small businesses solutions to help them with their health benefits challenges.
Hungry for more? Check out the administration chapter in our handy new QSEHRA Guide!