Inflation – it's the buzzword of the times right now, and something business owners and employees have on their minds. Inflation is a sustained increase in the price level of goods and services in an economy. Over time, inflation erodes the purchasing power of consumers, as they need more money to buy the same basket of goods, like healthcare and health insurance. So how does rising inflation affect health insurance costs for consumers?
Inflation and healthcare costs
In recent years, inflation has been relatively low in the United States. But inflation is expected to pick up as the economy continues to strengthen. This will have major implications for health insurance costs.
Rising inflation will cause health insurance premiums to increase. This is because insurance companies use a medical inflation rate to calculate rates for the upcoming year. As inflation goes up, so do premiums.
In addition, rising inflation will also cause an increase in the cost of health care services. This is because providers will pass on their higher costs to consumers.
As a result, consumers will face higher health insurance costs. This will put a strain on budgets and could lead to more people going without coverage.
To learn more about how rising inflation will affect health insurance costs, read on!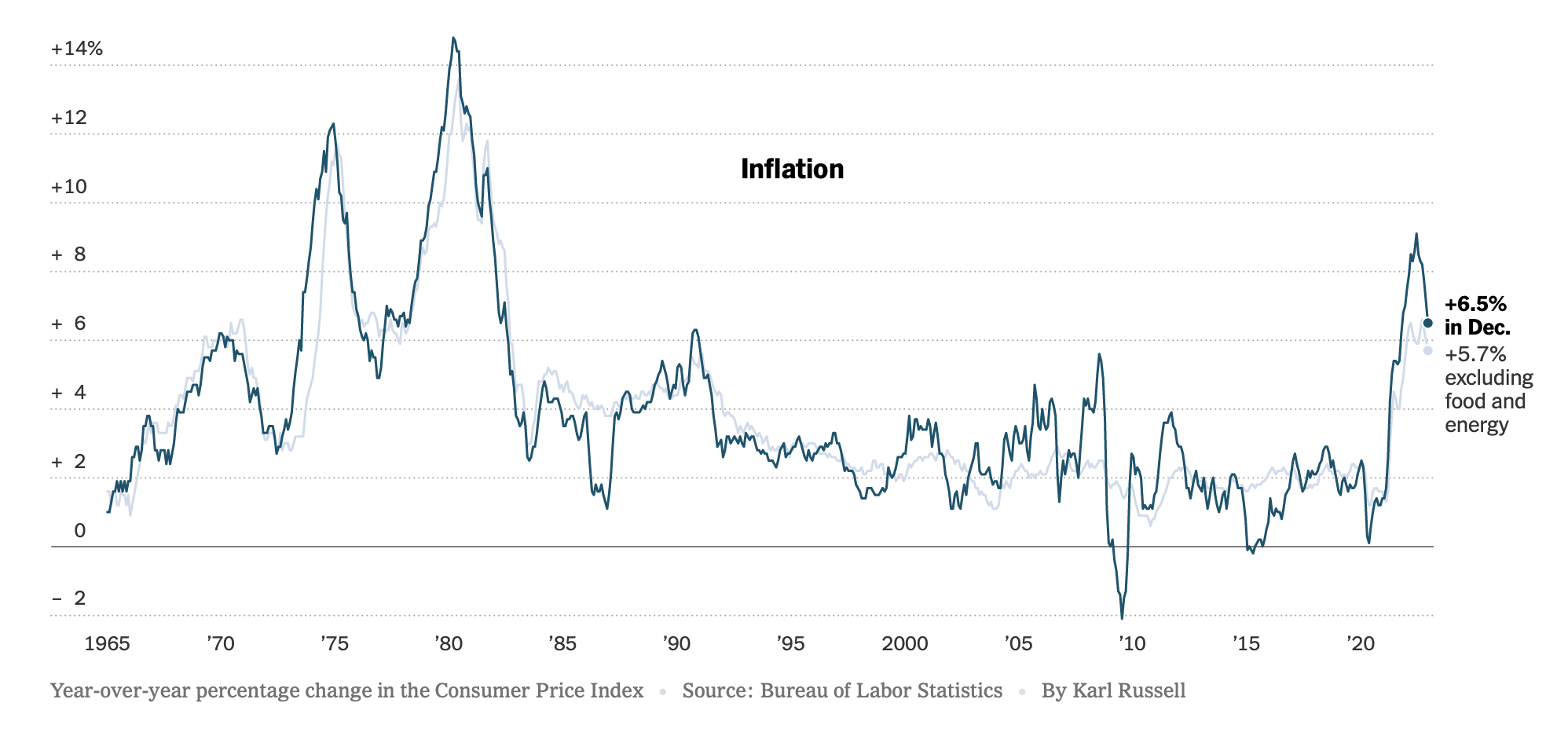 Source: NY Times
How does inflation affect health insurance rates?
Health insurance companies use a medical inflation rate to calculate health insurance premiums for the upcoming year. This rate is determined by various factors such as the cost of medical services, the demand for medical services, and the availability of providers. Therefore, as inflation rises, so do health insurance rates. This inflation rate is adjusted annually, so as inflation rates rise, health insurance companies will raise premiums to keep up with the new medical rate. This can become problematic if wages do not increase because workers will be stretched thin and may struggle to pay for health insurance premiums and other healthcare costs.
Who is most affected by rising health insurance rates?
Anyone with health insurance coverage is likely to be affected by rising health insurance rates. However, those on restricted budgets or who may not qualify for subsidies or other forms of financial assistance may feel the impact more significantly. Individuals and families who already pay high premiums may be unable to afford higher rates, which could cause them to go without insurance coverage.
Why are health insurance costs rising?
Several factors lead to rising health insurance costs. These include the cost of medical services, the demand for medical services, the increasing cost of prescription drugs, the cost of insurance company administrative services, and the medical inflation rate. As mentioned, the medical inflation rate is the most important factor in determining health insurance premiums. Various factors, such as the cost of medical services, the demand for medical services, and the availability of providers, determine this rate. As inflation rises, so does the medical inflation rate, and thus health insurance premiums will go up.
What can consumers do to offset rising health insurance costs?
There are several steps consumers can take to offset rising health insurance costs. First, they should explore all their insurance options and speak with a knowledgeable agent to find the best plan for their needs and budget. Additionally, they should shop around and compare plans to ensure they get the best rate. Healthcare providers may also offer discounts or payment plans that can reduce costs. Finally, consumers should look into government programs such as Medicaid or state health insurance plans, as these may provide assistance in paying for insurance premiums.
Rising inflation poses a major threat to health insurance costs. As inflation rises, so do insurance premiums and medical service costs. Consumers, particularly those on a restricted budget or without access to subsidies and other assistance, will feel the effects most significantly. Fortunately, there are steps consumers can take to reduce their health insurance costs, such as exploring all their insurance options and shopping around for the best rates. Consumers should also look into government programs that may provide assistance in paying for insurance premiums.
The dangers of allowing health risks to compound
If your client has had constant increases (even mild ones), it's worth seeing if resetting their Health Risk could dramatically reduce costs. Even if your client has a 6-8% yearly increase, it may not seem like a problem until it compounds and the year-over-year increases begin to get heavy.
The current trend of 15% annual renewals resulting in total costs nearly doubling is unsustainable.
Health insurance is now the second largest monthly expense for most small to medium businesses. And with rising inflation, there's a potential danger in locking in inflated insurance costs ahead of a recession.
Health insurance alternatives to beat rising costs
Inflation affects health insurance costs for patients, employers, and insurance plans. As healthcare costs continue to rise faster than wages for many Americans, those whose wages have not kept up with inflation may struggle to keep up with expensive health benefit plans. To address rising premiums, some employers are turning to self-funding and reassessing their health plan benefits.
Experts predict that as inflation hits, reflected in rising prices of goods and services, patients will experience higher healthcare costs in the coming year. Modifying plan benefit design and becoming more aware of how inflation impacts their overall cost structure is one way employers can address rising premiums. Some employers are also considering options like high-deductible plans, Health Savings Accounts (HSAs), or Health Reimbursement Arrangements (HSAs) to help offset rising costs.
Individual Coverage Health Reimbursement Arrangement (ICHRA) solves health insurance issues for businesses of all sizes.
At Take Command, we're big proponents of ICHRA because it's an effective health risk removal strategy for all client sizes.
If you're trying to help advise your clients, you want ICHRA in your toolbag (there's a good chance you'll look like a hero, just saying).
Your client size and the solution you recommend will determine their sensitivity to health risks. Some types of insurance plans, such as level-funded and self-insured plans, remove more risk from some companies (compared to group plans); but for small businesses, a large health claim can become a big problem regardless.
And when clients are navigating the ever-changing health insurance scene year after year with increasing frustration, it may be time to suggest removing the business from the insurance game and transitioning to the healthcare marketplace. This may seem counter-intuitive, but it's not removing healthcare benefits at all, it's a better move for employees because they can get to choose the health insurance plan that works best for them rather than being stuck into the group plan.
Then, through the ICHRA, the business reimburses the employees for qualified medical expenses and premiums.
With ICHRA, you are transferring risk to an individual market with 16 million people rather than your business. The individual market can absorb costs easier.
When we can look at ICHRA, let's see what it would look like to remove that risk and see what they can do if clients purchase their own plans on the marketplace and are surprised at the savings.
What makes ICHRA a great option?
ICHRA is a great alternative to group health insurance, particularly if you're looking at it through the lens of ways to get around rising healthcare costs due to inflation. ICHRA becomes an even more attractive option when you look at it that way. So what makes ICHRA a great option?
It transfers health risk to the individual market, which is more able to absorb risk, which creates more competition. So from a health risk perspective, the individual market is inflation resistant because:
Increased competition
Networks are designed to control costs
Subsidized by the government (not your client)
Larger risk pool—15.9M+ instead of your client size
ICHRA in a potential recession: how does it help?
If inflation is a concern now, we could be staring down a potential recession, so what does that mean for healthcare costs, and can ICHRA help in a recession? Yes! Here are the benefits of offering ICHRA as a health coverage alternative:
Predictable costs
Easy to scale up or down
Designed to optimize benefits spend
Employees keep their health plan if layoffs are necessary
Easy to pick up post-layoffs (if needed)
Only pay for what your employees use
ICHRA with recruitment and retention: how does it help?
Businesses like to have a nice benefits package to attract and retain top talent. But if they're feeling the pinch from the constraints of these group plans, there is another (better) way to get the same outcome – ICHRA. Businesses can still offer great health benefits that can help to attract and retain top talent and get out of the insurance game. Everyone wins. With ICHRA, you can:
Offer competitive benefits
Give employees a choice and personalization with their coverage
Accommodate benefits for remote employees or multi-state footprint
ICHRA reimagines how we think about health benefits
When things get uncomfortable, people start to look for solutions. ICHRA can be that health benefits solution you need right now. There are huge advantages for employers and employees, and if we can reimagine how we think about health benefits, we can have an even better experience when it comes to health coverage. Let's look at some of the amazing ways employers and employees win with ICHRA.
How employers benefit from ICHRA
Predictable and controllable costs give companies a steady footing in the face of a recession.
Cost Control: Set your budget and cap spend
Savings: Keep unclaimed reimbursements
Risk Removal: No more carrier renewals
Participation: No minimum requirements
How employees benefit from ICHRA
Personalized, competitive benefits help with recruitment and retention.
Choice: Pick the plan that meets their needs
Flexibility: Secure the right level of coverage
Control: Decide health benefit contribution
Peace of mind: Will keep their health plan in the event of recession-induced layoffs


Take Command is your ICHRA health coverage partner
If you're ready to make a change and consider ICHRA, contact our knowledgeable team to walk you through the entire process. When you partner with us, you'll get a white-glove solution we know you'll be happy with.
First, we'll assess your current health insurance spend and see what it would look like if we gave those funds to employees as a tax-free health budget. Then we'll design an ICHRA program that dials in your target budget, optimizes your offer to employees, and satisfies all regulatory requirements. Next, we'll explore the individual market in key employee geographies and consider purchasing power of the ICHRA program design compared to your current group plan.
We know change can be hard. That's why we're here to hello. With the industry's first end-to-end ICHRA solution, we are proud to work with 90% of the top 100 employee benefit brokerage firms.
Susanne
Susanne is a copywriter specializing in the health and wellness industry. Before starting her own business, she spent nearly a decade at a marketing agency doing all of the things – advisor, copywriter, SEO strategist, social media specialist, and project manager. That experience gives her a unique understanding of how the consumer-focused content she writes flows into each marketing piece. Susanne lives in Oklahoma City with her husband and two daughters. She loves being outdoors, exercising and reading.