Healthcare sharing ministries are exploding in popularity due to their lower costs and shared values they promote. Medi-Share, Liberty HealthShare, Christian Healthcare Ministries, Aliera, Altrua Health Share, Shared Health Alliance, and Samaritan Ministries are just a few of the many sharing ministries out there.
Sharing ministry members have a special exemption under the Affordable Care Act from maintaining Minimum Essential Coverage (MEC); however sharing ministry plans themselves do not meet the MEC requirements.
This is a bit of a conundrum for sharing ministry members who wish to participate in their employer sponsored QSEHRA. The IRS has established that in order to receive the tax-free reimbursements of QSEHRA, the participants must enroll in a plan that meets MEC. Since the inception of QSEHRA in December of 2016, the IRS has failed to provide guidance on how sharing ministries work with QSEHRA. We explored this circular reference in detail in this blog post.
Take Command Health policy changes for sharing plans in 2019
To date, we have allowed employers to decide how to reimburse for sharing ministries. However, after discussing this in depth with our benefits lawyers, we will be making the following changes in 2019:
Sharing ministries are not MEC.
Monthly share amounts are not eligible for reimbursement through the QSEHRA (tax-free).
Sharing ministry members will not qualify for reimbursement of medical expenses through the QSEHRA.
But don't despair! There's hope!
Sharing ministry monthly shares can be reimbursed on a taxable basis outside of QSEHRA, if the employer chooses to include it.
Reimbursing medical expenses for sharing ministry members
If your plan allows for medical expense reimbursements you will want to take note of this change for 2019.
In order to have your medical expenses reimbursed you will need to enroll in a plan that meets MEC. This is the only way to receive your tax-free reimbursements.
The chart below is from our QSEHRA Reimbursement Guide, and it gives a quick visual of how the plans will work with QSEHRA during 2019.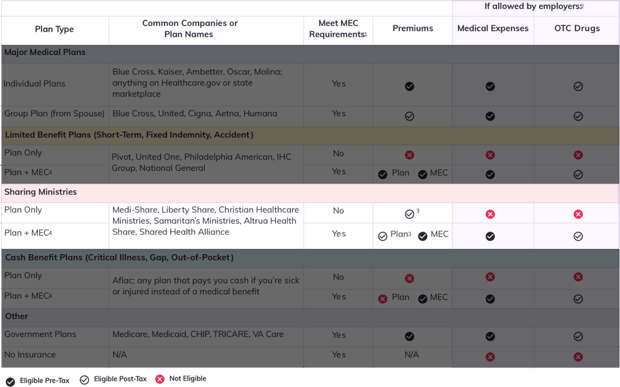 What should employees do?
Employees who want to maximize the tax-free reimbursements of QSEHRA have two options.
Purchase a major medical plan (Open Enrollment runs from Nov 1 to Dec 15 each year).
OR
Purchase an additional MEC only plan to complement the sharing ministry and receive the tax-free reimbursements through QSEHRA. These plans are a nice complement to the sharing ministry as they cover preventative care and immunizations, which are generally not covered under sharing ministries.
If you are happy with your sharing ministry plan and choose not to add any additional MEC coverage, your monthly share amount will be tracked and will only be reimbursed post-tax if elected by your employer. Medical expenses are not eligible for reimbursement for individuals only on a sharing plan.
Have questions?
We realize the world of MEC and QSEHRA is confusing. We wrote the QSEHRA Reimbursement Guide to help you gain a better understanding of how different plan types interact with QSEHRA. If you still have questions, hop on our chat or send us an email and one of our friendly QSEHRA experts will be happy to help you.