Small Business
QSHERA tax savings calculator: Small business HRA tax savings
by Amy
Take Command Health, the leading resource for affordable, personalized benefits for small businesses, is excited to announce a first of its kind QSEHRA tax savings calculator to easily compare reimbursing for premiums tax-free vs. increasing up salaries or offering health stipends.
The new QSEHRA tax savings calculator clears up misconceptions of health stipends, upping salaries for healthcare costs
For small businesses that can't offer traditional group plans—for financial or practical reasons—a QSEHRA puts them on nearly the same playing field as large corporations that enjoy cush benefits and big tax breaks. With QSEHRA, employers can make reimbursements without having to pay payroll taxes and employees don't have to recognize income tax. In addition, reimbursements made by the company count as a tax deduction.
"We meet many small business owners who try to help their employees by giving them a bonus or adding to their salaries to help with health insurance, unfortunately, that triggers payroll and income taxes that end up wasting 20-40% of the bonus before an employee ever gets to use it," shares Take Command Health CEO Jack Hooper.
While this trend of reimbursing for premiums and medical expenses is certainly gaining momentum, there's still a lot of gray area and confusion surrounding this relatively new strategy.
For companies that help employees with health insurance by offering a health stipend or by adding to employee salaries, tax-free reimbursement will typically have a huge tax advantage for both employer and employee. For example, if a 10-person company offers employees $300/mo ($3,000/mo in total reimbursement) by increasing salaries versus tax-free through a QSEHRA, $1,200 a month ends up going to taxes each month.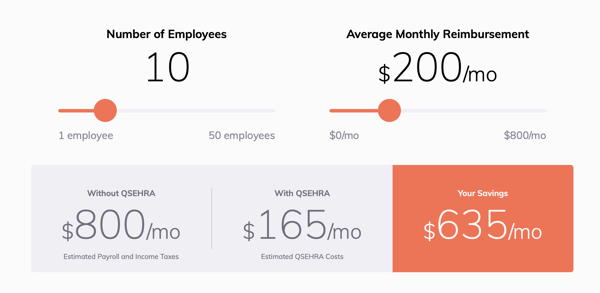 To use the QSEHRA tax savings calculator, just slide the button to enter number of employees and average monthly reimbursement, and it calculates the QSEHRA tax savings based on input.
"We estimate 5-10% of small employers are reimbursing employees for health insurance and paying taxes on it," Hooper adds. "QSEHRA should be an instant win for them."
About Take Command Health
Take Command Health launched three years ago with the goal of bringing awareness, advocacy, and transparency to the confusing world of health insurance for small businesses and individuals. Take Command Health is at the forefront of this issue, a recognized leader in QSEHRA administration, with customers in every state. It operates in Arizona, California, Florida, Georgia, Indiana, Michigan, North Carolina, Pennsylvania, Texas, Tennessee, and Wisconsin for individual insurance and offers small business HRA administration nationwide.