**This article has been updated to reflect the 2017-2018 TRS rates, which are even higher than last year.**
Why would I drop my family from my TRS plan if my district contributes to our coverage? Most districts contribute a set amount per employee regardless of the employee's family size. This makes health insurance somewhat affordable for the teacher on TRS. Unfortunately, putting the rest of the family on a TRS plan is really expensive - and the district doesn't contribute anything else for you to enroll the rest of your family. By keeping the teacher in your family on TRS but shopping for a private plan for your family, you can probably save a lot of money. Read more here!


When can I move my family from TRS coverage to a private plan? Private plans enrollment cycles are based on the calendar year, not a school year, so there are some timing issues to pay attention to.
TRS Open Enrollment (July and August) - If your family is currently on TRS, then the TRS plan's expiration creates a special enrollment window for you to re-enroll in TRS or shift to a private plan. You have 60 days before or after the TRS expiration deadline (Aug 25) to move to a private plan. However, for the private plan to begin 9/1 (and avoid any gaps in coverage), you should apply before 8/25. You'll need a letter stating your TRS plan is expiring and we recommend submitting your application a few days before the 8/25 deadline.
General Open Enrollment (Nov 1 - Jan 31st). You can enroll your family in a private plan during Open Enrollment which starts on November 1st, 2017 if they were previously on TRS before or not. For coverage to kick in on January 1st, 2018 you have to enroll by the December 15th deadline.

If my family isn't currently covered but I'm on TRS, what can I do to protect my family? With how expensive TRS plans are, we know there are a lot of teacher families who go without health insurance. During Open Enrollment, your currently uninsured family members are eligible to enroll for a new plan so that they can be protected in 2018.
You can also look at faith-based Medi-Share programs that don't have an enrollment period or look at short-term insurance policies. Email us at info@takecommandhealth.com and we'd be pleased to help you.

How do I drop TRS coverage? It's actually ridiculously easy. If you're making the change during TRS Open Enrollment, you can simply not renew your family. If your family is already on TRS, you can drop yourself or a family member from TRS at any time (you can only sign up during open enrollment for with a special event). Talk to your benefits administrator and he or she can direct you. You could also submit the form yourself. Here's the enroll and change of coverage form straight from the ActiveCare site. Just check the box "dropped coverage" under cancel dependents!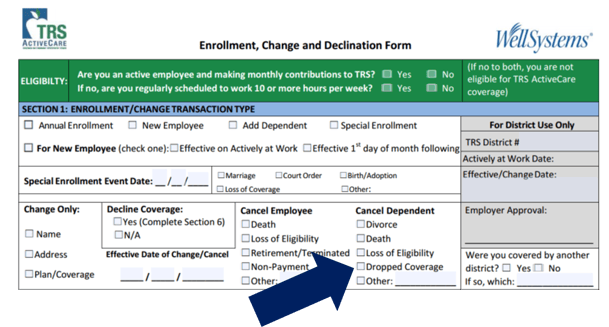 Note: We recommend making sure your families non-TRS plan is active BEFORE submitting this form. Better safe than sorry.


Am I eligible for a tax credit? Unfortunately teachers are not eligible for federal tax credits (subsidies) because you are eligible for TRS coverage. We understand if you'd rather trade your TRS plan for a tax credit--but unfortunately, we don't get to make that decision.

If I put myself on TRS health and my family on a private plan, I could have to pay the max out of pocket for BOTH plans, right? On TRS and private plans, the max out of pocket is handled at the individual level. The family max only kicks in if two or more people have catastrophic injuries. For example, if both TRS and a private plan have a max limit of $5,000 for the individual and $10,000 for a family, it doesn't matter which plan your family members are on. If one person gets seriously hurt or sick, the max will be $5,000. If two people get hurt, it would either be $10,000 on TRS or $5,000 on TRS and $5,000 on the private plan. As you can see, the risk washes out.

What if I end up hating my private plan and want to put my family back on a TRS plan. Since private plan networks usually have more doctors and better coverage, we would be a little surprised if you end up wanting to go back to a TRS plan; however, if you do want to go back to TRS you will have to wait until the next teacher Open Enrollment which is in August for most teachers. A "qualifying event" may also allow you to change your coverage at times outside of the normal open enrollment periods.

I'm still a little scared and think it would be helpful to an expert.We understand! Health insurance coverage is a pretty big deal. If you have concerns that you don't feel like we have
addressed you may feel more comfortable after talking with your school or district's Benefits Manager. They are experts in the field, they know what the contribution you receive is, and their job is to look out for you! TRS can also (obviously) field many questions about how to drop and change TRS health plans. Of course, we're here to help too!
Ready to find a great and much more affordable plan for your spouse and/or children?
Take Command Health is here to help!